Posted by Kaitlyn McConnell on May 31, 2019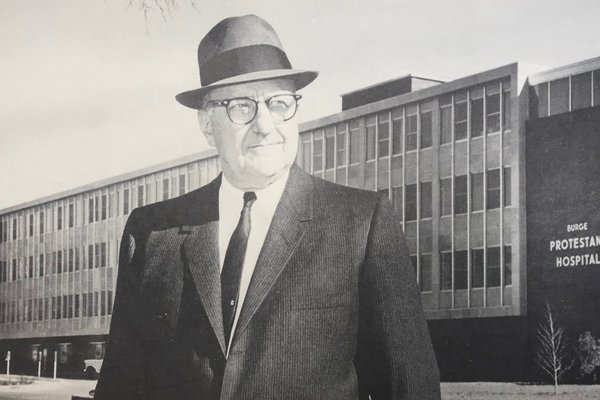 Fifty years ago today, Burge-Protestant Hospital began a new chapter: It became Lester E. Cox Medical Center, renamed for a man who made a huge difference in its survival and success.
For 20 years, Lester E. Cox worked on behalf of the small Springfield hospital, helping generate funds for growth and expansion of the hospital, ultimately benefiting the Ozarks.
He came into the picture in the late 1940s. The hospital, which began in 1906 thanks to benefactress Ellen Burge, was struggling. The situation was so dire that it was feared that the hospital – today's Cox North – would close without a miracle.
That miracle came in the form of Cox. The very successful local businessman was approached by a coalition from the hospital, who asked if he was willing to help save the institution. 
"At first Mr. Cox wasn't too interested, but he remembered that as a child he helped his mother can food and make quilts for Burge," noted Burge's 1968 annual report. "That afternoon, he paid a visit to the hospital and later said, 'It was the most depressing sight I had ever seen.' The lighting was bad, the paint was chipped and peeling off, and the morale of the employees was at rock bottom. He realized that something – if only temporary – must be done immediately.
According to "Lester E. Cox," a biography about Cox written by John K. Hulston, the impact was immediate – if not on money than on morale.
"Before noon the next day, a crew of painters, carpenters and maintenance men appeared at the hospital, beginning work at Cox's expense. He believed that painters at work would kill rumors that the hospital would be closing."
Initially, Cox also challenged physicians who signed a letter seeking his help: He told them that if they raised $75,000 for the hospital, he would match it dollar for dollar. They did – and he ultimately doubled his gift, giving $150,000 to the hospital. When increased for inflation, that donation equals more than $1.6 million in 2019.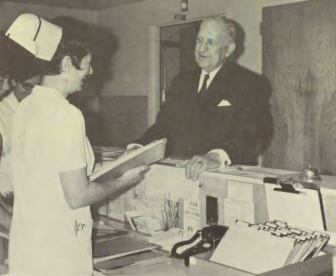 But that was only the beginning. Over the next two decades, Cox spurred the hospital's growth. He also is said to have visited the hospital every Saturday morning, carrying out an intense inspection, memories of which are preserved in Hulston's book:

"I remember thinking at the time that one could learn more from ... standing in the halls of the hospital than he could learn from sitting in classes at graduate school," noted Charles Edwards, a former administrator at the hospital and father of Steve Edwards, CoxHealth's current president and CEO. "A lot of that time spent in the halls was with Mr. Cox, because he consistently spent every Saturday morning making rounds of the hospital with the administrative staff members, and then talking about the hospital on through lunch. Lunch, by the way, was something he always paid for, and he always ordered. Everybody would eat the same thing…what he ordered."
The next two decades saw great growth. Among other advancements, the hospital became a hub for polio patients in the late 1940s and early '50s, and for many years after offered a "Crippled Children's Wing" that offered rehabilitation for patients. The Burge School of Nursing grew and expanded. The "new" Burge Hospital was dedicated in 1952. Specialty units were considered. In 1965, a $4 million expansion program was completed.
In addition to square footage and services, Cox also believed that environment contributed to the healing process. That belief led him to donate the hospital's colorful famed fountain in 1963, its tile "Helping Hands" mural in 1956, and its thousands of tulips, which started in the late 1950s.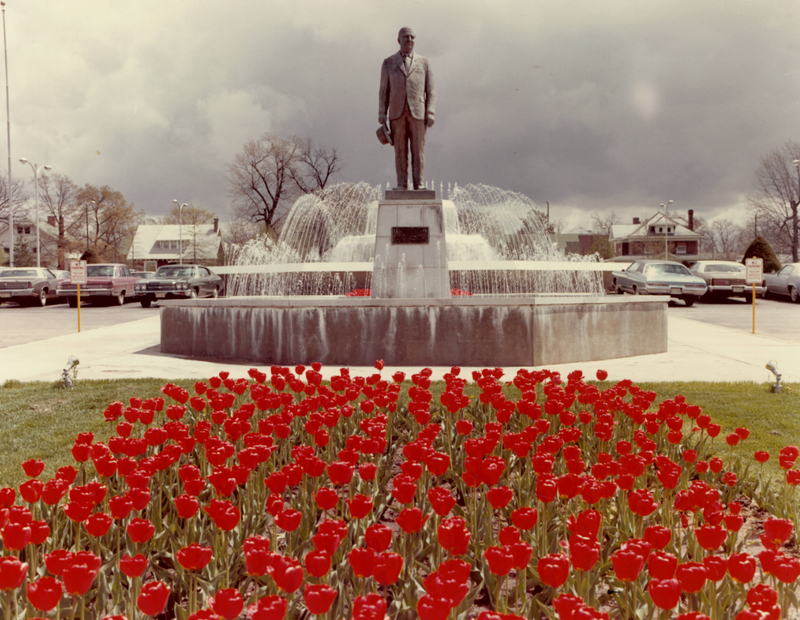 Tulips at Cox North are shown in years gone by. The statue of Lester E. Cox has since been installed in the Cox South lobby.
Records, articles and remembrances show that Cox's dedication and drive – both for the community and for the hospitals – were never ceasing. Another came from Forest W. Lipscomb Sr., who is quoted in Hulston's book:
"Lester was one of my most valued friends and we often exchanged confidences as to many problems. We were talking one night in Tokyo, and talked about Burge Hospital. Since he'd given so much time and money, I asked if it would be okay if I made a motion at the next board meeting to change the name from Burge to Lester E. Cox Hospital. Cox declined my offer, but left open a door, saying, 'Not until after I'm dead.'"
In 1968, 72-year-old Cox passed away at Burge several days after suffering a heart attack. It was less than a week after he awarded pins to the college's most recent class of 49 nursing graduates.
"Lester Edmound Cox, industrialist, philanthropist and philosopher, died late yesterday at Burge-Protestant Hospital – an institution whose growth since 1949 he had personally and financially sponsored – following a heart attack suffered early Saturday morning, a few hours after he celebrated his golden wedding anniversary," printed the Springfield Leader & Press.
Community and hospital leaders were quick to express their sadness over the loss of Cox.
"Mr. Cox will be greatly missed immediately, not only by all people concerned with Burge-Protestant Hospital, but also in the future by all in this community because of the loss of his vision in planning for the future and the loss of his dynamic leadership in providing needed medical facilities for our community," Neil Wortley, longtime hospital administrator, said in the Springfield Daily News the day after Cox's death. "The passing of Mr. Cox leaves a void which cannot be filled, since we feel the loss of not only a great leader, but a good personal friend."
The sentiment was echoed in the hospital's 1968 annual report.
"The real gift Mr. Cox gave us was inspired leadership, foresight, time and talent," noted John B. Mahaffey, president of the Board of Directors. "He once said, "The greatest payment anyone receives in life is the personal satisfaction of helping someone else, particularly the ailing and the unfortunate." This is exactly what Mr. Cox did for the people of Springfield and Greene County, when he guided the growth and progress of our great hospital. We will miss him but will continually strive to accomplish the many things he "kindled" before his death."
It wasn't long before a name change was officially brought before the board for discussion. After going through several rounds of approvals, the name change was agreed upon, and changed on June 1, 1969.
"So now we are the Lester E. Cox Medical Center – named after the man who for many, many years guided our growth, gave his time, money and heart to our hospital," wrote Wortley in a hospital publication. "It is a fitting name, a fitting tribute to a great gentleman."
Over the past 50 years, the medical center has grown into CoxHealth, a six-hospital health system, with dozens of clinics, urgent cares and innovative means to care for patients. 
Even though technology and treatments have greatly enhanced the types of care CoxHealth is able to offer, the health system's work still echoes what many knew to be Cox's mission: To find needs, and fill them.
Resources
"Burge-Protestant Hospital," annual report, 1968
"CoxHealth Legacy: The tulips at Cox North," Kaitlyn McConnell, April 16, 2019
"Fountain in operation," Burge Booster, May 1963
"Hospital name change June 1," Springfield Leader & Press, May 23, 1969
"It's Cox MC as of today," Springfield Leader & Press, May 30, 1969
"Leaders mourn Lester E. Cox," Springfield Leader & Press, Aug. 15, 1968
"Lester E. Cox," John K. Hulston, 1992
"Lester E. Cox is dead at 72," Springfield Daily News, Aug. 15, 1968
"Lester E. Cox Medical Center," hospital publication, June 1969
"The war on polio," Kaitlyn McConnell, Dec. 6, 2018