Posted by Kaitlyn McConnell on Nov. 8, 2017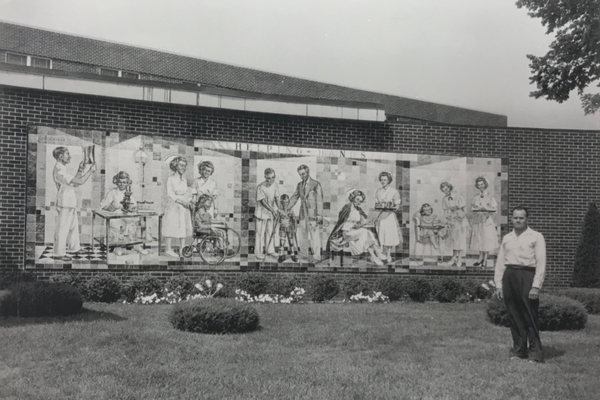 Much has changed at Cox North in recent years, but one thing that has remained the same is its Helping Hands mural.
Now more than 60 years after its installation, the landmark has greeted – and endeared – generations from its spot at the entrance to Cox College. 
That's why, in light of the college's reinvestment campaign, the mural will be an integral part of the campus' new design, tying its rich heritage to its promising future.
The Kieffer connection
Although Helping Hands is undeniably connected with Cox North, it's equally tied to George Kieffer, the artist who designed it. 
A celebrated local artist, Kieffer was well-known in Springfield and the surrounding area for his residential work and public murals. He'd already done several in Springfield before being commissioned to paint at then-Burge-Protestant Hospital – but his introduction to Burge didn't begin with Helping Hands.
Instead, it was another mural entitled "The Story of Medicine" that he came to paint in 1952.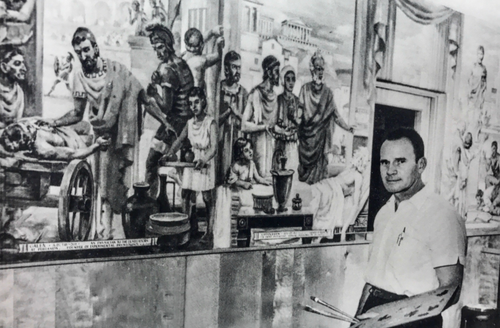 The mural, featuring a detailed history of the medical profession, was quite a project. Located on Burge's first floor, Kieffer spent a great deal of time researching the medical field's progression so he knew exactly what to paint.
"He did the whole history (of medicine), and he got books from a medical hospital in Boston, so everything would be authentic," recalls daughter Leigh Bryson, efforts echoed by her father in 1952.
"It's the sort of thing you have to live constantly," he said of his research in a 1952 Sunday News and Leader newspaper article. "An artist can be a hard-working individual, but the public knows very little of that side."
The painting proved impressive — so impressive, in fact, that it grabbed the attention of a reporter for Modern Hospital magazine who wrote a profile about it.
"There is a warmth and assurance which Mr. Kieffer has beautifully captured that is apparent to the many people who pause and look at the murals," said Elmer Paul, the hospital's administrator, in the article.
That mural's success ultimately spurred the even bigger tile mural project at the hospital in 1956.
Helping Hands mural
In terms of success, that was a huge year for the community hospital. It was celebrating 50 years in operation, a nice round milestone — especially since it had nearly closed the decade before due to financial strain.
Thanks to some key direction — provided by local businessman Lester E. Cox — the hospital rebounded by 1956. Deep in the polio epidemic, the hospital was set to unveil a new crippled children's wing and student nurse dormitory, and launch a capital campaign to raise $500,000 drive for a new treatment center.
In honor of the occasion, Cox decided a birthday gift was in order. Fountains and tulips were already cheering the campus, so he opted to do something different: He chose to install a mural representing the "helping hands" who made a difference at the hospital — and wanted Kieffer to design it.
The artist was commissioned to sketch hospital employees and volunteers from photographs, and then create a composite. That illustration would be enlarged, and used to create tiles for the mural.
In the early days, all went according to plan. Kieffer created the image and sent it to California, where artist and inventor George DeBeeson was to take care of the tile work. 
DeBeeson created the tiles and brought them to Springfield, where they were meticulously installed at the hospital. On April 29, 1956, the mural was officially unveiled, along with the nurses' dormitory and the crippled children's wing.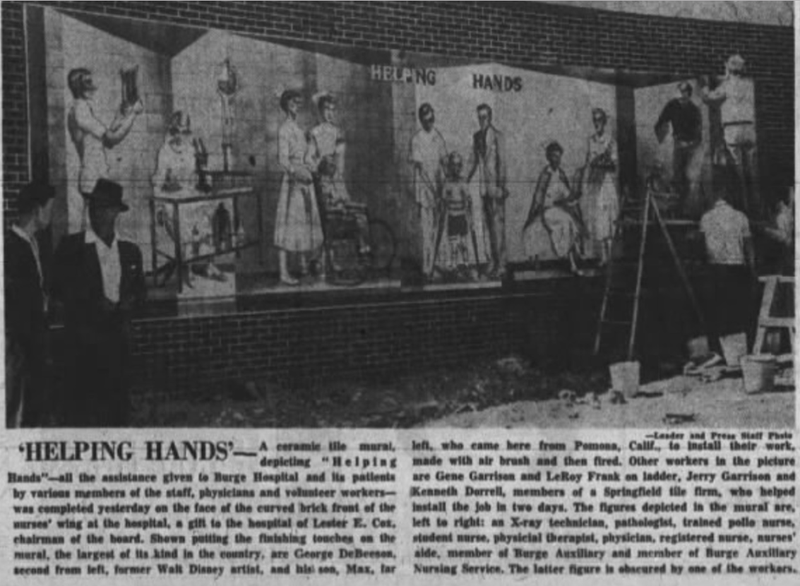 However, the sweet success was short-lived. Just a few months later, the tiles began popping off and breaking, especially as temperatures turned chilly. Repairs were attempted, but they weren't enough to please Cox. Instead, in 1957, he demanded that Kieffer fix the situation.

And even though he had absolutely no tile experience, Kieffer tackled the challenge.
"He had to learn, of course," recalls his son George A. Kieffer. "(With tile) the colors you start out with are not going to be the colors they are going to be after they fire (in a kiln)."
Kieffer worked with Springfield ceramist Doreen Cherry to make Helping Hands 2.0 a reality. Cherry got involved because her husband worked for Ozark Manufacturing, Cox's furniture company, and was asked to fire "a few" tiles for the mural.
"She said okay, thinking a few tiles would be a dozen or so," wrote John K. Hulston in his book, Lester E. Cox. "The few tiles turned out to be 1,800."
"Kieffer painted one at a time, then the tiles were brought to Cherry a few at a time for firing," the book continued. "It was very exacting and time-consuming work, which took Kieffer and Cherry about a year and a half to complete."
After firing was finished, Kieffer numbered each tile so that a professional tile installer would know where all should go. 
Today, the mural is still so beloved that it was updated to reflect current employees and technology in 2016. Upon completion, the revised version was placed in a garden at Cox South.
Helping Hands today 
Even though more than 60 years have passed since the mural was installed, it still sends a powerful message. It proclaims that while the medical profession may change, some things stay the same: That kind, competent, helping hands will always be needed to make a difference for patients, regardless of the technological advances or discoveries. It says that it's people in health care who truly make a difference. 
Those things -- combined with the mural's landmark status -- make it an integral part of CoxHealth today and tomorrow.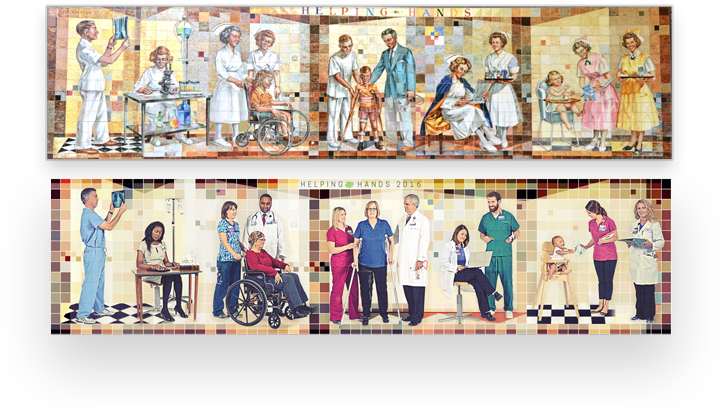 Photos, from top: George Kieffer poses next to his Helping Hands mural, courtesy of the Kieffer family; Kieffer appears next to "The Story of Medicine," a mural he painted at Burge in the 1950s, courtesy of the Kieffer family; a newspaper clipping shows the nearly completed Helping Hands mural, courtesy of the Springfield Leader & Press; and the Helping Hands mural and its 2016 update. 
This story is part of a longer piece on George Kieffer from OzarksAlive.com, and is used with permission. To read the full story, click here.