Posted by Kaitlyn McConnell on Dec. 6, 2018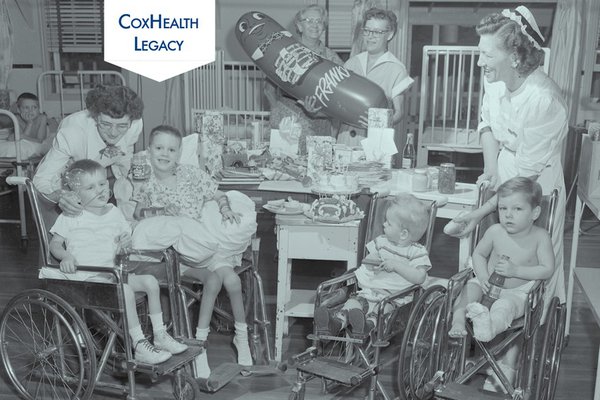 As World War II wrapped up in the mid-1940s, people in the Ozarks – and across the country – turned to fight another battle.
This time, they waged war against an enemy they couldn't see, although they could see its results.
It was a war on polio.
According to one newspaper account, more than 57,000 cases of polio were diagnosed in the United States in 1952. The virus left thousands paralyzed, or with varying degrees of disability. 
Others simply didn't survive.
The Ozarks was not immune to these epidemics. Springfield newspapers recount locals affected by the dreaded disease, and that rural areas were unequipped to offer the care required.
Burge Hospital – today's CoxHealth – stepped up.
In the late 1940s and '50s, administrators at the small hospital decided to do whatever it took to ensure patients were cared for in an appropriate manner – whether it be through a former nurses' dormitory, a relocated cottage or new wing of the hospital. Ultimately, Burge utilized all three of those opportunities to care for polio patients.
Even though the efforts occurred nearly 70 years ago, they tie to a mission that still fuels CoxHealth today: To be the best for those who need us. 
Looking back
Today, polio has nearly been eradicated. Thanks to worldwide vaccination efforts, there are only three countries left in the world that actively see cases: Pakistan, Afghanistan and Nigeria.
"We've eliminated it from the United States and Europe," says Becky Sigrest, system director of Infection Prevention at CoxHealth. "Vaccines have saved hundreds of thousands of lives."
That vaccine, however, didn't exist until the 1950s. Outbreaks occurred over the years, and by the late '40s, outbreaks of the potentially fatal virus were causing great alarm.
In Springfield, one of the first deaths to the disease came in July 1949, when a 30-year-old woman died in St. Louis. At the time, it seems that there wasn't a place in Springfield to treat her.
Her death was reported on the front page of the Springfield Leader and Press. The same issue announced something else: Despite recent financial hardship, Burge's leaders decided to establish an emergency polio isolation unit, which was housed in a former nurses' dormitory.
Less than a year later, the hospital's role in the fight against polio expanded.
"Burge Hospital in Springfield has been designated by the State Board of Health as a 'primary polio unit' and St. John's hospital has promised to 'stand by' as an extra bulwark against polio, officials of the two hospitals said today," a Springfield newspaper printed in June 1950.
The designation meant that the unit would be open year-round (instead of closing after the periods of active disease) and that it would keep patients for the duration of their polio-related care, as opposed to sending them to another hospital elsewhere to convalesce.
As the designation was made, hospital leaders were already working on a better place to care for their patients. That came in the form of a little white building, relocated from the former O'Reilly General Army Hospital, which was located in Springfield and served soldiers during World War II.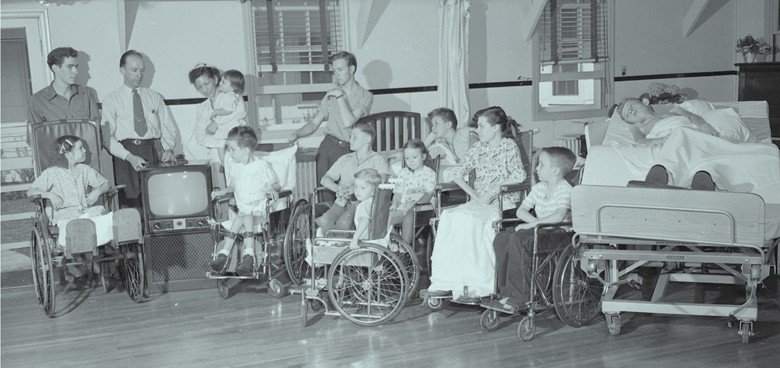 Dubbed the Polio Cottage, the building was a home for individuals battling polio – and represented a great deal of community effort. Around $15,000 was raised, much of it by Ralph Foster (the namesake for Foster Auditorium at Cox South, and a longtime Burge and CoxHealth board member) who used local radio station KWTO as a way to solicit donations.
"We told you that a minimum of ten thousand dollars was needed to move and recondition a building obtainable from O'Reilly Hospital," printed a writer for the KWTO Dial, the radio station's publication, after the cottage's dedication. "That was a lot of money. But nickels, dimes, dollars and checks for twenty-five, fifty and one hundred dollars and more started rolling in."
Lester E. Cox, then chairman of the Burge Board of Directors, shared his thoughts at the cottage's dedication ceremony.
"Our faith in the people of the Ozarks has soared to new heights," he said back then. "Their generosity has been overwhelming. We, the members of Burge's official family, assure you we shall never forget this magnanimous response to an imminent need." 
Part of the cottage's novelty was that it offered space for a variety of needs, and could be quickly converted back to patient space if the need arose. Some of those needs were for physical therapy – where patients could learn to walk again – or examination. They even had classrooms, since Springfield Public Schools helped organize classes at the cottage, so recuperating students could keep up with their studies.
Some days were especially special at the cottage, like when movie star and future U.S. President Ronald Reagan came to visit in 1952.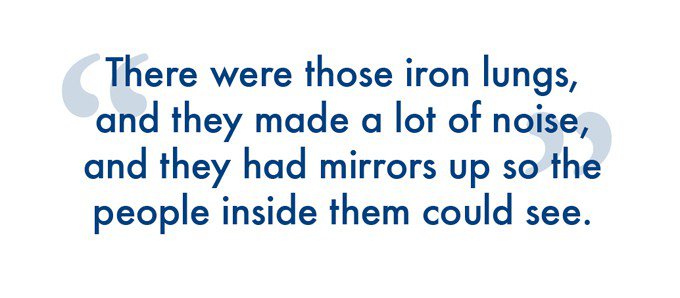 A patient's memories
One of the patients at the cottage was Springfield resident Gary Ellison. Today known for his work in advertising and as an accomplished ragtime pianist, Ellison was a frightened 10-year-old when he came down with a severe fever in 1953.
Initially, a flu-like diagnosis was made – a common mistake back then, since the symptoms were similar. It wasn't long, however, before it was obvious this was something much more severe than the flu.
"They took me in to Burge, and they did some sort of a spinal. I knew it really, really hurt," says Ellison of the spinal tap used to diagnose polio. "The next thing that I knew, they had moved me to a small room in the polio cottage."
Back then, it wasn't understood just how polio was spread, so strict isolation was enforced.
"My parents would come into the door and talk to me, but they were not allowed to go in the room with me," says Ellison. "The only human contact I had was with the nurses and my physician, Dr. Clayton."
While Ellison was in isolation, he underwent Kenny Treatments, pioneered by Sister Elizabeth Kenny of Australia, which involved laying "hot packs" on limbs to help keep them from becoming stiff.
"They would take Army surplus wool blankets, and steam them and get them very, very hot," says Ellison, who still recalls the stench of the boiling wool. 
He also remembers something else: The room of "iron lungs" just down the hall from where he was.
"There were those iron lungs, and they made a lot of noise, and they had mirrors up so the people inside them could see," says Ellison.
Today, iron lungs are virtually a thing of the past. Also known as tank respirators, iron lungs were human-sized tubes that encased patients, helping them breathe. For some people, it's where they remained for the rest of their lives.
Thankfully, Ellison's condition didn't require him to be treated inside an iron lung. As he recovered, he transferred to a convalescence ward inside the cottage for several weeks before his release to go home.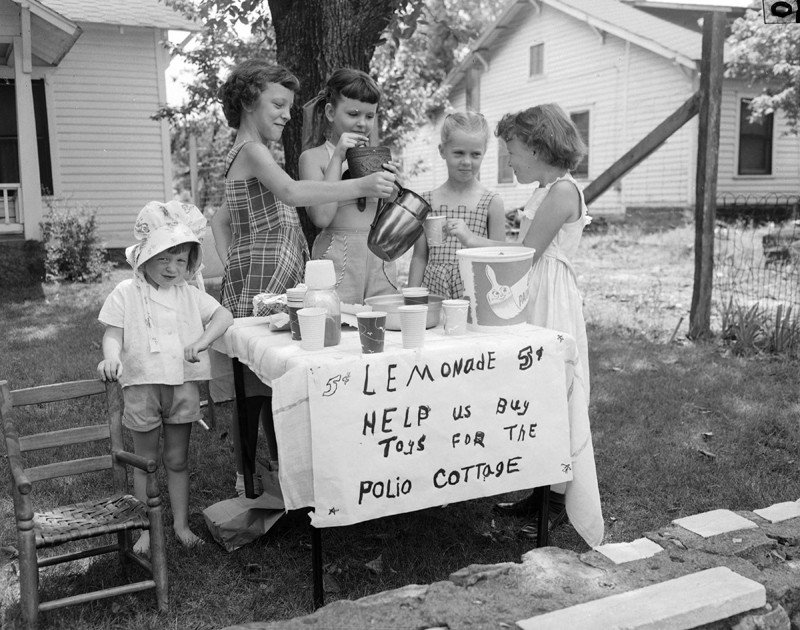 The disease's decline
A monumental moment in the history of polio came in the mid-1950s, when the now-famous Dr. Jonas Salk discovered and developed a vaccine against the disease.
The vaccine's effect was quickly felt: One newspaper noted that polio cases plummeted from 39,000 cases nationwide in 1954 to around 15,000 in 1956.
"This is less than half the total for 1954 and the average of the past five years," a Springfield newspaper printed.
According to the World Health Organization, the number of reported cases in 2017 was only 22. 
Looking forward
Despite the vaccine's discovery, Burge wasn't done serving patients battling polio. In 1956, the cottage closed with the unveiling of the new Crippled Children's Wing. Another community initiative, the wing featured clinic space, an area for physical therapy, operating rooms, a new laboratory and rooms for about 50 patients.
Near the new wing, another part of CoxHealth history was made: Artist George Kieffer installed his now-famous Helping Hands mural during the same period, which depicts medical professionals serving children seemingly battling polio.
The Crippled Children's Wing saw decades of helping young patients. As polio decreased, the clinic instead served children with orthopedic issues, continuing at least through the mid-1980s. The wing's legacy is still obvious on the east side of Cox North, where the concrete is engraved with its original purpose.
Though Burge's efforts to care for polio patients are decades past, they represent the same efforts CoxHealth makes today when it comes to care. The health system routinely expands its offerings and abilities, giving people of the Ozarks cutting-edge treatments, high-qualified specialists and award-winning care close to home.
**Images courtesy of CoxHealth libraries and the Springfield News-Leader.**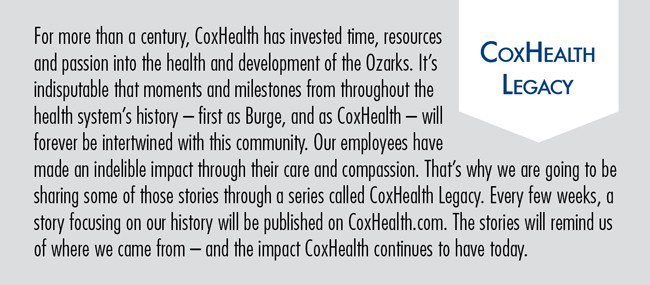 Expanding services, building on CoxHealth's mission
Just as Burge Hospital staff cared for polio patients years ago, CoxHealth still strives to provide cutting-edge services and technology to the community. Recent examples include the expansion of the electrophysiology labs at Cox South, which allows even more space for patients to receive treatment for conditions related to irregular heart rhythm. The labs also offer greater access to high-risk ablation – something CoxHealth is the sole provider in the area to offer.
The health system is also in the process of growing its pediatric specialties clinic, which recently added three new specialties. The physicians include Dr. Jody Hefner, pediatric gastroenterology; Dr. Katherine Hefner, pediatric endocrinology; and Dr. Dusit Adstamongkonkul, pediatric neurology.
Those efforts tie to a mission that is now more than 110 years old at CoxHealth – as well as passion and purpose that most assuredly go back just as far.
"Children show you the way they see the world," says Dr. Adstamongkonkul. "We want to push them to be better. Who knows, maybe a kid you treat will change the world. I want to be part of that."