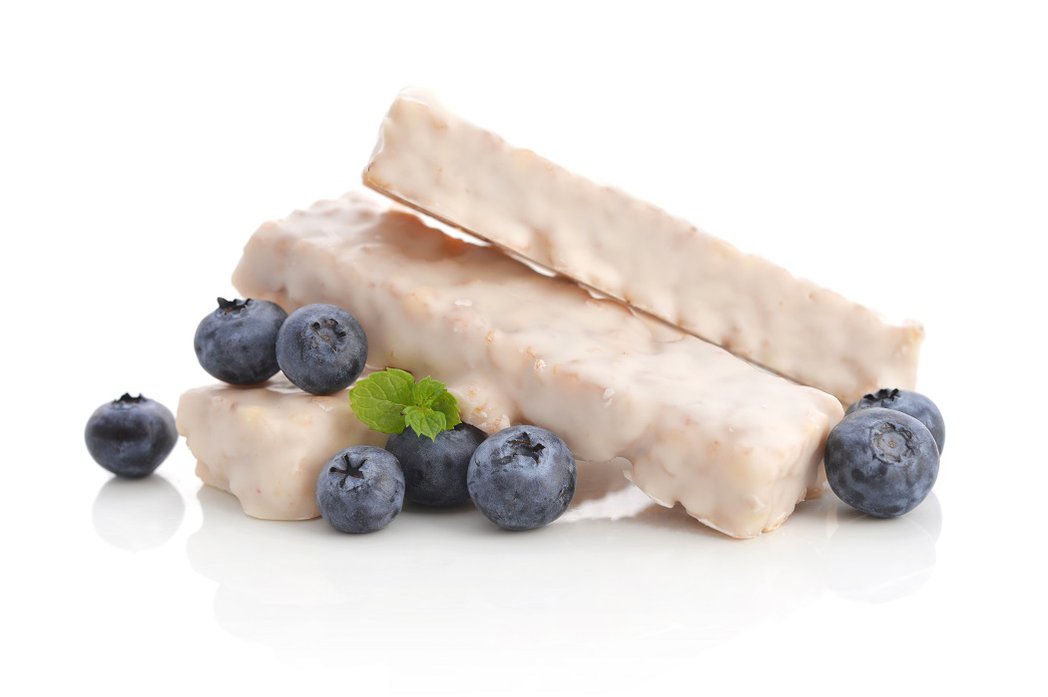 Blueberry Vanilla Greek Yogurt Granola Bars
Yields: 12 granola bars. Serving size: 1 granola bar. Cook time: 30 minutes

Nutrition information per serving: 101 calories; 3.3 g fat; 160 mg sodium; 6.2 g protein

All you need is:

Granola bars:
2 cups rolled oats 
1 ½ cup brown rice krispies
¼ cup unsweetened coconut, shredded
¼ cup whole roasted almonds, roughly chopped

1 tablespoon chia seeds

¼ teaspoon salt

½ cup peanut or almond butter
½ cup honey
1 ½ teaspoon vanilla
1 cup dried blueberries
Greek yogurt coating:
1 tablespoon water
1 teaspoon vanilla extract
½ teaspoon gelatin
¼ cup Greek yogurt
1 tablespoon honey
Pinch of salt
2 cups powdered sugar
All you do is:

Line a 9x13 square glass baking dish with wax or parchment paper.
Combine the oats, rice krispies, coconut, almonds, chia seeds and salt in a large bowl. 
In a small microwave-safe bowl, combine the peanut or almond butter and honey. Microwave for 30 seconds to 1 minute or until hot and pourable. Mix in the vanilla.
Add the honey mixture to the oat mixture and stir until everything is moist and combined to create the granola mix. Gently fold in the blueberries. 
Transfer the granola mix into the prepared baking dish. Using the back of a measuring cup press the mix into the pan until tightly packed. Cover and freeze for 1 to 2 hours. Cut into 9 to 12 bars and return the dish to the freezer until ready to coat.
Create the Greek yogurt coating by combining the water and vanilla extract in a small bowl. Sprinkle the gelatin over top and whisk with a fork until gelatin is evenly distributed. Set aside for approximately 5 minutes. This will form a thick paste.
In a medium mixing bowl, whisk the yogurt, honey and salt to blend. Microwave the mixture for 15 seconds at a time, stirring in between each heating, until the yogurt is a liquid consistency and warm. Don't let the yogurt boil or it will curdle. 
Whisk the gelatin mixture into the yogurt until completely dissolved. 
Add powdered sugar and combine using a hand mixer or whisk until it creates a thick, but pourable, coating.
Line a baking sheet with parchment paper. Dip the bottom of each frozen granola bar into the yogurt to coat, allowing any excess to drip off. Place the bars, yogurt side up, on the baking sheet to dry. Allow the bars to sit, uncovered, overnight or up to 2 days until the yogurt is dry. 
Once the bars are completely dry, flip the bars and drizzle the remaining coating over the top. Allow the bars to sit overnight or up to 2 days until the yogurt is dry.
Store bars in an airtight container at room temperature.