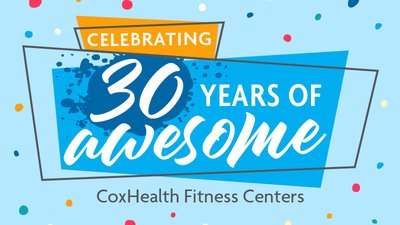 CoxHealth Fitness Centers is turning 30 and we've got birthday presents for you!
Presents like no joining fees for the entire month of January! Plus, new members get FREE birthday goodies like fitness orientation and follow-ups, an express personal training session, two guest passes, a specialty class session, Kids' Club access, 30 percent off an individual service, a free facial at CoxHealth Med Spa and more!
Whether you're looking to lose weight, get in shape, keep your heart healthy or boost your mood, our fitness centers are for you. 
CoxHealth Fitness Centers offers four locations in Springfield and nearby communities, with programs and services designed to improve your health and well-being. And with our medically based fitness programs, we offer our members the tools they need to stay on track, including screenings and assessments, specialized programming and personal services. 


Inclement Weather
CoxHealth Fitness Centers will be open as scheduled except during extreme inclement weather conditions. Management will determine if conditions warrant reduced hours or facility closings and if possible, notice will be posted on main entrance doors and a phone message will be updated to reflect these changes.