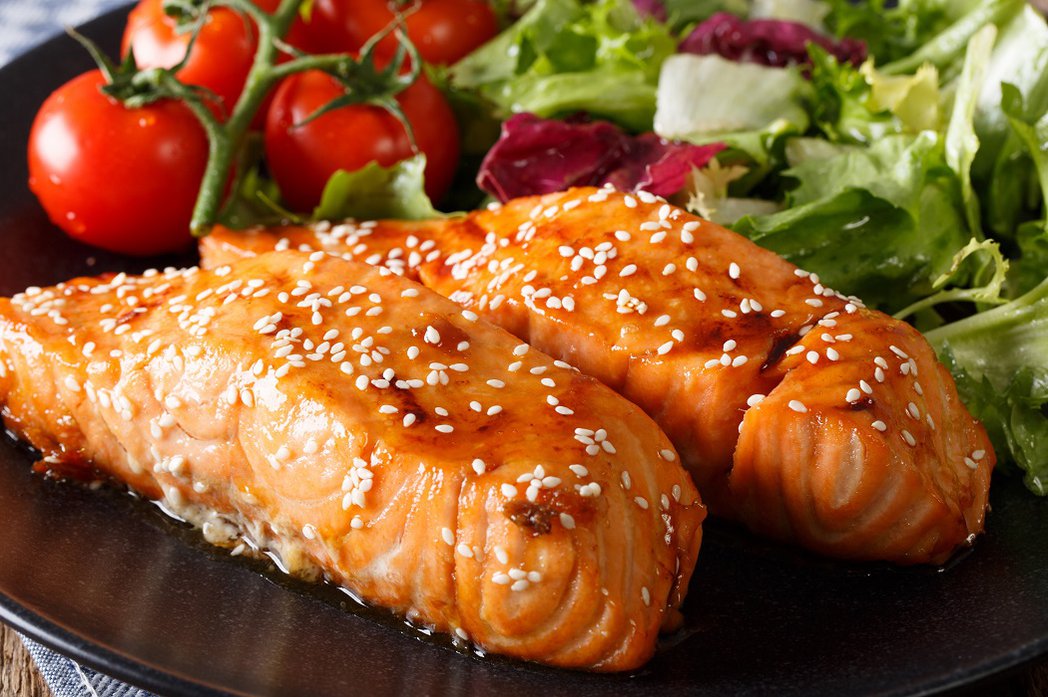 Asian Salmon
Yields: 4 servings. Serving size: 1 fillet. Cook time: 20 minutes. 

Nutrition information per serving: 430 calories; 18 g fat; 369 mg sodium; 21 g carbohydrate; 46 g protein.

All you need is:
1/4 cup honey
3 cloves garlic, minced
2 tablespoons reduced sodium soy sauce
1 tablespoon seasoned rice vinegar
1 tablespoon sesame oil
1 tablespoon fresh ginger, grated
1 teaspoon Sriracha, optional
Fresh ground black pepper, to taste
2 pounds salmon, divided into 7-8 ounce fillets
2 green onions, thinly sliced, for garnish
1/2 teaspoon sesame seeds, for garnish
All you do is: 
Preheat oven to 375 F. Line a baking sheet with foil.
In a small bowl, whisk together honey, garlic, soy sauce, rice vinegar, sesame oil, ginger, Sriracha and pepper.
Place salmon onto the prepared baking sheet and fold up all 4 sides of the foil. Spoon the honey mixture over the fillets. Fold the sides of the foil over the salmon, covering completely and sealing closed like a packet. 
Bake until cooked through, about 15 to 20 minutes. Open the packet and broil for 2 to 3 minutes or until the honey mixture is caramelized and fillet is slightly charred.
Garnish with green onions and sesame seeds and serve immediately.