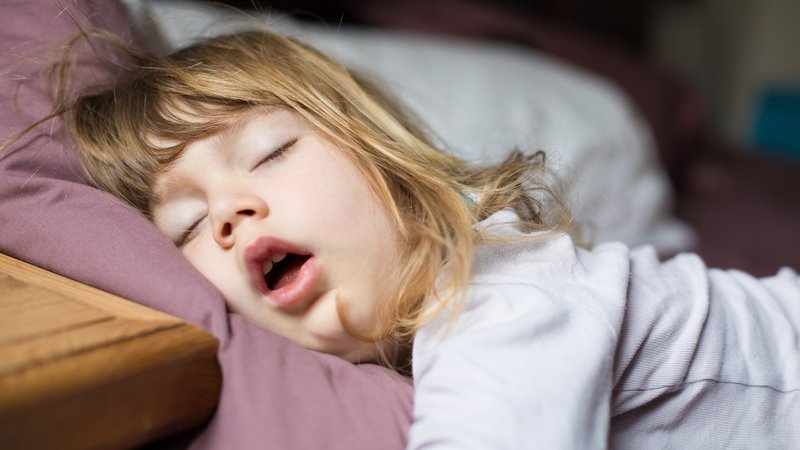 The amount of sleep your child needs depends on your child's age. It's important to establish good sleep habits for your child.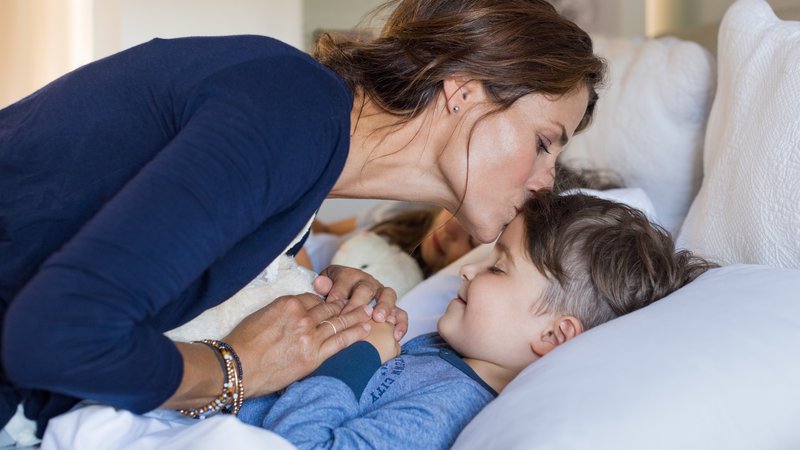 A consistent bed time that helps your child get the right amount of sleep will help with their school studies, sports and self-esteem.
Your Child's Sleep Study
If your child is having difficulty getting a good night's rest, we offer sleep studies, customized for your child. Our sleep specialists provide a comfortable environment to find out how we can help your child sleep better.
A sleep study is a way to measure what's going on during a child's sleep. It's also known as a polysomnogram. It is a painless overnight test.
Why are sleep studies done?
A sleep study measures how well a child sleeps. It can be used to find out if your child has a sleep disorder, such as obstructive sleep apnea. OSA is a common problem in children. But it often goes undiagnosed. This is partly because symptoms can be different than they are in adults. OSA happens when the airway is blocked during sleep. When this happens, the brain tells the body to wake up just enough to open the airway and allow breathing again. This can happen many times throughout the night, even though your child doesn't remember it. Other disorders that can be diagnosed during a sleep study include sleep terrors, restless legs syndrome and narcolepsy.

What is the first step?
Before your overnight stay, your child meets with a sleep medicine expert for a checkup to listen to their heart and check their throat. You'll find out the day and time to arrive for the overnight stay.
How do you prepare?
Pack an overnight bag with your child's favorite pajamas and stuffed animal or other toy. Parents or another adult are with the child during their overnight stay.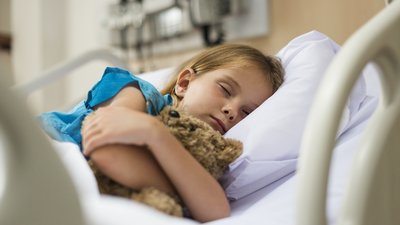 Being prepared for a sleep study will help you and your child stay calm. Reduce anxiety by talking to your child openly and asking us questions before the sleep study.
What should you expect when you arrive?
You and your child arrive at our center in the evening, after you eat dinner. We greet you and your child and walk to your private room for the night. After your child puts on their pajamas, a sleep tech helps them get ready for their sleep study. 

What happens before bedtime?
A sleep tech wraps two bands around your child's chest and stomach to help monitor their sleep habits.
Next, we measure their head to know where to place stickers. Stickers are placed on top of their head, chest, legs and face. To make sure the stickers stay in place, the sleep tech uses a small blow dryer on each sticker for a few seconds. Next, gel is squeezed into each sticker. Wires connect the stickers or electrodes to a jackbox. The jackbox sends messages to a computer to tell us how your child is sleeping.
After the stickers are placed, your child is welcome to watch TV and eat snacks before bedtime.
What happens at bedtime? 
At bedtime, your child brushes their teeth and goes through their regular bedtime routine, such as reading a book. Before they fall asleep, the sleep tech attaches the jackbox to the wall. The sleep tech leaves the room and talks to you for a few minutes through a speaker.
Now it's time to go to sleep. The parent will be in the bed or room.
What happens when your child falls asleep? 
While your child falls asleep, the sleep techs observe your child using a camera, located above the bed. The sleep techs might come in while they're sleeping and adjust electrodes or stickers, if necessary. You, the parent, will be in a bed or room next to your child.

What should you expect in the morning?
The next morning, your child's stickers are removed – it feels similar to having a bandage removed. Then you can go home.
When will you receive results?
You'll meet with your child's physician at an upcoming appointment to go over your results.