Posted by Kaitlyn McConnell on Dec. 1, 2020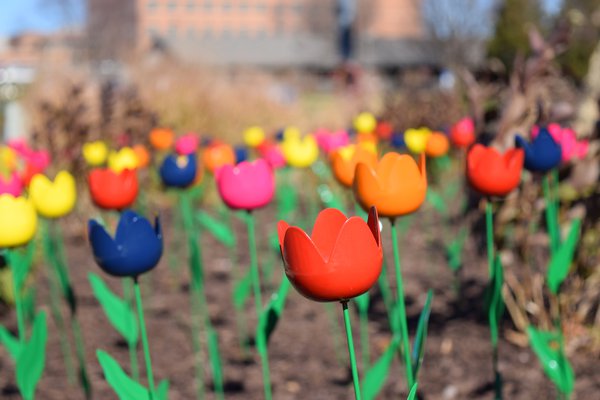 Despite the season, metal tulips are popping up on the Cox South campus in honor of patients released after receiving treatment for COVID-19.
"While they are doing a phenomenal job, the last few months have been very stressful and sad for our staff," says Karen Kramer, chief hospital officer and COVID-19 incident commander at CoxHealth. "This idea evolved as a way to encourage them for the great work they are doing, and to help remind of the many patients who are treated and released because of the virus."  
Each flower planted represents five patients who have been discharged. So far, that number is around 1,500 patients, resulting in a garden that starts with approximately 300 flowers. Going forward, additional flowers will be planted weekly to represent the additional patients released from the hospital.
This initiative is made possible because of the Arvest Bank Foundation, which donated $7,500 to cover the cost of the flowers.
"We are very appreciative of the Arvest Bank Foundation and the assistance they have given during this difficult time," says Lisa Alexander, president of the CoxHealth Foundation. "They are a wonderful community partner, and their dedication to our region, and work to support both our patients and staff, are efforts we will always remember."
The chosen flower – tulips – ties to tradition at CoxHealth. For many years, the health system was known throughout the area for its colorful campuses as spring burst forth. To learn more about this history, click here.