Posted by Randy Berger on July 21, 2020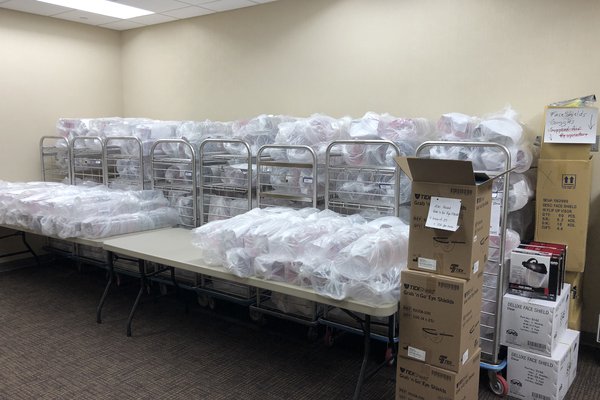 Laser-cut face shields are among the local PPE innovations at CoxHealth.
In a crisis, it pays to be able to think differently.

It can be a great time to try new things, see what works and what doesn't, and pivot to the next solution.
From telemedicine and laser-cut face shields to new processes for PPE and the supply chain, CoxHealth's culture of innovation has played a key role over the last few months.
"In a crisis, organizations have messy innovation. You see a lot of interlinked projects, not in a strategic order," says Scott Rogers, system director of innovation. "If you have the right mindset and culture, you can connect the dots through leadership."
In recent years, Performance improvement projects and events like the Innovation Accelerator have shown us all how we can play a role in solving problems.  
The last few months demonstrate how a culture of innovation is permeating our work.
Here are just a few ways we have put our culture of innovation to work during COVID-19:
Local partnerships
The pandemic created an opportunity to partner with local companies, for everything from masks to custom products for patient care.
A few examples:
Kangaroo Medical Products, which usually focuses on pouches for portable cardiac monitoring equipment, stepped up to produce facemasks. 
The team at KMP had reached out to our cardiologists early in the pandemic. They worked with the innovation team to develop a spun polypropylene mask, delivering 2,000 for use by screeners and CoxHealth patients. 
In addition to masks, local manufacturers worked on ways to make hazardous medical procedures safer for staff.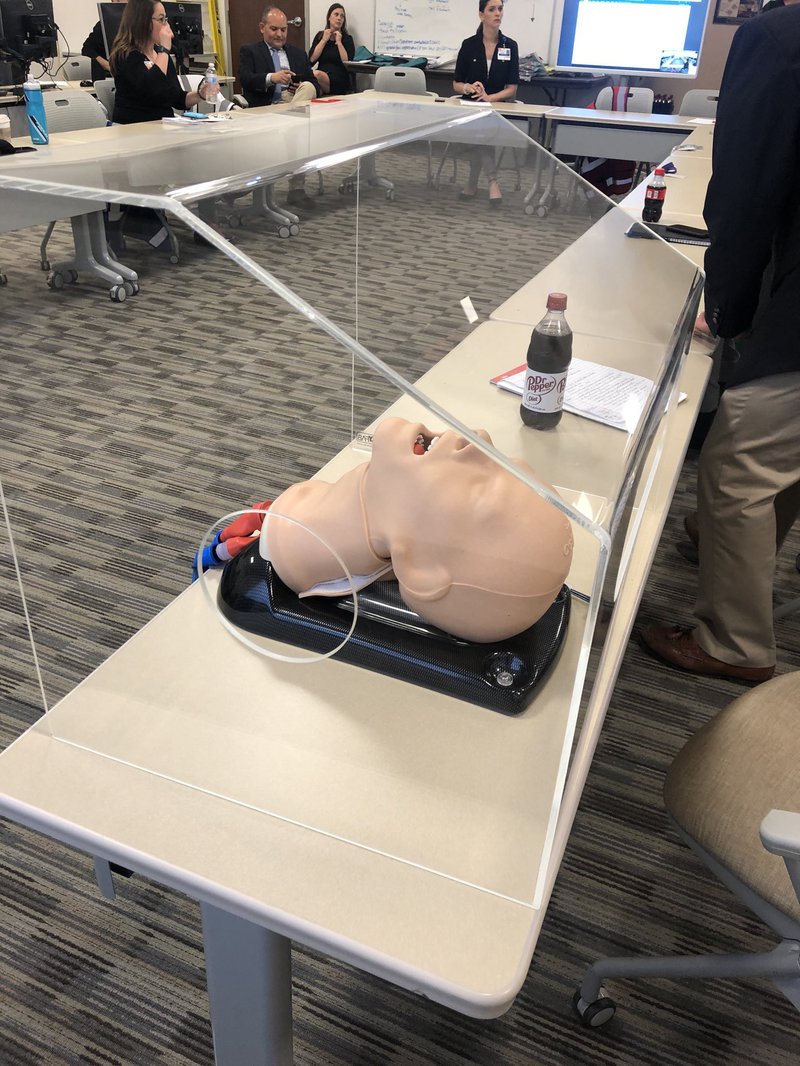 Polyfab Plastics worked with CoxHealth physicians to design a custom "intubation box" (above). The clear plastic device creates a barrier between the patient and the caregiver that adds a vital layer of protection during intubation and other aerosolizing procedures.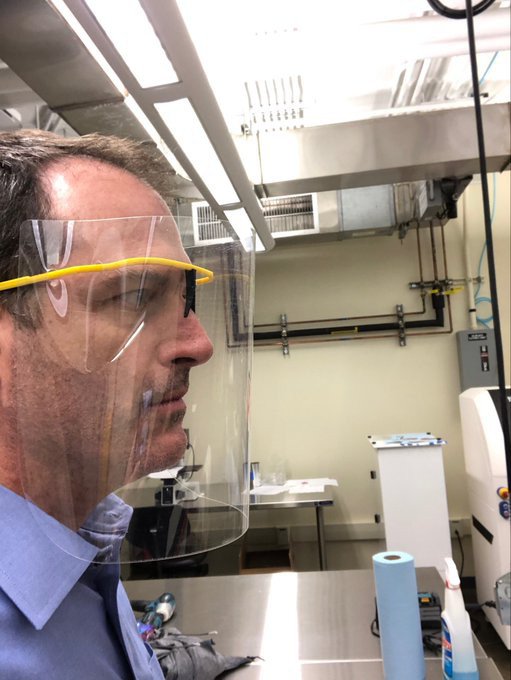 At Jordan Valley Innovation Center, teams used 3-D printers and laser cutters to create reusable face shields, like the prototype above. 
"They protect both the person and the mask as well," Rogers says. The design is a collaboration between JVIC and the innovation team. "The challenge was to create a cleanable and reusable face shield. 
The teams met the challenge with a 3-D printed nosepiece that supports a laser-cut face shield. The entire device can be wiped down or dipped in a cleaning solvent. 
Our urgent cares, Labor and Delivery and several other areas now have access to more than 5,000 of the printed shields. 
Expanding technology
Videoconferencing: We quickly expanded our videoconferencing abilities – deploying WebEx and Microsoft Teams to connect with one another.
Select groups had used Teams in the months leading up to the beginning of the pandemic, and the arrival of COVID-19 put those efforts into overdrive. 
"At first, we weren't there with all of the processes, but we were mentally and culturally ready," Rogers says. "We were able to flip the switch. Si3 did that quickly."
On-demand virtual visits for COVID-19 symptoms became a key part of our early response. Meanwhile, clinics began using Teams to do regular patient visits virtually. 
Remote patient monitoring: Technology pioneered by CoxHealth at Home for remote patient monitoring is set to become more important than ever.
The technology is typically used to follow patients with chronic conditions like COPD and heart failure.
Teams have worked in coordination with Population Health to monitor patients who are at risk for readmission. As we prepare for potential waves of COVID-19 patients, having those capabilities in place will be key.
"We have our processes hardwired for preventing readmissions and we are prepared to do home monitoring for other purposes, including COVID-19," Rogers says.   
Supporting the supply chain
Innovation isn't just about creating cool stuff. Sometimes it means aggressively thinking about what could go wrong, and developing a plan.
"It's about preparation, not desperation," Rogers says. "We moved from reactionary innovation to proactive innovation, focused on: how do we meet the need and how can we prepare? "
From the beginning, a shortage of PPE made it clear that health systems need alternatives to the traditional ways we get supplies.
"You are trying to be ready for things and we learned with gowns and masks that the supply chain can't keep up," Rogers says. "We really started thinking through supply chain issues and looking for blind spots. 
"One of our biggest successes has been in working with local businesses and creating supplies locally."
Justice Furniture in Lebanon reached out early in the pandemic to see how they could help. In normal times, they build furniture for hotels. With COVID-19, they were ready to pivot as hotel demand dropped.
They began working with the innovation team and Materials Management to design and produce disposable isolation gowns.
They began by cutting fabric manually, at a rate of about 400 gowns per day. Soon, they redesigned their production line to increase production, eventually producing thousands of gowns daily. 
"They totally changed their manufacturing process to support us," Rogers says.  
They are now producing 15,000 gowns per week, and they will continue at that rate for at least the rest of 2020. CoxHealth has ordered more than 300,000 of the gowns.
In addition to the disposable gowns, Justice also produced more than 10,000 custom intubation gowns. Those specialized gowns are designed for intubation, with more coverage for the wearer and more robust closures in the back.
The gowns are bolstering our stockpile, as worldwide demand stresses supply chains from China and traditional manufacturing.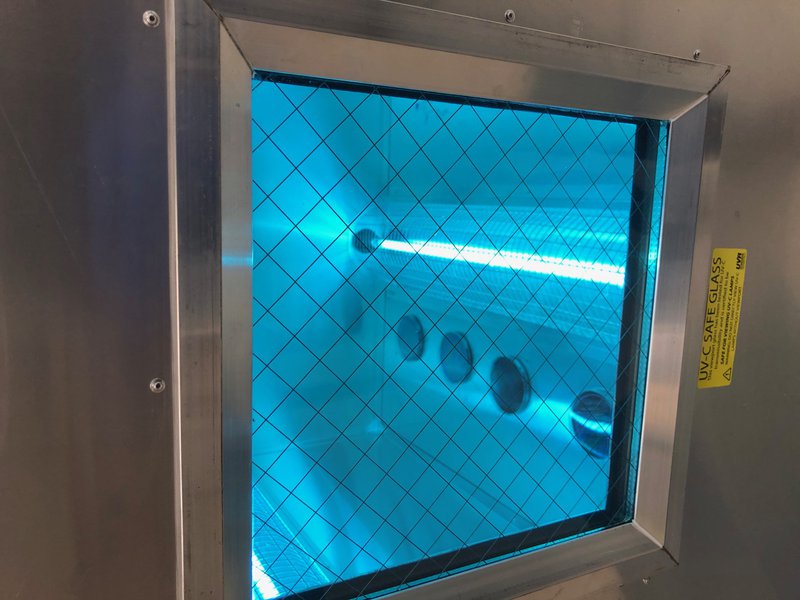 Teams tested an ultraviolet light box at Cox South that could be used to decontaminate face masks in the event of a future crisis shortage of PPE. 
Preparing for crisis 
Nowhere is innovation as preparation more obvious than in the work we have done around mask decontamination.
In the early days of COVID-19, a shortage of n95 masks was our top concern.
While we worked with local businesses for donations and Materials Management chased leads,
Gina Ellerbee, administrative director of nursing, led the charge to find a solution that would make masks reusable. Nursing Education, Sterile Processing, Infection Prevention, Laboratory, Engineering and more all played a role.
"This was truly a combined effort with all hands on deck, with innovation supporting the operations teams," Rogers says.
Their work would only come into play if we reached a crisis level of need, but the efforts show how far our experts are willing to go to make sure we have PPE in a crisis.
The team created multiple ways to decontaminate n95s if that becomes necessary in the future.
The high-tech approaches involve decontaminating masks with UV light, in one of three ways: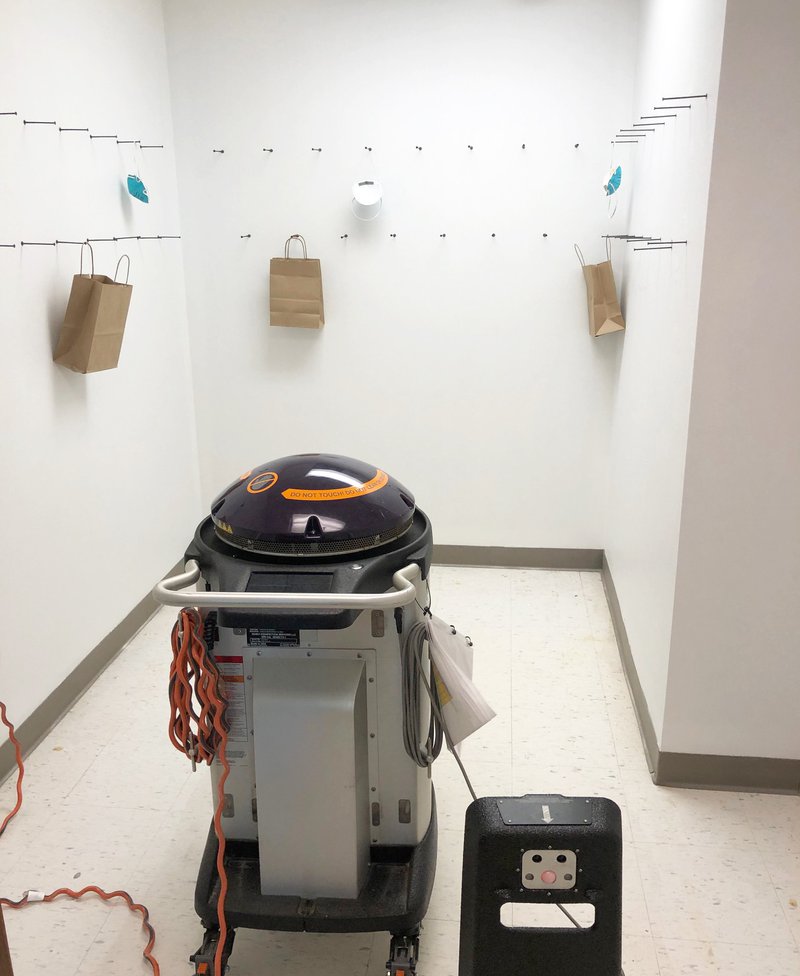 Masks are hung on the walls of a special room (above) and the Xenex robot is placed in the center. The robot – which usually sterilizes patient rooms – uses pulsed xenon, a high-intensity UV light, to kill viruses and bacteria on the masks.
The robot delivers UV rays in a five-minute cycle, bathing the room and its reflective walls in UV light. Then, the masks are flipped over and the process is repeated.
The "robot room" can process up to 131 masks, with a turnaround time of about 20 minutes.
Secondly, masks can be processed in a custom-designed box, built by a local HVAC company. The box can process 16 masks in about five minutes.
A third system uses a conveyor belt and a UV light source to process masks flat duckbill masks, one at a time.
Additionally, they worked on additional methods of decontamination with hydrogen peroxide.
"This was more about thorough preparation than the scramble that other health systems were doing," Rogers says. "We had the luxury of time and we are well prepared."
Innovation as a way of life
While COVID-19 has highlighted the ways innovation can keep us prepared, that same spirit can continue to drive success beyond the pandemic.
"All the things people did – from the supply chain, to trying technology – happened because people were prepared to think differently," Rogers says. "People are more open minded and more willing to pilot something and test it.
"People are thinking about lessons learned – what worked well? What can we stop doing if it doesn't add value? It's a chance to ask, 'how do we reimagine our future?'"