Posted by Kaitlyn McConnell on June 28, 2021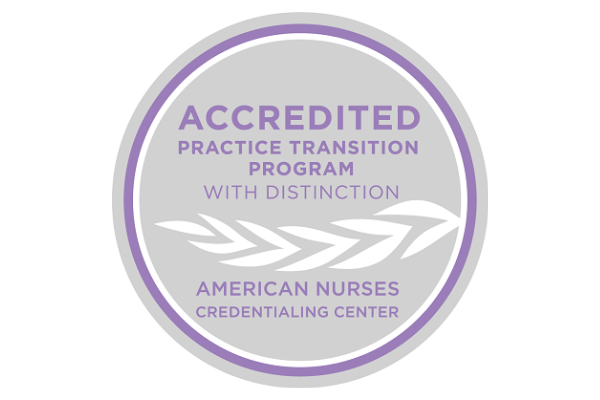 CoxHealth's Graduate Nurse Residency has received Accreditation with Distinction from the American Nurses Credentialing Center, the highest honor possible for such a program.
Given to the Springfield location of the residency, the major milestone is the result of years of work, and is a testament to the program's quality and standards. Under the new designation, the Springfield site is now the only accredited residency of its kind in southwest Missouri and northwest Arkansas.
"Accreditation of our nurse residency program demonstrates CoxHealth's commitment to supporting our new graduate nurses as they navigate their first year of practice," says Gina Ellerbee, system director of Nursing Education at CoxHealth. "The accreditation is a distinguished honor and the greatest source of recognition for residency programs. We also diligently worked to achieve the accreditation since it's another sign of the support we have for our new nurses."
Through its residency, CoxHealth has shown that structures and processes are in place to educate and support new nurses during their transition from student to professional RN. To earn accreditation, specific criteria must be met in the categories of program leadership, quality outcomes, organizational enculturation, development and design, and practice-based learning. Written evidence and examples, resident survey results, and a virtual survey are also part of the process.
"This accreditation affirms something we have long worked to do: To have programs in place that help new nurses grow in their skills even more quickly, and feel confident and prepared to serve patients with us," says Ellerbee.
With the accreditation, CoxHealth is dually recognized by the U.S. Department of Labor as an Industry-Recognized Apprenticeship Program (IRAP). This dual recognition acknowledges CoxHealth's commitment to high quality educational programs to advance skills and provide workplace-relevant knowledge.
CoxHealth began a journey have its Springfield residency program accredited in 2019, which successfully transitions approximately 200 new graduate nurses each year. It's anticipated that CoxHealth will also work towards accreditation for its other sites in the coming months.
For more information about the residency, click here.