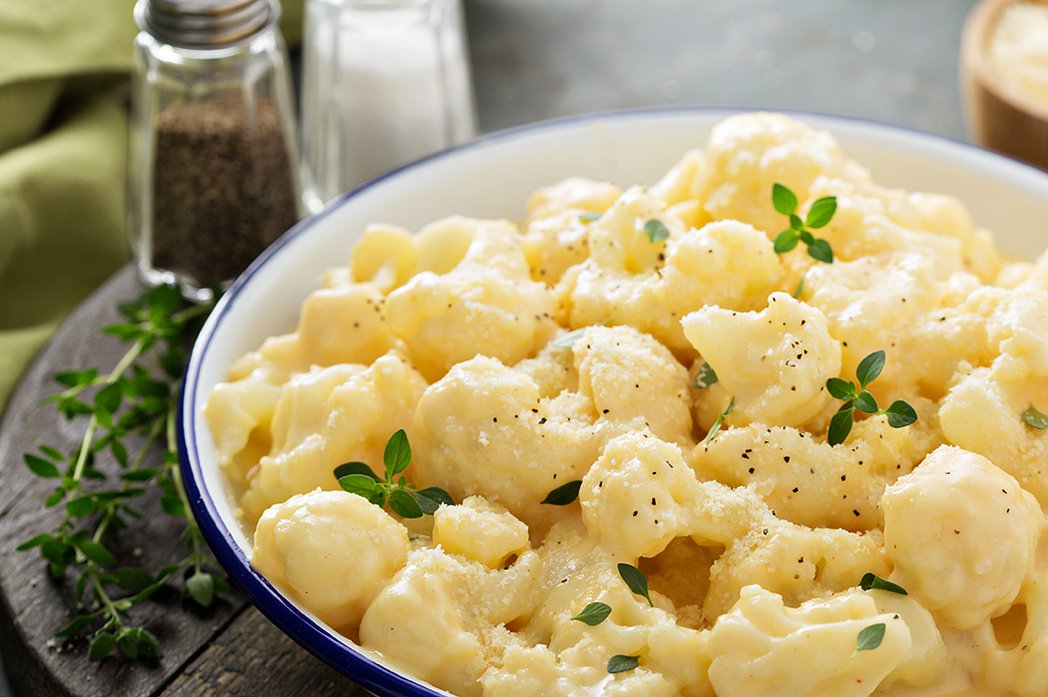 Cauliflower Mac and Cheese
Yields: 4–6 side servings. Serving size: ½ cup. Cook time: 25 minutes.

Nutrition information per serving: 198 calories; 16 g fat; 219 mg sodium; 8 g carbohydrate; 3 g fiber; 7 g protein.

All you need is:

2 tablespoons extra virgin olive oil
1 green bell pepper, chopped 
1 pound cauliflower florets, chopped smaller than 2 inches
1/4 cup parmesan cheese, finely grated 
ground black pepper, to taste
For sauce:
 

1/2 cup heavy whipping cream

1 cup cheddar cheese, shredded
2 ounces cream cheese, cut into small pieces
2 teaspoons Dijon mustard
1/2 teaspoon kosher salt
1/2 teaspoon garlic powder
1/4 teaspoon cayenne


All you do is:
Preheat oven to 400 F. Line a baking sheet with aluminum foil.
Add olive oil, bell pepper and cauliflower florets to baking sheet. Stir to thoroughly coat with oil. Then spread mixture in a single layer on pan.
Bake for 20 minutes or until tender. 
Meanwhile, in a small saucepan, add all sauce ingredients. Heat for about 5 minutes over medium heat until melted and smooth, whisking frequently. Adjust the heat as needed to keep sauce from simmering. Keep warm on low heat while cauliflower bakes.
Once cauliflower is tender, toss in a mixing bowl with sauce until well coated.
Sprinkle evenly with parmesan cheese and season with black pepper.