Posted by Randy Berger on March 3, 2017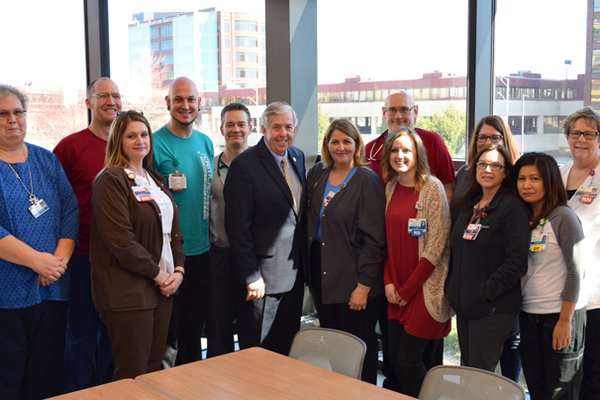 Editor's note, May 30, 2018: Mike Parson, who is now set to serve as Missouri's 57th governor, paid a special visit to the staff at Cox South in the spring of 2017. Below is our original report from March 3, 2017:
Missouri Lieutenant Governor Mike Parson stopped at Cox South on Friday morning, but this was no ordinary political visit. 
He built time into his Springfield schedule to meet with the teams of caregivers he had last seen in December, when he was hospitalized for a heart surgery over the Christmas holiday.
"I wanted to say thanks. Truth be known, you guys saved my life," he told staff members in the Critical Care Unit at Cox South. "I got a second chance. Some people don't get a second chance in this old world, but I got to be the 47th lieutenant governor in the state of Missouri because of what you did."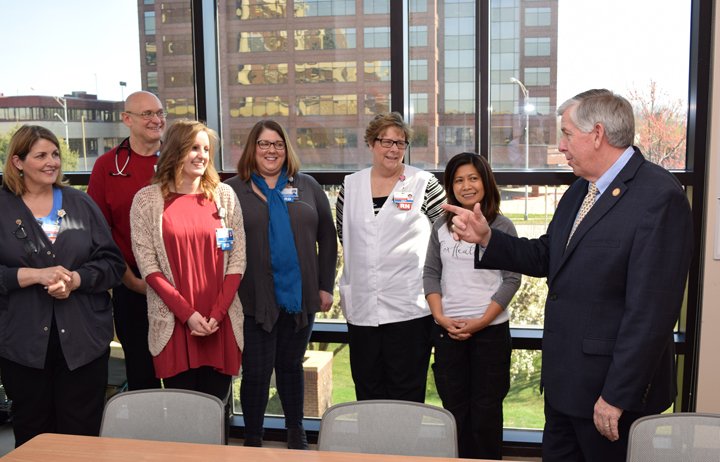 Lt. Gov. Parson says the experience gave him a new view of the 24-hour work of health care. He recalls telling his wife, Teresa, that he wished his caregivers could have been home with their families instead of at his bedside on Christmas Eve and Christmas Day.

"I wanted to say, 'Be with your family, just work a couple of hours and leave, I'll be fine,'" he says with a laugh. "I guarantee you when I drive past this facility I have a little more perspective on what it's like for people who are working day and night."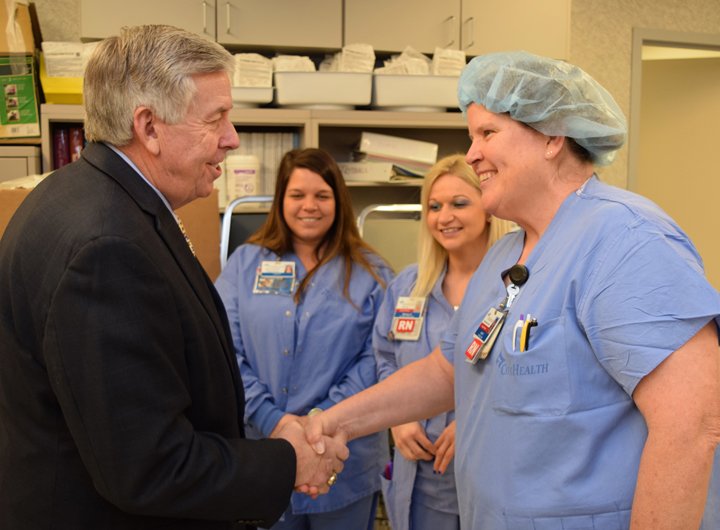 After meeting with the Critical Care team, Lt. Gov. Parson visited Cox South's Surgery department, shaking hands with staff members and personally thanking surgeons Drs. John Steinberg and David Zolfaghari.

"I appreciate this facility and more importantly, I appreciate you as individuals for what you do every day," Parson told the group. "You guys are the ones who make these facilities work. You may think saving lives is routine -- trust me, it's not. When you're the patient, it means a great deal."