Posted by Randy Berger on June 29, 2020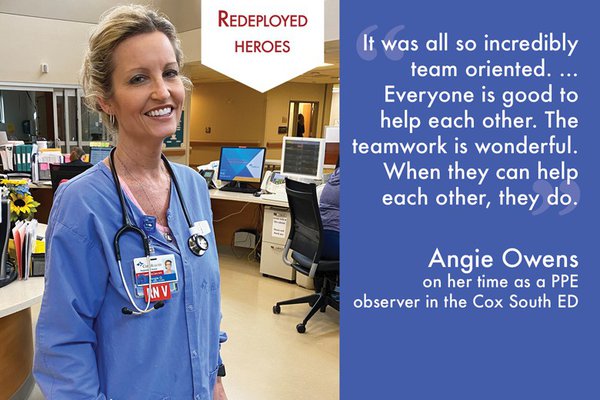 During the temporary closures, Angie Owens loved serving as a PPE monitor in the ED so much, she didn't want to leave.
She wrote a note to Jeff Hawkins, VP of clinical services, about the experience: "What a phenomenal staff we have! I have thoroughly enjoyed my time in the ED. Everyone from the nurses, the ICU floats, the PCMs, the ED techs, the ER doctors, and the entire ED nursing staff have been so friendly and helpful!"
During her four weeks in the ED this spring, she says she saw the best of our teamwork on display.
As a PPE observer, she helped staff and providers as they donned and doffed protective equipment to care for potential COVID-19 patients.
"It was all so incredibly team oriented," she says. "As soon as there is an admission, everybody is in the room. Everyone is good to help each other. The teamwork is wonderful. When they can help each other, they do.
"Everyone wanted advice on donning and doffing. They were grateful for the help," she says. "I wasn't a stranger down there. Everyone was personable. I found them all really sweet."
When she wasn't coaching on PPE, there were plenty of other things to do.
"I love to be busy. I was trying to help in every way I could – from finding pumps and supplies to running between the ED and the CDU."
Owens has worked at CoxHealth for 31 years, and she says the time spent in the ED has been one of her favorite experiences.
"I realized I have missed working with acute patients and working in critical care. This has been so fun for me – it's a huge learning experience."
Now, she is back to her previous role in the recovery room at Meyer Orthopedic and Rehabilitation Hospital and the Surgery Center.
She says the lessons about teamwork and being out of your comfort zone have stuck with her.
"Change is good sometimes," she says. "I hope people remember stepping out a little can be good. You can always widen your horizons. There is a lot to learn, but people are there to help you thrive. An experience like this shows that you can do always something more and try new things."