Posted by Randy Berger on Dec. 27, 2018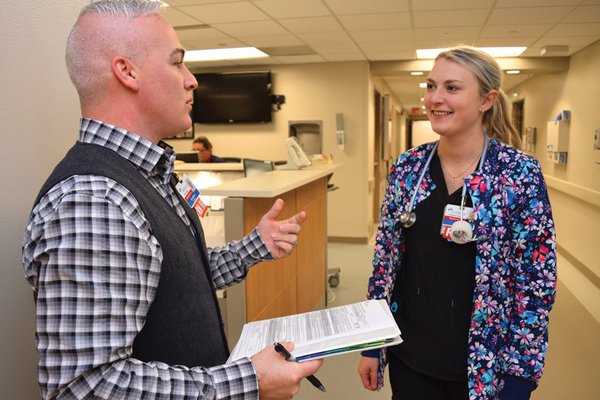 300 West staffers like Allie Jackson work to perfect their hourly rounding with feedback from Nurse Manager Eric Milton and Marie Orchard of the Office of Patient Experience. 
A focus on teamwork and celebration has helped the unit make strides. Here's how they did it.
A great patient experience begins with a great employee experience. On a busy pulmonary floor like 300 West, providing an outstanding experience requires intentional effort. 
"I want the atmosphere on this floor to be positive no matter what," says Nurse Manager Eric Milton. "Yes, we have difficult days, and we have complicated patients. You can still be positive about your job and enjoy the work you do." 
Since he took over the role in April, Milton has made positivity the driving force behind the unit's work. His straightforward tactics are paying off in staff satisfaction and patient satisfaction.  
Milton is well aware that change can be difficult. Rather than making incremental improvements, he wanted to make a splash. 
"I wanted a lot of sudden change, to refresh everyone's mind and do a reset," he says.
He hired a new assistant manager as well as an assistant manager for overnights. He and the team rearranged the stockroom and patient care areas, changing the look of the floor and setting the stage for a new environment. 
If a staff member had questions, he took the time to explain his end goal: "I want 300 West to be the example for other floors, so people will come to us and ask how we did it." 
The reset
Milton began by simply working to be present with his staff. Milton says he makes a conscious effort to see as many staff members as he can throughout the day. 
"When I get here each day, I go straight out to the floor and talk to charge nurses. And from there, I see who is around and ask them how their day is going," he says. If there are new hires, he goes out of his way to check in and see how their day is going. "People want to know they have been seen." 
Milton has also been intentional about how important teamwork is. He lets potential staffers know up front that there will be challenging days, but that challenge drives excellence. 
"I tell them: You will work hard. You will leave tired at the end of the day, but you will leave knowing that you have done a good job." 
Beyond connecting with staffers and updating the environment, Milton says one key to a fresh start is setting the right expectations. 
He and nursing leaders laid out black and white guidelines for what is expected on the job – everything from the attendance policy to the professional respect and courtesy required. 
"It took the ambiguity out of it, by saying 'these are the policies and we will adhere to them,'" he says. "We make it clear: Everyone here came to CoxHealth looking for a job and there are requirements for that, including a high level of teamwork."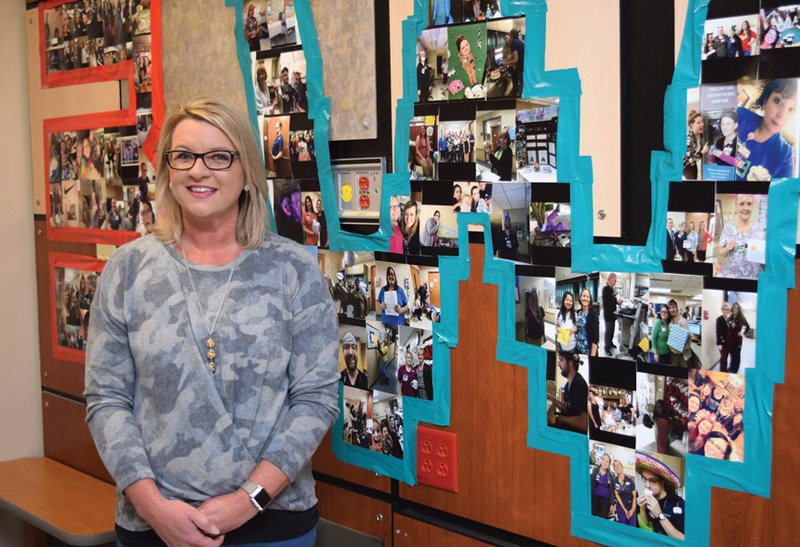 Celebration keys
Milton says he noticed something else about the unit: Everyone knew they were doing a good job individually, but no one was praising anyone for it. 
"There always needs to be a celebration going on, especially when we hit rough days," Milton says. "We can't stop on a bad day to make that happen, you have to have recognition in place before you need it." 
To make celebration a part of the unit's culture, the team launched a program called "Celebrate 3 West." Nurse Tricia Holman (above) took the lead in finding ways, large and small, to celebrate the work that is done on the unit. 
They started with the obvious: celebrating birthdays, anniversaries and graduations. Holman then branched out into monthly events. 
One month, they asked staff members to draw names of their colleagues. Then, they were asked to write an anonymous note about that person on a whiteboard. 
Almost immediately, the entire 6x9-foot board in the break room was covered with positive notes. 
"People enjoyed coming in and reading what others said about them," Holman says. "It is hectic when we're out there working. This is our sanctuary. It's good in those moments to come in here and get grounded back in good things." 
Milton says the celebration has made a huge difference in how colleagues view teamwork. More celebration and recognition has shifted peer-to-peer attitudes from "this is what I need you to do for me" to "how can we help each other with our jobs today?" 
The team has also launched other efforts, including: An Employee of the Month recognition, themed food bars for meetings and outside social events. 
Back in the break room, you can see one of Holman's most visible ideas: A huge 3W mural, made up of team member photos. 
"It's not always rainbows; people have bad days," Holman says. "(The mural) reminds everyone we had these wonderful times. When we face adversity, we feed off of that. 
"We excel at teamwork on this unit. We genuinely care about our patients and we genuinely care about each other. We are watching out for each other every day."  
Eric Milton: What I've learned
No matter what you have to say, say it positively. A lot of people speak negatively -- they don't mean it that way, but they sound negative. "I've had a busy, rough day. It's been crazy." You could say: "My patients were all very complicated, but I rocked it all day." It was busy, but you did it. 
Don't wait. Leaders need to be good at prioritizing what they should do for the good of the floor. If someone has a question, I try to get them an answer the same day. If I can't get an answer, I will tell them what I've done. Those little things go a long way. 
Explain the why. Everyone is seeking understanding. When changes happen, people need to know why before they can be OK with it. Finding those whys and supplying them is important.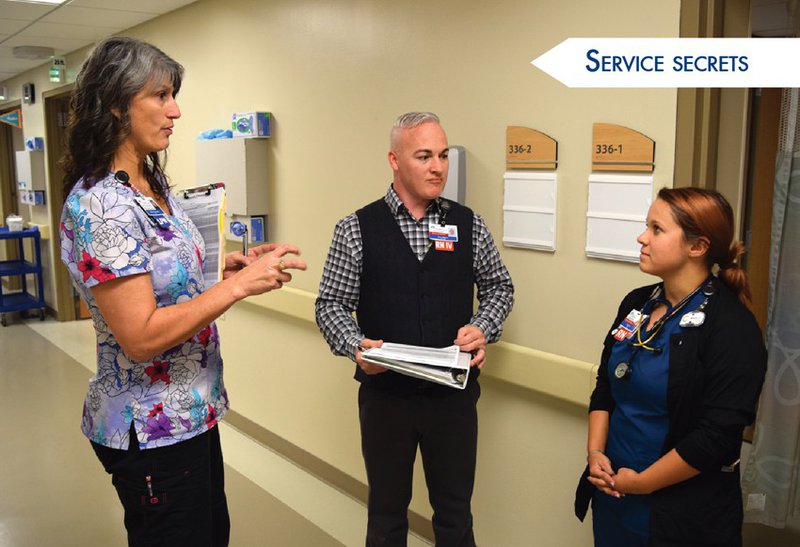 Not a magic bullet, but close: Rethinking the hourly round
Once a month, Marie Orchard of the Office of Patient Experience meets one-on-one with Nurse Manager Eric Milton to review what patients are telling us in surveys. 
They dig into the scores and look at areas where perceptions could be improved. They are looking closely at responsiveness, making sure call lights are answered quickly and that patients perceive that all of their needs are being met. 
The key to improving that perception? Purposeful hourly rounding. 
Like most units, 300 West is working to make sure that staff complete the "Five Ps"– potty, position, pain, personal items and check the IV pump. 
"So many things we see in patient feedback point back to the value of an hourly round," Orchard says. 
Milton says staff are already doing a lot of the rounding tasks. Creating the perfect round is largely a change of mindset to make sure staff members hit each point, ask if patients need anything else and remind them that staff will return in an hour.  
Those steps improve perceptions of care and can save time for staff, since meeting patient needs during rounding can reduce the time spent responding to call lights.