Posted by Randy Berger on April 12, 2021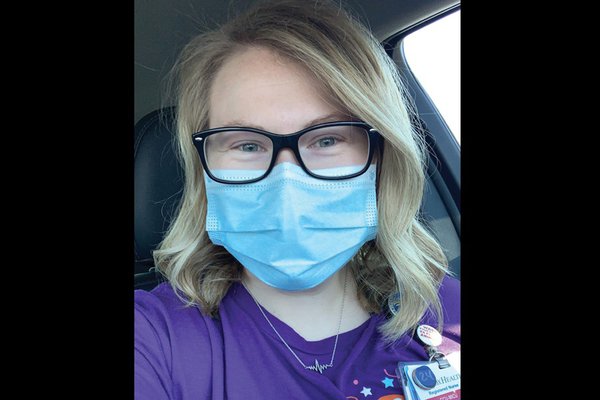 For the hundreds of CoxHealth staff members who have volunteered at our community vaccination events, the experience has been an uplifting example of being the best for those who need us.
We asked a few staff members to tell us what it meant to them to participate in these historic events – below is the latest in our series of Vaccine Clinic Voices, with nurse Kristyn Scott:
Kristyn Scott
I currently work in MICU and have been working with COVID-19 since we started. I helped open up the Med-Surg side of COVID, and transferred to ICU in the middle of it, so I have seen multiple aspects of how this virus has affected everyone.
I am so proud of my team, ICU and Med-Surg, for all the hard work and encouragement they have done throughout this whole process. And to our leaders: a huge thank-you! From making sure supplies were covered, to encouraging us, to being there for us in the hard times!
Working the clinics has been so amazing! Being able to help vaccinate our community is an honor.
After seeing patients fight for their lives, some not making it and others recovering, seeing those in the community WANT to do their part to combat this virus makes me so happy.
I feel like I am doing something for my patients who didn't make it through.
Every vaccination is one less person we hopefully won't see in the hospital, who won't get sick, and won't have to isolate themselves! These people are excited for this vaccine and they have hope, which in turn makes us as health care providers excited and hopeful for an end in this.
I personally got to vaccinate my only grandmother today, and seeing her make that decision to be vaccinated gives me so much happiness. It was SO powerful. Happy tears! She was so, so excited to receive this! I am overflowing with emotions of happiness and joy.