Posted by Kaitlyn McConnell on Aug. 8, 2017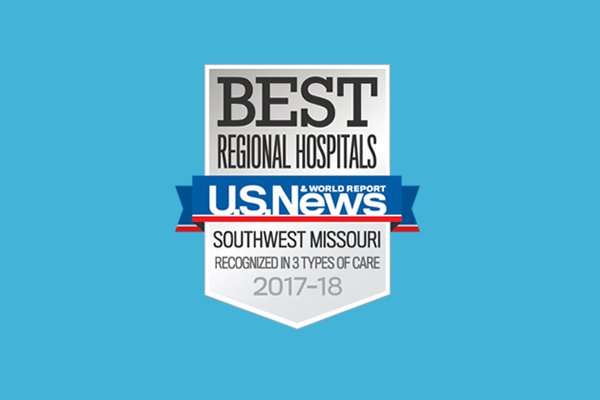 Cox South and Cox Branson have been recognized as Best Regional Hospitals for 2017-18 by U.S. News & World Report.
"We're proud to be included in Missouri's top 10 hospitals – not just once, but twice this year," says Steve Edwards, president and CEO of CoxHealth. "Our wonderful staff works every day to provide exemplary care for our community. While our motivation to be the best for our patients isn't tied to receiving awards and honors, it is nice to see the hard work recognized on a statewide level."
The annual Best Hospitals rankings, now in their 28th year, are part of U.S. News' patient portal, designed to help patients make informed decisions about where to receive care for life-threatening conditions or for common elective procedures.
Cox South was named 9th in Missouri and recognized as high performing for congestive heart failure, colon cancer surgery and knee replacement.
Cox Branson was named 10th in the state and recognized as high performing for congestive heart failure, COPD and knee replacement.
For the 2017-18 rankings, U.S. News evaluated more than 4,500 medical centers nationwide in 25 specialties, procedures and conditions. In the 16 specialty areas, 152 hospitals were ranked in at least one specialty. In rankings by state and metro area, U.S. News recognized hospitals as high performing across multiple areas of care.
The U.S. News methodologies include risk-adjusted survival and readmission rates, volume, patient experience, patient safety, quality of nursing care and other care-related indicators.