Posted by Kaitlyn McConnell on Aug. 29, 2017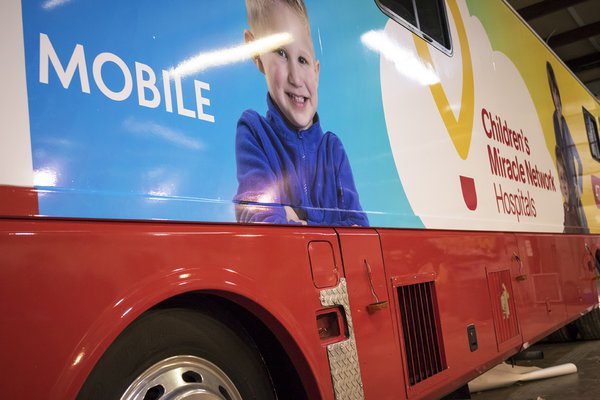 For more than 20 years, CoxHealth's C.A.R.E. Mobile has brought immunizations and primary care to local school children through the support of Children's Miracle Network Hospitals at CoxHealth.
Those years of service – represented by thousands of miles on the mobile – prompted a recent remodel of the unit-on-wheels. However, now the vehicle is upgraded for even more than it has traditionally offered: It's now equipped to offer services to kids via telemedicine.
"We're very excited about the upgrade and remodel of the C.A.R.E. Mobile because of what it represents for local children," says Tim Siebert, executive director of Children's Miracle Network Hospitals at CoxHealth. "It is a win for the children, a win for the parents and a win for local school districts. Children's Miracle Network Hospitals is grateful for our friends and supporters who have helped to make this technology possible in the Ozarks."
The C.A.R.E. Mobile's telemedicine services are offered in connection with the ACHT Now grant, a program that recently placed telemedicine equipment in six local elementary schools to help reduce absenteeism due to illness.
Through the grant, kids are able to see a health care provider at school with the approval of a parent or guardian via telemedicine. Now, the providers kids see will include those aboard the C.A.R.E. Mobile. 
"Parents can also conveniently participate in the three way telehealth conversation while at work using their mobile devise or webcam," says Siebert. "The program should help schools address chronic absenteeism, help parents reduce lost workdays and provide efficient and effective health care alternatives that otherwise might not be available."