Posted by Randy Berger on June 29, 2017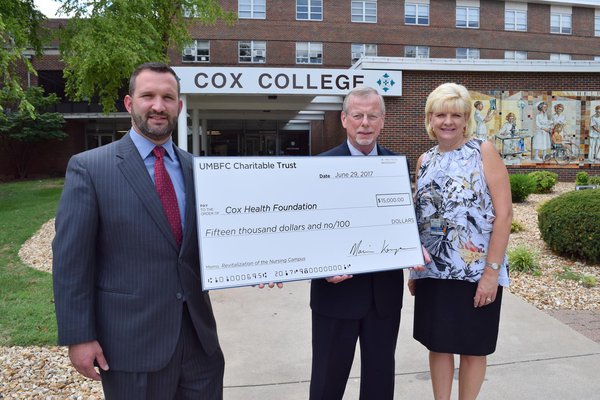 In a show of support for the area's growing need for medical professionals, UMBFC Charitable Trust has made a $15,000 donation to Cox College's capital campaign.

"We are thrilled to support the CoxHealth Foundation as they jumpstart the funding campaign for the revitalization of the nursing campus in Springfield," said Aaron Emel, market president of UMB Bank Missouri South region. "Nursing education is vital in our community and we hope this donation will benefit many classes and graduates down the road."

The donation brings Cox College one step closer to beginning extensive improvements to its facility, which is located adjacent to Cox North Hospital. The $6.6 million campaign will completely revitalize the aging campus, most of which was built in 1961. It's being done in an effort to expand the college's capacity to train nurses in the years to come, a need that is only going to grow as time passes and "Baby Boomers" transition from health care providers to patients. Renovating the campus will allow for greater classroom space, and will hopefully help increase the cap of how many students the Missouri State Board of Nursing allows the college to accept.

"We are thrilled that UMBFC Charitable Trust  has decided to support these efforts," says Lisa Alexander, president of the CoxHealth Foundation. "Over the next few years, the need for nurses is going to grow exponentially, and this donation helps us prepare to serve the Ozarks with greater numbers of prepared professionals."