Posted by Randy Berger on May 22, 2018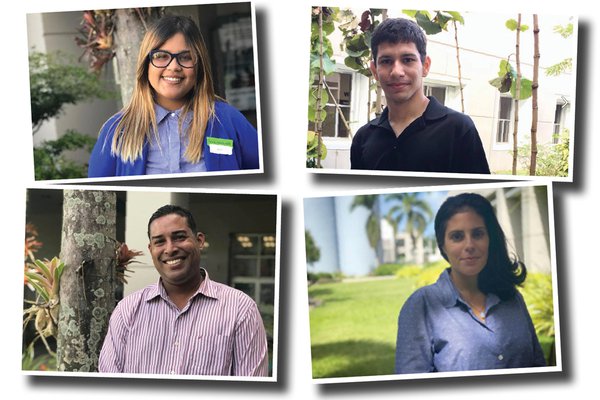 During a recruiting week in Puerto Rico, Media Relations Coordinator Kaitlyn McConnell met with nursing candidates, including (clockwise from top left, Perla, Ernesto, Diandrah and Jose), who are applying to work at CoxHealth.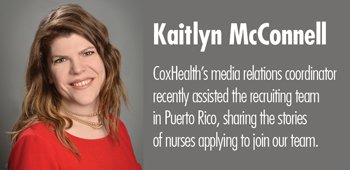 The sun was shining as we descended into San Juan, Puerto Rico's capital city. The view was much different than just a few months ago, when hurricanes Irma and Maria brought widespread devastation to the island – proven by the blue tarps, seemingly specks of confetti, that still protect homes without roofs. 

While we weren't visiting Puerto Rico for traditional relief efforts, our CoxHealth team of recruiters (and me, the media relations coordinator) did come with hopes of helping. We were there to recruit nurses to come to CoxHealth, making a difference for them and ultimately, for our patients.  
That said, it wasn't the hurricane that prompted our efforts. In actuality, we'd been planning to expand our recruiting program to Puerto Rico for months. We began a relationship with the Puerto Rican Department of Labor in 2017, which worked with us to develop a recruitment plan.  
But then the hurricanes came through.  
In light of the devastation, we spoke with Puerto Rican officials to ensure our recruitment efforts were still seen as a positive thing. After all, we didn't want to take nurses if they were needed to serve the recovering country.  
However, our contacts at the Department of Labor reiterated that they wanted us to be there. Puerto Rico has long had an abundance of just-graduated nurses – so many, in fact, they've been unable to find jobs. 
So, when our plane landed on that sunny Saturday, we were ready and excited to meet the applicants. These people, we knew, would ultimately make a difference for CoxHealth and our patients – but we also knew we could help give them a chance of a better life.  
We weren't disappointed. The first day, we met people like Perla, who visited our career fair at the Universidad del Este en Carolina, a college in the San Juan suburbs. A smiling woman, Perla heard about the jobs and decided to apply – not only for the opportunity it gave her, but also what a move to the United States would mean for her 3-year-old son.  
After filling out some paperwork, Perla became one of several applicants to visit with our recruitment team. She was interviewed by nurse leaders, and found out that night that she was being offered a job with CoxHealth.  
When she came back for her onboarding appointment, the reality of her future was starting to sink in. 
"Taking care of people – I think I was meant to do that," she said. "I want to be stable, and maybe the U.S. is a good chance for me and my son." 
Throughout the five days we worked in San Juan, we met with applicants, conducted interviews and visited local college campuses to meet with students. Ultimately, we signed 13 nurses to come to CoxHealth. 
Some, like applicant Diandrah, planned to come to the United States as a nurse even before graduating from college. However, despite long-laid plans, coming to CoxHealth is a huge life change for international hires.  
Some haven't driven a car before, instead relying on public transportation. Others, coming from tropical climates, may not have seen snow, ice or cold temperatures like Missouri has. Many have spent their lives around family; most are leaving an area that's been home for most – if not all – of their lives. 
But their desire to make a better life – and a difference – is worth giving up everything some have ever known. 
"It's amazing that CoxHealth is giving us this opportunity," said Ernesto, another applicant who accepted a job with CoxHealth. "I want to help patients with love."   
Puerto Rico recruitment: Q&A
After the trip, Celeste Cramer, system director of Recruitment and Retention, answered a few common questions about our recruiting efforts:
Q: Why did CoxHealth decide to recruit in Puerto Rico? 

A: Increasing our number of health care professionals is a priority, as we want CoxHealth to be ready to serve our community's growing needs. While we plan to continue our local recruitment efforts, we need to think outside the box to find and develop people who can join our team.  
Because of that, Puerto Rico seemed like a good fit – especially since it has long had an excess of nurses. Additionally, as Puerto Rico is a U.S. territory, all residents are U.S. citizens. Visas aren't required for Puerto Ricans to work in the U.S., making it not much different than us recruiting in another state.  
Q: Are nurses in Puerto Rico held to the same standard as ones trained in the U.S.? 
A: Colleges in Puerto Rico train students similarly to ones in the U.S. However, to work in Missouri, all applicants must have their credentials approved by the Missouri State Board of Nursing, and must also pass the NCLEX. To help with that process, all nurses coming from Puerto Rico will actually start at CoxHealth as CNAs for a few weeks until they have a chance to take the NCLEX. After that, they will be assigned to a unit the same as any other locally recruited nurse.  
Q: I've heard the country is still recovering from the hurricanes. Do nurses need to stay there? 
A: We began planning to recruit in Puerto Rico months before hurricanes hit the island. After they came, however, we worked with Puerto Rico's Department of Labor to ensure that our recruitment efforts wouldn't be a negative thing. We were actually told that they wanted us to continue, and give citizens a chance to find jobs in line with their training.  
Q: Do these efforts affect our recruitment locally? 
A: International recruitment is simply a supplement to our efforts. Our recruitment of local nurses and health care professionals will not be reduced at all.