Posted by Randy Berger on May 14, 2020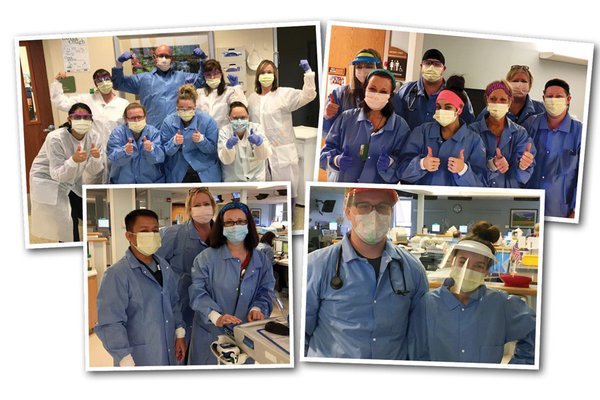 In the wake of COVID-19, CoxHealth's Human Resources team has focused on reassigning staffersfrom areas temporarily closed by the crisis. We are sharing a few stories of those staff members in our "Redeployed Heroes" series.
As COVID-19 temporarily closed some of our services, we have found new ways to collaborate.
Take one look inside Ozarks Dialysis Services and you can see that staff have risen to the challenge. For several weeks in April and early May, nurses from shuttered units at the Martin Center have stepped in to help their dialysis colleagues.
We talk a lot about working well together across the silos of health care. The teams at ODS and the Martin Center have lived that teamwork, and come away with a renewed appreciation for one another.
Rising need at ODS
Even as other areas made adjustments for COVID-19, ODS continued to operate at full capacity, even seeing a slight rise in patients.
"Our patients can't self isolate, and all of them are high risk," says Steven Stovall, director of Ozarks Dialysis.
Across three units, ODS provides end-stage renal care to about 300 patients.
A creative solution
Early on in the crisis, HR's reassignment efforts had placed a few nurses in ODS's Springfield facility, where they served as screeners. Leaders within ODS saw an opportunity.
The ODS team was already thinking about their "rainy day" plan if the pandemic stretches out over months. What would they do if staff members became ill? Who would care for their patients?
Meanwhile, nurses from units like Endoscopy at the Martin Center were looking for hours as their areas temporarily closed.
Dialysis nurses and some of the nurses redeployed as entrance screeners began talking about redeploying into ODS. There, they could learn the ropes, pass medications, call patients and do other support duties.
"I emailed a few nurses and this all blossomed so quickly," Stovall says. "Within two days, I had a hard time managing people who said 'yes.' It was just a great response."
Learning the ropes
Soon, a dozen nurses from the Martin Center were set to temporarily join the ranks at ODS.
The group worked with the ODS nurse educators and underwent abbreviated orientations to get up to speed on dialysis and kidney disease.
For several weeks, the nurses worked across all ODS units, with 10 nurses working at south and two in Monett.
Stovall says the nurses' skills and willingness to take on new roles has given ODS, and their patients, peace of mind as they plan for COVID-19 and beyond.
"This expands the number of nurses who know our area. They have helped us answer the question of what would happen if our nurses got sick," Stovall says. "They have been so important to us. This definitely shapes our emergency planning for the future."
Teamwork in action
Even as nurses begin to return to their original roles, Stovall says the last few weeks have been an education in the kind of teamwork CoxHealth is famous for.
"I was very proud of how my team responded to the numerous challenges COVID-19 presented, but wanted to ensure we supported them as well. The group from the Martin Center was my way of doing that," Stovall says. "They were so open to diving right in, learned quickly and they have integrated phenomenally.
"The integration of the nurses from the Martin Center has truly been a clinical care multiplier for ODS patients. They brought nothing but positivity to our patients and staff."
Here is what a few of the Martin Center nurses had to say about their experience: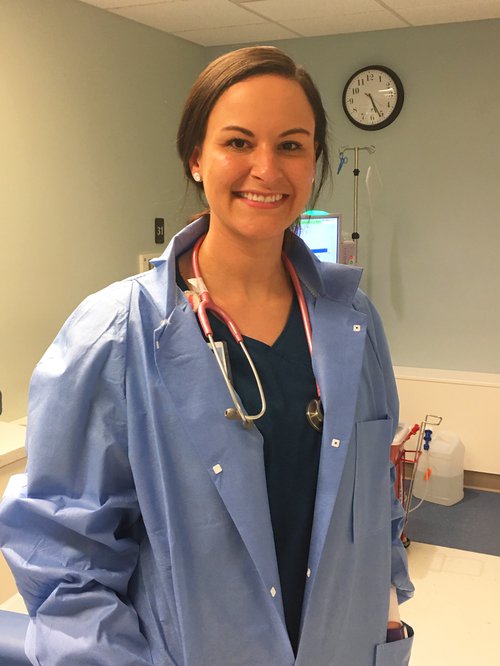 Danielle Rice
Nurse Danielle Rice says she's someone who doesn't like change. When Endoscopy at the Martin Center closed temporarily, she wasn't sure how she was going to get her hours.
"I needed to continue to work and provide for my family and I'm grateful we had somewhere else to help out," she says. "Everyone has been so welcoming and kind. They really took us under their wing."
The teamwork she saw at ODS made her change a pleasant one.
Rice spent the last five weeks helping with patient assessments, medication passes and more.
"It has been Interesting learning how it works, learning their processes and seeing how they take care of patients," she says. "They have been great teachers and helped guide us."
"It's awesome seeing how teamwork happens in areas other than your own."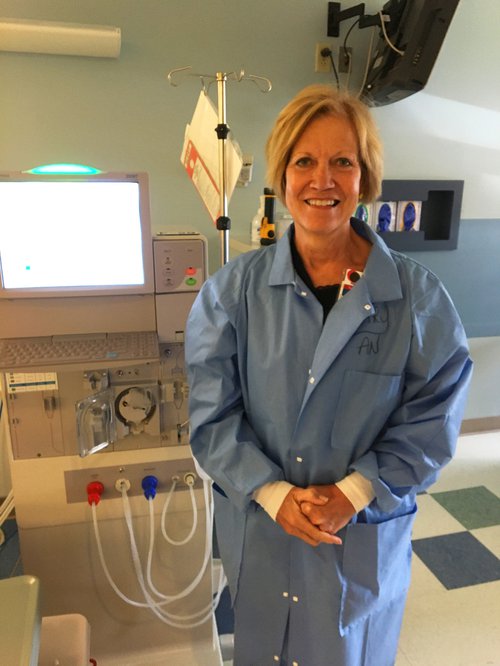 Mary Ann Kenney
Mary Ann Kenney sums up her temporary time at ODS this way: "A totally positive experience."
"From the first day, the staff will tell you, 'I appreciate you,'" she says. "It's such a great staff. I want to do PRN and come back!"
Kenney says Cathy Spargo, assistant nurse manager of the Outpatient Care Unit, "worked her butt off" to make sure her Martin Center team had the opportunity to get hours in alternative roles.
"She has gone above and beyond to get the staff hours. She makes sure hours are divided evenly."
Kenney wanted to find a way to help during the closures and the crisis, and ODS was the perfect opportunity.
She had worked in a dialysis unit 15 years ago, and a lot has changed.
"This is a whole different side of nursing," she says. "The Martin Center team is one of the best groups of people I've ever worked with. The staff at dialysis is just as good."
Kenney says the change has been challenging, but the ODS team has made it worthwhile.
"It's rewarding, but it is hard work. They have a lot of good people. The biggest thing is how good they have been to us."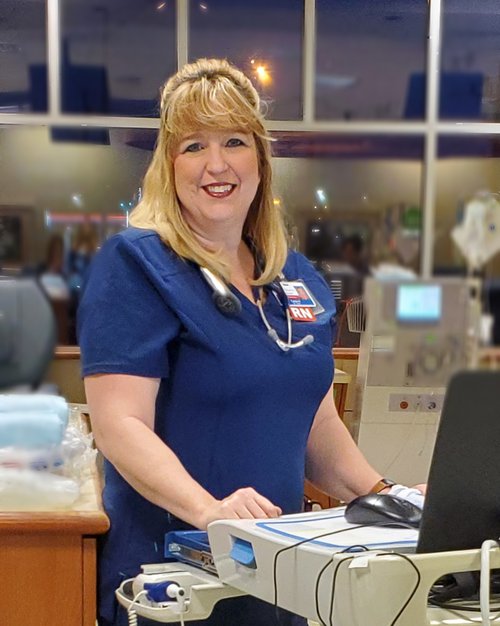 Twila Howland
Twila Howland was one of the nurses who took on the task of commuting to Monett to assist.
"That's where I was most needed. I want to be the best for those who need me most," she says. "We were all happy to step in and do our part."
Howland says she has spent the last few weeks filling in wherever she was needed to support the ODS staff, whether it's helping with medication or holding needle sticks for patients at the end of treatment.
Anything she can do to assist with those tasks frees up specialized dialysis nurses to do tasks only they can do.
"This takes a lot of teamwork. In dialysis, there are so many variables. Nurses really have to team up with techs," she says.
"It's been a great feeling to go in and help and pitch in and learn some skills at the same time. It was a natural thing to pitch in and do it. We may come from different floors, but we have the same last name: Cox," she says with a laugh. "We are family and this is what we do. We take care of one another."