Posted by Janell Patton on Dec. 16, 2016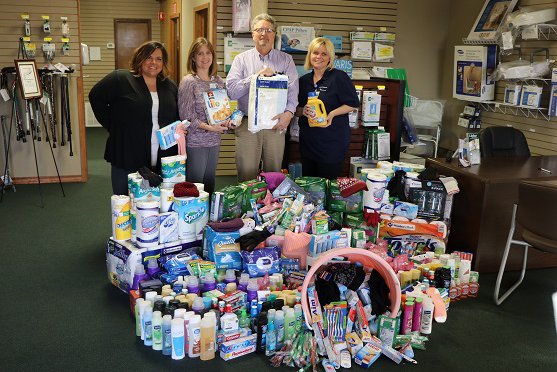 Annual event raises 200 pounds of food and over 1,000 toiletry items
Cox Monett employees teamed up with CoxHealth Home Support to collect healthy food and toiletry items to help local families and senior citizens.
This is the fifth year "Pack the Pantries" has helped individuals and families relying on food pantries across the Ozarks meet their daily food needs. The healthy food collected in Monett was provided to the pantry at Monett Community Kitchen. Food donated in Springfield was donated to Crosslines, and Branson's food donations were distributed to pantries operated by Christian Action Ministries.
This was the first year toiletry items were collected to benefit area senior citizens. "We are overwhelmed and humbled by the outpouring of generosity during our drive," said Grace Akin, branch manager of CoxHealth Home Support in Monett. "What a testament to the caring hearts of the Cox Monett staff, CoxHealth physician offices, and the incredible people within our community who donated in such volumes."
Akin said the toiletry drive items collected are needed items that some seniors may not be able to afford.    
"CoxHealth is blessed with the opportunity to provide care in this area," Akin said.  "We are beyond elated to share what we have collected with the Monett Community Kitchen and local seniors who may have to make a choice between food and toiletry items."
Employees donated items such as whole wheat pastas, low-sodium soups, no-sugar-added applesauce, 100-percent-fruit cups, low-sodium or "no salt added" canned vegetables, reduced sodium spaghetti sauce, tomato paste, brown rice, canned chicken, dried beans, canned fruits packed in fruit juice, and much more.  Toiletry items included hand sanitizer, deodorant, toothpaste, soap, hair products, ChapStick, paper towels and bathroom tissue.