Posted by Brandei Clifton on Feb. 8, 2018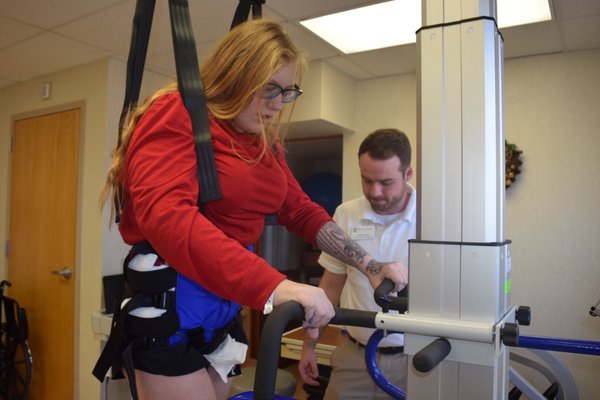 Nineteen-year-old Brooklyn Kellett was a star athlete at Hollister High School last year, but a sudden illness has her battling the biggest game of her life: Learning to walk again.
Kellett started experiencing sharp pain in her feet in late December. By Christmas, the pain had spread to her hips. By New Year's Eve, her legs had locked up.
An initial spinal test was inconclusive. "I had just lost my mom a year before, so there was a thought that maybe what I was experiencing was brought on by my anxiety and depression," says Kellett. "But I knew it had to be something else."
About a week later, she woke up paralyzed from the neck down. A spinal tap revealed her diagnosis: Guillain-Barré syndrome (GBS), a rare disorder in which a person's own immune system damages their nerve cells, causing muscle weakness and sometimes paralysis. GBS can cause symptoms that usually last for a few weeks, and sometimes the damage is permanent.
"I just remember laying there motionless and crying," says Kellett. "I kept thinking that my life was over because I'd never be able to do the things I love." 
Her frustration, however, soon turned into determination when she was brought to Cox Branson's Acute Rehab unit.
"I knew this was where I needed to be, and these were the people who would give me my life back again," she says.
Shortly before Kellett's arrival, the Acute Rehab unit had received a new mobility device called LiteGait, which was a combined purchase from Skaggs Foundation and the hospital.
The harness device holds patients up and allows them to walk on a treadmill in an effort to regain mobility. Kellett knew her turn to try it was approaching but she was nervous at first. "My anxiety about it kicked in, but my therapists were there to cheer me on," she says.
The therapy team turned on the theme song from "Rocky" and, on her very first try, Kellett was able to walk assisted by the device. "I just can't tell you what that feels like," she says. "To go from hopeless to hopeful in a matter of minutes. I can't describe it."
Kellett will be at Cox Branson's inpatient rehab unit for a few more weeks.  She hopes her story will inspire others to never give up.
"I just want everyone to know that they can achieve anything they set their mind to. I'm doing this for my Granny who is everything to me," she says. "And, I know my mom is right there in my heart walking with me each step of the way."