Posted by Randy Berger on Aug. 18, 2019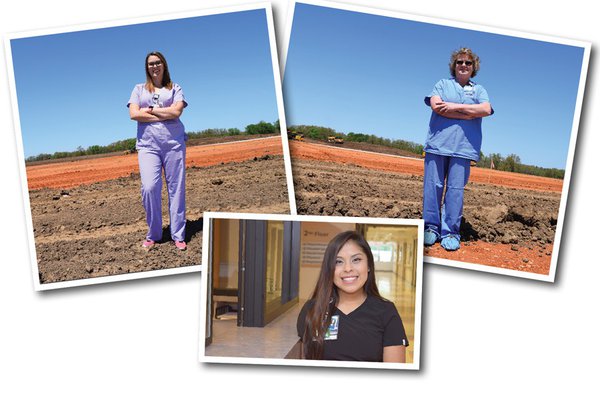 When Cox Monett's new hospital opens in 2021, it will be a new, world-class home for the award-winning care our teams provide.
The $42 million facility, which is set to take around two years to complete, replaces the current hospital that was built in 1953. The project reaffirms CoxHealth's commitment to providing health care in rural areas. 
The new hospital is the culmination of years of planning and it has sparked tremendous enthusiasm among staff and the community. 
­With ground broken and construction set to begin, we spoke with a few Monett employees about what it means to be a part of this pivotal time in Cox Monett history.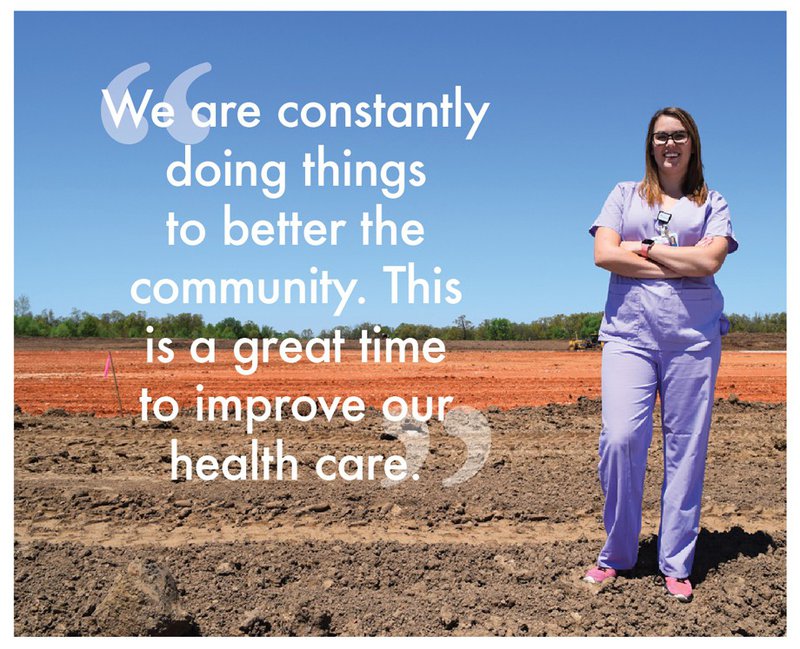 Mackenzie Lay
Labor and Delivery
For Labor and Delivery nurse Mackenzie Lay, providing care at Cox Monett means taking care of her community. Her family goes back four generations in Monett and she knows what a new hospital will mean for her hometown. 
"I've lived in Monett all my life and I want to take care of people in the community I grew up in," she says. "I have always been passionate about helping people -- being there for them in good and bad times. It's a way to give back." 
Monett is evolving and there is a spirit of community pride that Lay sees reflected in area parks, neighborhoods and businesses. 
"We're constantly doing things to better the community, and this is a great time to improve our health care," she says. 
While she and her colleagues love the family feel and teamwork at Cox Monett, they know their practice will be even better in a new facility. 
Lay points out that the current Labor and Delivery unit was originally designed as nuns' quarters. Bathrooms are small and the rooms can be cramped.
That's all about to change. 
Building a hospital from scratch offers a chance to get everything right – from more space to improved workflows. 
Right now, nurses and staff are assisting in the design of the new unit – listing their "must-haves" and weighing in on the position of beds and infant warmers. 
"It's great that nurses will have a say," Lay  says. "The new hospital will give us the opportunity to not worry about structure and workflow and focus on our patients." 
Ultimately, that continued patient focus will mean more residents of Monett will take advantage of care close to home. 
"Everyone is looking forward to the new hospital; we're ready for it to be done," Lay says. "This project will draw more people in. It's an exciting new environment and more people will want to come to Monett to have their babies."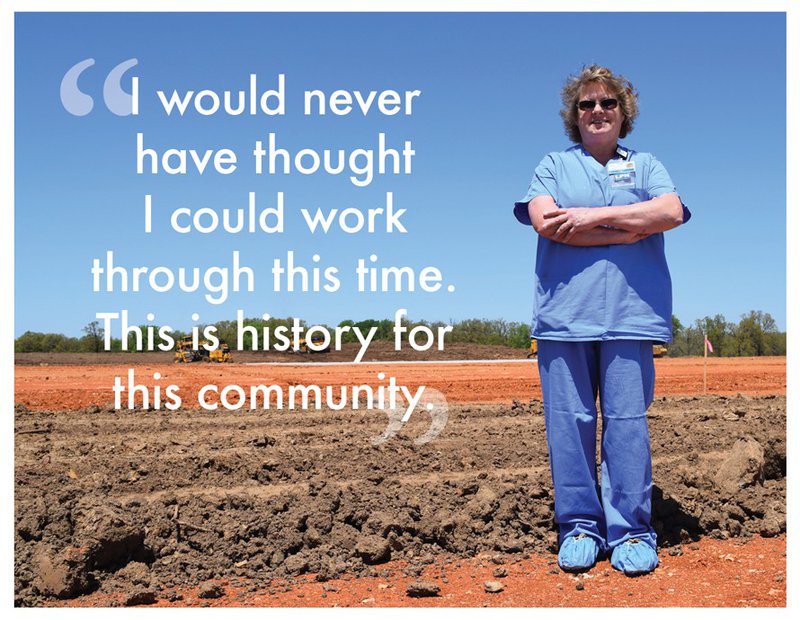 Judy Flehmer
Cox Monett Operating Room
To say Judy Flehmer has deep Cox Monett ties would be an understatement. 
Flehmer was born at St. Vincent's, the hospital that would become Cox Monett. Four of her siblings and her mother have all worked at Cox Monett. 
When she was 16 years old, she started working as a nurses' aide in Med-Surg. One of her friends had a driver's license and she would pick up Judy and a few other teens who carpooled to the hospital. They worked Friday evenings and a 6:30 a.m.-3:30 p.m. shift on Saturdays. 
"I made lots of beds and cleaned bedpans and thermometers – we washed everything back then," she says with a laugh. 
She developed a love of caring for patients and she began a nursing career. She worked as a nurse at Cox Monett, then took time to raise a family before she returned to the hospital 20 years ago. 
Even then, in 1999, there was talk of a new hospital. When the project was announced last December, Flehmer was ecstatic. 
"We've talked about it for so many years. I thought I would never see it before I retire," she says. "Now I know I can hold on for a few more years and see it happen!"  
Flehmer says she's excited about how a new hospital will transform care in Monett. 
"This will be state-of-the-art technology for our families and for generations to come," she says. "The location is exciting, where patients can look out the window and see trees and the sky. They can look out and see God's nature. Nature heals." 
Flehmer says she tries to live by CoxHealth's vision of being the best for those who need us. She's proud to see a new hospital bring that vision to life for everyone to see. 
"I would have never thought I could work through this time," she says. "This is history for this community and the surrounding area. Not many people can say they worked at St. Vincent's, Cox Monett and the new hospital. It's an honor."
 Keyla Martinez
200 Med-Surg
Keyla Martinez first set foot in Cox Monett as a high school student in the health occupations class at the Scott Regional Technology Center. 
"When I came here, I was a baby," she says, laughing. "I came in and job shadowed on Med-Surg. That's when I realized I really like this." 
She knew she wanted to work in health care, and she saw a chance to build a career. 
Martinez is working on the unit as a nurse assistant and she is set to graduate from nursing school in December. 
With the new Cox Monett hospital in the near future, she hopes to grow her career alongside Cox Monett's growth. 
"I like the environment here. Everyone is so friendly. You know everyone. It's almost like a family here," she says. "It's a friendly hospital. I've never seen anyone frown. The teamwork here stands out – if you need help, there is someone right away who will stand up and help you," she says. "We're all friends and we get along really well." 
Martinez says she is excited about caring for patients in a new hospital, where Monett's award-winning services can be delivered in a space that reflects the team's excellence. 
"It will benefit us to have the new technology and the new building. It's a big step up in care for Monett and the surrounding towns. A new hospital will bring more advanced care here and open us to bigger things in the future." 
She says she's grateful she got the chance to start her career in the original Cox Monett and she will get to see her career transition alongside the hospital. 
"I'll be graduating soon and then hopefully be an RN in the new hospital. Getting the new hospital will be like opening a Christmas present! It's super exciting."