Posted by Randy Berger on May 7, 2019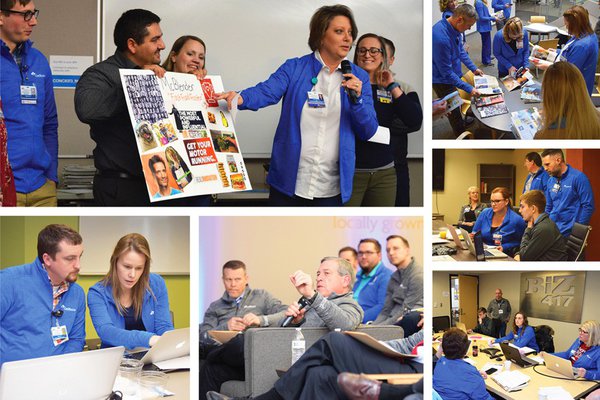 Many organizations have a plan for innovation. Few, however, have a way for everyone to participate.
As more projects from CoxHealth's Innovation Accelerators are implemented, our ability to engage staff in innovation is setting CoxHealth apart. 
So, what does it take to pitch a winning idea? In our new Connection podcast, we talked with Innovation Accelerator participants live at the event. Listen now at this link, or search CoxHealth in iTunes.
In mid-March, employees gathered in Foster Auditorium to see how Environmental Services teams will soon be training: Not only with mops and cleaners, but with high-tech virtual reality headsets. 

The new virtual reality training takes EVS staffers inside a computer-generated simulation of a patient room. 
Staff members tried out the technology in a daylong demonstration – waving controllers like you would see with a Nintendo Wii to make motions inside the simulation. On nearby screens, visitors could watch as participants cleaned floors, changed bed linens and prepared the rooms for the next patient. 
The technology will streamline EVS training and modernize the way staff members perfect their work. 
It is the latest example of how innovation is becoming a part of CoxHealth's culture: taking the expertise of our front-line staff and creating ways to make life better for patients and employees. All around us, you can see innovation in action: from Imprivata PatientSecure palm vein scanning and pharmacy delivery to the new CoxHealth app. 
The projects are hallmarks of what Scott Rogers dubs "innovation from the inside." 
Rogers, CoxHealth's system director of innovation, says that as recently as five years ago, people didn't perceive our culture as particularly innovative. Surveys in our own leadership classes showed that many people saw us as behind the market on innovation. 
Now, it's a different story. 
Participants in a leadership class this year broke into five teams. They were asked to each list five words that described CoxHealth. 
"Three of the five teams wrote 'innovative' on their sheet," Rogers says. "That tells you how far we have come." 
The key to that shift? CoxHealth's innovation efforts encourage everyone – in any role and at any level – to bring their best ideas forward. Nowhere is that more obvious than at the annual Innovation Accelerator, held each year at Missouri State University's efactory in downtown Springfield.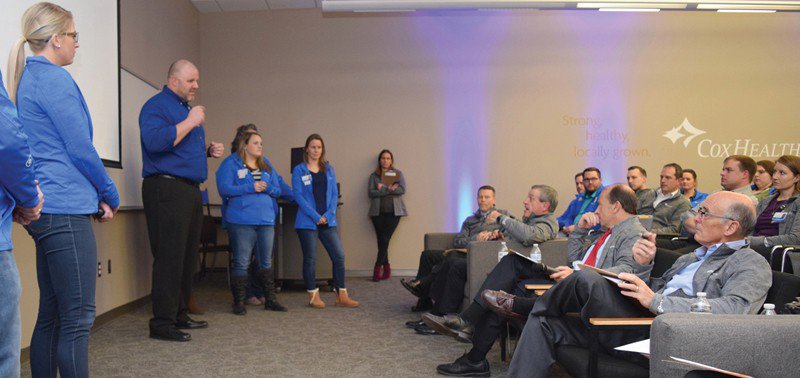 A day of ideas
The fourth annual accelerator, held in late January, pulled together 50 staff members from across the system to pitch their best ideas. 
Some were focused on what we can do for staff. Some on what we can do for patients. Some on what we could do for the environment. 
"It's always interesting to see where the mindset is," Rogers says. "People are looking at everywhere there is a need. We get a good blend of ideas and it's not just focused on one area." 
Rogers says when he does conference presentations on innovation, CoxHealth's employee-driven ideas never fail to impress. 
"Our results are tangible and our ability to innovate from the front lines resonates with a lot of health care systems," he says.  
After two days of development and presentations before a panel of CoxHealth and community leaders, this year's top ideas were: 
Third place: Insurance updates made easy – allowing patients to update their insurance information online.
Second place: Flex scheduling – meeting workforce and volume challenges with flexible, on-demand solutions.
First place: SAFE – using technology to enhance the safety of our staff members. 
Leaders are reviewing all 50 ideas. They will be sorted and evaluated for how they fit CoxHealth's mission and for their financial viability. Some will be handed straight to a vice president for implementation.  
The Innovation Accelerator helps CoxHealth keep pace in a changing environment. More importantly, it engages a wide variety of staff in strategic questions about where we should go next. Everyone has the chance to identify needs, and the people who do the daily work of health care are able to have input on the innovations we develop.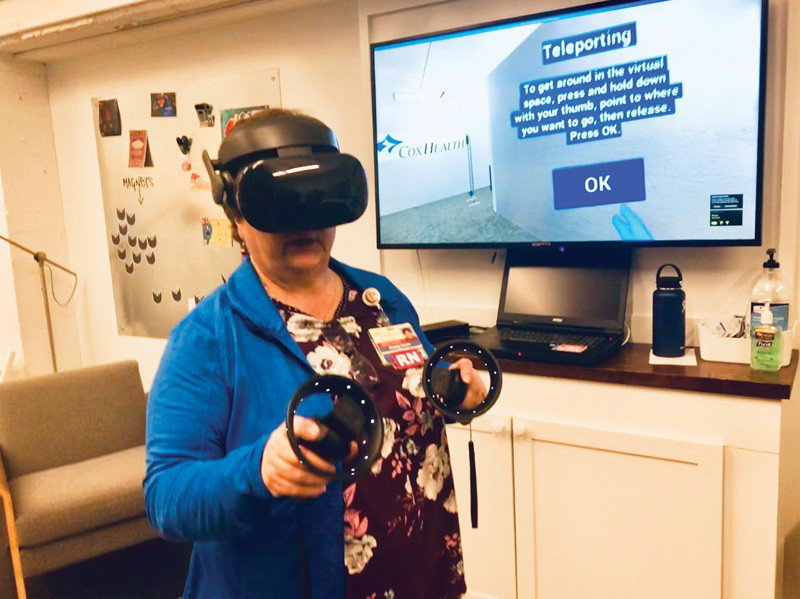 Virtual reality training
The EVS VR project is a perfect example, both of staff expertise and of the community of innovation CoxHealth is fortunate to operate in. 
The idea was originally pitched at the 2018 accelerator by Environmental Services Manager Teresa Shawley. 
The VR idea began in discussions at the efactory with one of our partners, software developer Self Interactive. The team at Self was actively developing virtual reality training software. They asked CoxHealth leaders: What kinds of processes do we repeat that might be a good candidate for VR training? 
That's where Shawley comes in. As a trainer of EVS staff, how would she approach creating training programs? 
Over seven months, she worked with the team at Self to perfect the virtual rooms and the simulation of room-cleaning steps. The process transformed her training abilities into software that could train new staff, anytime, anywhere. 
"This is one of the great examples of why it is good to be in Springfield. We have the accelerator, the efactory and Self," Shawley says. "We have some really great capabilities locally." 
Rogers says the culture of innovation is driving improvements throughout the system. Between the work of the innovation team, the Performance Improvement department and our Working Smarter efforts, there are more ways than ever for staff to improve how we work. 
Seeing VR and other projects come into existence is only going to drive more success. 
"As we follow up on these ideas and implement them, we're seeing more hype about the accelerator and growing excitement about sharing ideas," Rogers says. 
"Culturally, it has helped CoxHealth look toward the future. It is helping people ask, 'What big changes could we make?' That's a cool thing. It has given us a boldness to go forward faster than we had years ago."