Posted by Kaitlyn McConnell on Jan. 1, 2018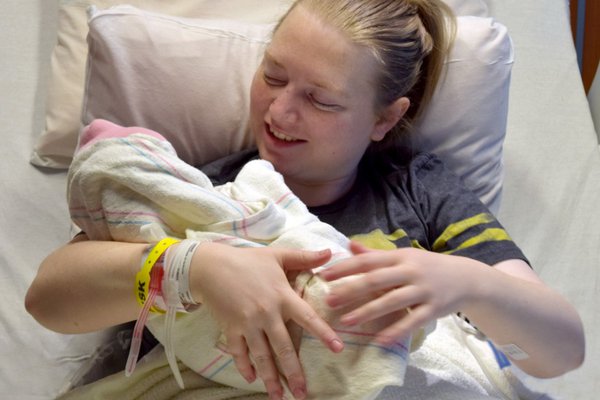 With an early January due date, Shawn and Bobbie Retzloff wondered if they might start 2018 with a New Year's baby.
At 6:14 a.m. on Jan. 1, they found out for sure: Their daughter, Sydney Lind, made her entrance into the world. She became the first baby born at a CoxHealth hospital in 2018, and Springfield's first hospital birth of the year.

"We were joking that it would be cool to have a New Year's baby – and she took us seriously," says Bobbie. "But we were surprised she was the very first."
Bobbie and Shawn traveled from their home in Marshfield for Sydney's birth at Cox South. When she arrived, she was 7 lbs 8 oz and measured 19 inches long. Sydney is the third child in the family, joining big brothers Jayson, 8, and Gunner, 4.
A few hours after the birth, the Retzloffs agree that the experience has been a good one. "Everything has been great," says Bobbie.
CoxHealth presented a gift basket to the family, which included memory books, a giraffe rattle, baby blankets, copies of "Goodnight Moon" and "Old MacDonald's Farm," a stuffed bear, and a keepsake photo frame.