Posted by Kaitlyn McConnell on June 1, 2020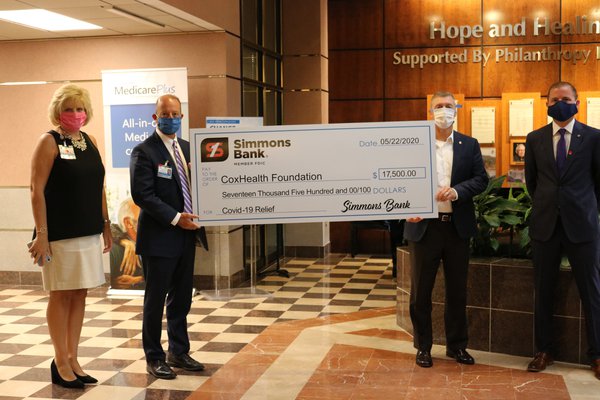 CoxHealth is grateful to share that Simmons Bank has donated $17,500 to the CoxHealth Foundation's COVID-19 Emergency Relief Fund. 
The fund, established in wake of preparations for COVID-19, is to help local, vulnerable patients and front-line care providers impacted by the coronavirus. Monetary donations given to this fund will provide hospital leadership the flexibility to allocate resources where they are needed most.
"Community is what Simmons Bank is all about, just like CoxHealth," says Doug Parker, regional community bank president of Simmons Bank. "It is a privilege to be able to support families during a time of need."
Some examples of what the fund benefits include:
Ventilators and other essential medical supplies for patient care

Personal protective equipment (PPE) for medical professionals
Medications for at-risk seniors who are in social isolation
Need-based financial assistance for patients impacted by COVID-19
Communication tools for hospitalized patients in isolation
Construction of emergency care structures
"We are honored to receive this gift from another local leader who is committed to keeping our community healthy," says Lisa Alexander, president of the CoxHealth Foundation. "This gift continues the efforts to ensure CoxHealth has the PPE, equipment and resources necessary to continue to battle the coronavirus."   
To donate to the fund, click here.