Posted by Brandei Clifton on July 27, 2017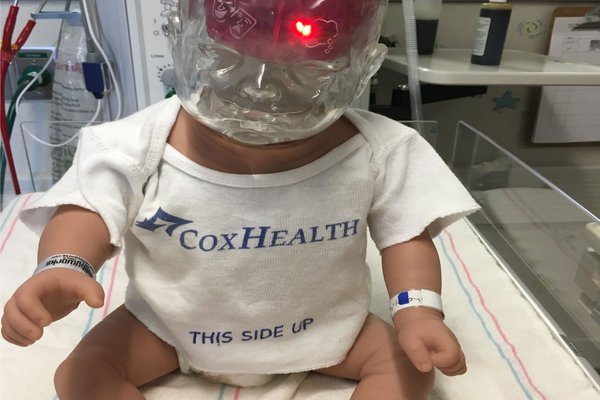 The latest delivery at Cox Branson's Labor & Delivery unit is a robot baby, which staff will use to educate new parents on the dangers of Shaken Baby Syndrome.
The simulator – which was purchased with a grant from Children's Miracle Network Hospitals at CoxHealth – cries when turned on. Parents are then instructed to shake the baby until its brain lights up, indicating which area of the brain they have damaged.
Wendy Huston, nurse manager for OB/Maternity, says it doesn't take a lot of force to shake a baby hard enough to cause damage. "Parents become very emotional during this training when they see the impact shaking a baby can have on their child's life," says Huston. "We ask that both parents or caregivers use the simulator to reinforce the education and better equip them to discuss this with anyone they may allow to babysit their child."
More than 1,300 cases of Shaken Baby Syndrome are reported each year, making it the leading cause of child abuse deaths in the United States. Infants who survive often suffer lifelong disabilities including severe brain injury, cerebral palsy, deafness, blindness, seizures and paralysis.
Emergency room staff have witnessed the damage firsthand. "Taking care of multiple children over the years in the ER, I have seen the victims of abuse," says Steven Barnett, clinical educator for the Emergency Department. "The outcome for the child is devastating. Worst of all is the fact that it didn't have to happen."
Barnett says while parents don't plan to abuse their child, not having a plan when they get to the end of their rope often sets the stage for abuse to happen. "I encourage open conversations with the new parents and their support system. I tell them to reach out for help if they feel like they can't handle a stressful situation."