Posted by Randy Berger on Dec. 8, 2017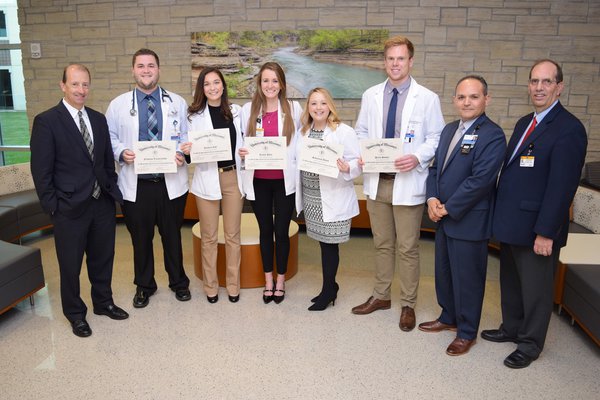 MU scholarship winners (from left) Nick Timmerwilke, Aundria Eoff, Rachel Plate, Savannah Davis and Derek Stokes, were joined by CoxHealth President and CEO Steve Edwards, CoxHealth Chief Medical Officer Dr. Frank Romero and MU Associate Dean Dr. Andy Evans.
CoxHealth presented five University of Missouri medical students with the first CoxHealth Springfield Clinical Campus Scholarships on Monday.
The scholarships are designed to support students who are studying at MU's Springfield Clinical Campus and training at CoxHealth through our partnership with MU.
"CoxHealth is so committed to the partnership that our board wanted to make a scholarship fund to help the program," CoxHealth President and CEO Steve Edwards told the students on Monday.
CoxHealth made an initial contribution of $500,000, with plans to use the earnings from that investment to fund scholarships and create legacy scholarships in the future.
"This campus came about because of a lot of effort, and these scholarships show that this goes beyond a partnership," says Dr. Andy Evans, associate dean and chief academic officer of the Springfield Clinical Campus. "CoxHealth is reinvesting in the future of health care in this community and investing in students who come here to train."
The scholarships were presented to MU medical students Nick Timmerwilke, Aundria Eoff, Rachel Plate, Savannah Davis and Derek Stokes. Each received a $4,000 scholarship.
Here's what the scholarship winners had to say about receiving the awards:
Nick Timmerwilke: "It is difficult to express how grateful I am. Winning this scholarship was extremely helpful in reducing some of the financial burdens associated with medical school. I rely on scholarships and loans in order to pay for my schooling, rent and food. I have relied upon scholarship funding throughout medical school, and I cannot wait for the day that I have a stable income and can develop my own scholarships for students in similar situations."
Aundria Eoff: "The amount of support the Springfield community, especially CoxHealth, has provided the MU School of Medicine Springfield Clinical Campus students continues to amaze me. Knowing that the organizations affiliated with MU-SCC support the students both academically and financially makes for such a stress-free, enjoyable clinical experience. As a Springfield native, this opportunity to complete my clinical rotation in Springfield not only allows me to work one-on-one with attending physicians, but I get to network within the community where I wish to practice in the future."
Rachel Plate: "I am very grateful for the CoxHealth scholarship. It exemplifies the community's support of the Springfield Clinical Campus. Their generosity brings peace of mind in a busy season and is extremely helpful in taking the next steps towards residency."
Savannah Davis: "Being selected as a recipient of the CoxHealth Student Scholarship is a great honor. Not only does this scholarship alleviate some of the financial burden of medical school, but it also demonstrates how much support I have from the community. It is all too easy to lose sight of the end goal while facing endless studying, sleepless nights and never-ending to-do lists, but this scholarship serves as a nice reminder of what really matters: the patients I will someday be caring for."
Derek Stokes: "I am extremely grateful to have been one of the individuals selected to receive the first CoxHealth Springfield Clinical Campus Scholarships. The investment CoxHealth is exhibiting to the Springfield Clinical Campus and MU medical students alike is superb and not to be overlooked."