Posted by Kaitlyn McConnell on Dec. 31, 2020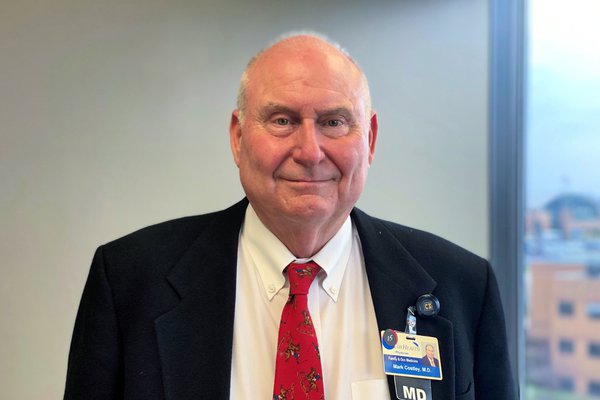 Dr. Mark Costley has been part of rural health care since before he was born – literally.
Dr. Costley, CoxHealth's Medical Director of Regional Services, was born at Cox Monett Hospital – back when it was St. Vincent's Hospital – in 1954. That day led to a childhood spent in the rural Missouri community, a career as a physician leader, and ultimately, helping other medical students follow similar paths as Associate Dean of the Springfield Clinical Campus of the University of Missouri School of Medicine.
In recognition of his work through the clinical campus, an endowed scholarship from CoxHealth was renamed in his honor as the CoxHealth and Dr. Mark Costley Legacy Scholarship Fund. The change was announced in November 2020 at CoxHealth's Joint Operations Committee meeting.
"I've only been speechless a couple of times, and that was one of them," he says of hearing the news. "I was so shocked and so honored."
Dr. Costley spent the first years of his life in Monett, where he lived on a farm with his parents.
"I learned a lot of values from that," he says.
In high school, he played football – where he was part of the state championship team in 1971 – and thought he wanted to become an engineer. After earning a scholarship to today's Missouri University of Science and Technology, he actually spent a year studying chemical engineering. However, it was there that he came to a realization.
"I liked science, and I love math – but I also enjoy people," he says.
That awareness was cause for pause, and instead of continuing in his studies in Rolla, he transferred to the University of Missouri Columbia, where he earned a bachelor's degree in Biology and a master's in Physiology. He later graduated from medical school at MU and planned to focus on Family Medicine, which at the time was a new specialty.
"Family Medicine had become fairly organized," he says. "You did all of these rotations and did specialties. It was a concentrated effort to teach you generalities."  
He later completed a residency at Duke University, and returned home to care for his friends and neighbors.
After a short stint in Aurora, he went to Monett and opened his own practice in 1985. That practice joined CoxHealth in 1991. There, he continued serving patients until 2015, when after 30 years, he became CoxHealth's Medical Director for Regional Services. It was not an easy decision, especially since he had long known many of his patients, and treated them for years.   
"I always knew I was going to see patients every few months and hear what was going on," says Dr. Costley. "By far, losing that contact was the hardest part."
The care of his community is so evident that even today, his wife, Terre, knows she's going to spend far longer in Walmart than the time it takes to buy what she needs.
"She makes me take my own car to Walmart because she knows I'm going to see a lot of people and end up talking to everyone," jokes Dr. Costley.
However, the transition to administration still gave him opportunity to focus on the health of patients throughout the region. The role allowed him to lead big-picture medical decisions and direction for the health system's 80-plus Regional Services clinics -- such as implementation of eye-scanning technology that has likely saved the sight of many across the Ozarks.
It also gave him the chance to do something else: To serve the school which he loved, and help future doctors to learn about caring for patients, especially in rural areas. Because it was during this time that he was asked to be the interim Associate Dean of MU's Springfield Clinical Campus.
"I've always had a passion for the school," he says, noting in the past he served on its Board of Governors, and on the Admissions Committee for the School of Medicine.
In his new role, Dr. Costley was able to help promote the Springfield Clinical Campus, increasing the number of faculty members from local health systems, and sharing the campus's importance to the future of medicine, particularly in this area.
"The statistics show that 41% of medical students stay where they do medical school," he says. "I think it's so important for students to do their residencies and come back."
Dr. Costley wrapped up his time with the campus in October 2020. It is a season of transition for the physician, who will also retire from CoxHealth in January 2021.
"The school sold itself. We came close to tripling the faculty in the time I was there," he says, and also notes that it went from 19 to 49 students, based on a tiered approach. "They are an incredible group of students."
In honor of his time and work with the campus, CoxHealth leaders moved to rename a scholarship in his name. The $500,000 endowed fund was given when the campus began in 2016, and supports several students annually.
"Dr. Costley was the perfect person to advance the mission of the Springfield Clinical Campus, and take it to the next level," says Steve Edwards, president and CEO of CoxHealth. "At a time when the campus was at a make-or-break moment, his expertise, dedication, and love for the MU School of Medicine and healthcare, helped secure its future. These efforts, as well as his time in leadership at CoxHealth and as a physician, contribute to a lasting legacy that will impact the region for years to come."
"To this day, I choke up about what an honor it is," says Dr. Costley.