Posted by Randy Berger on Sept. 25, 2018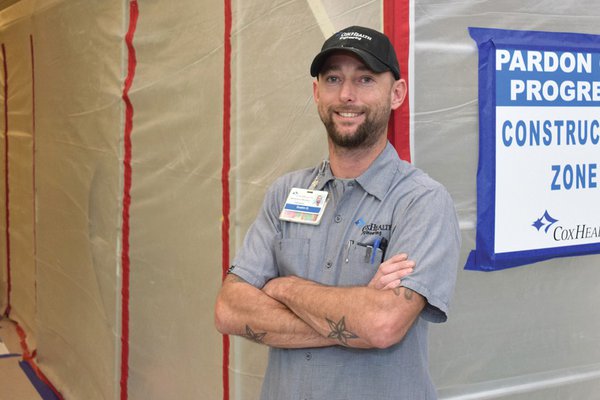 When you're tasked with renovating inside the 24/7 hospital environment, a little ingenuity goes a long way. 

For a recent example, look no further than the mobile dust-containment units in use in the Cox South Emergency Department. The innovation allows Engineering crews to update the ED one room at a time. 
It's a necessity in an area like the ED, where the whole unit can't be closed. 
Dustin Oliver, maintenance mechanic in Engineering, says the maxim "necessity is the mother of invention" applies here. 
"We knew we had to keep the floor open and we have to be able to quickly move the unit to the next set of rooms," he says. 
Oliver builds custom metal items in his spare time – everything from front-end business fixtures to burners for a local distillery. 
He had an idea for a way to seal the rooms: Build a custom frame on wheels that can be disassembled, moved and stored. 
Oliver began taking measurements and thinking through what it would take. 
"We knew it had to fit below the call lights at the doors. It would need an air scrubber mounted on top, but it had to go everywhere in the ED," he says. "You have to look at how everything is going to fit. You have to think 15 steps ahead when you design something."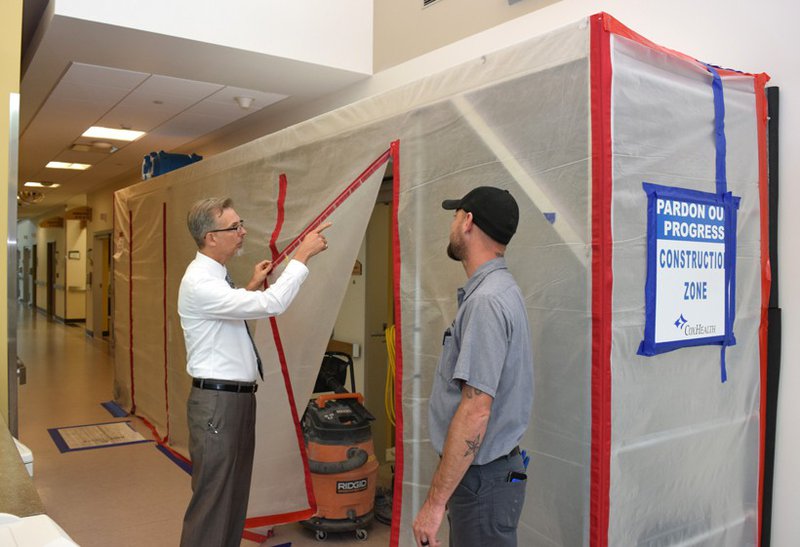 The completed unit is a scaffolding-like frame that can be temporarily sealed over the door of a patient room or an exam room. The structure is wrapped in plastic and it features an air filtration system. 
Crews can work in the room – updating floors, paint and lights – while everything outside the room stays clean. 
Engineering Director Joel VanHoose says in the past, teams might have closed off an area with drywall that would be disassembled and discarded when the job was done. 
That's a lot of work to do one room at a time. 
Commercial, portable dust containment units could also do the job, but the price tag was more than $20,000. 
"We're a pretty creative bunch. A lot of the things we use are commercially available, but when we build them ourselves, we can save a lot of money," VanHoose says. "This is portable and reusable, so there is a significant savings there as well." 
The custom-built unit Oliver designed was made for about $1,600. 
Two of the units are currently in use in the ED – one that seals off a single room and a second unit that can seal two rooms at once. 
Oliver says moving them from one set of rooms to another takes about an hour. 
"We have to have dust containment on every project we do. This allows us to speed up the work and this was perfect for an environment that is occupied," VanHoose says.
When the ED project is done, crews will be using the units for renovations in the MICU.