Posted by Kaitlyn McConnell on Feb. 16, 2017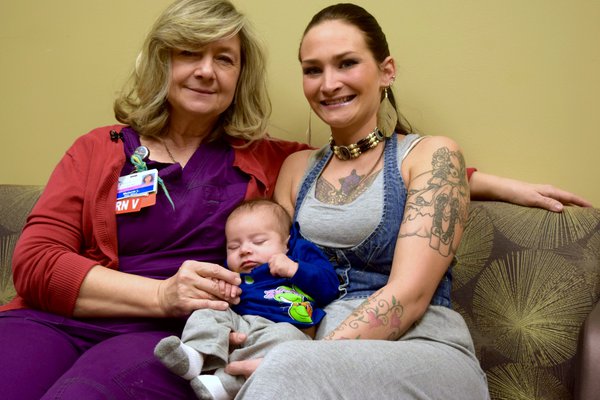 All Tamara Ogburn wanted to do was quit.
In her case, however, that was a difficult task – because what she wanted to quit was cigarettes.
It wasn't a new dream. The mother of four boys, Ogburn had dreams of quitting at other points in her life, including during each of her pregnancies. However, the habit – begun when she was seven years old – proved too strong a force to overcome. That is, until Ogburn became pregnant with her fifth child.
She finally decided enough was enough.
"This time, it clicked. I decided that my kids deserve this, and I deserve this," she says of her desire to quit. "I just knew I had to be a better role model."
After Ogburn made that decision, she found support through Cox Medical Center Branson's "Baby & Me – Tobacco Free" class. The program became a reality in 2016 thanks to a grant from the March of Dimes, which provided funding for training and supplies.
The organization's efforts – which include preventing birth defects, premature birth, and infant mortality – support reducing tobacco usage. After all, taking the drug during pregnancy ties to lower birth weights, preterm labor, and higher rates of Sudden Infant Death Syndrome (SIDS).
"Babies born to tobacco-using moms often spend a lot of time in the NICU, and the majority don't graduate without some difficulty because of tobacco," says nurse Melanie Lavoi, who leads the "Baby & Me" sessions at Cox Branson.

Moms typically attend four "Baby & Me" sessions while they're pregnant. Then, after the baby is born, participants come back once a month to ensure they're staying tobacco free via a breathalyzer test.

In addition to the health-related benefits, the program also offers a financial incentive: Thanks to a grant from the Ozarks Health Advocacy Foundation, for every month that participants stay tobacco free, they earn a $25 voucher for diapers at Walmart. "And that helps out a lot," says Ogburn.
However, the financial reward is only one aspect of the process.
"You have to make the decision to quit before you come to the class," says Lavoi. "What we primarily work through are triggers, or barriers, that might hurt a mom's chances of staying smoke free."
Some of those triggers might be environmental, such as other family members who smoke in the same home. That's why the program isn't only open to moms: If another adult smokes and lives in the same house, they are eligible to participate as well – netting $50 in free diapers each month.
Despite the challenge, giving up tobacco has been completely worth it for Ogburn. "I just had to keep telling myself that this is what I want," she says. "My kids are so proud of me. That is the main reason I wanted to quit. I want to be around for my kids as long as I can, and to be healthy. They're worth it."
For more information about the program, please call 417-348-8313 to reach The Women's Center at Cox Branson.