Posted on Aug. 16, 2016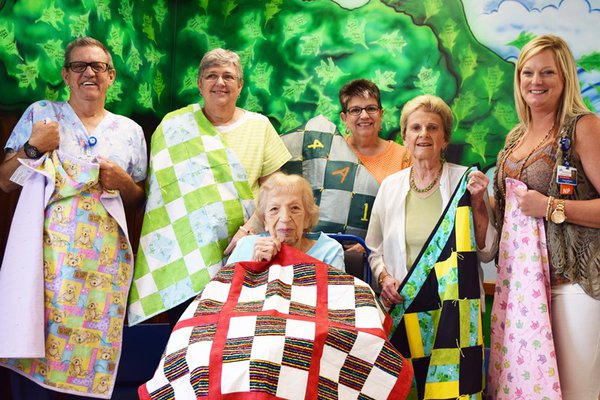 Every Wednesday, Hollister Presbyterian Church Pastor Phyllis Winzenried and several of her friends gather at the church to cut and sew pieces of fabric, knowing that their work will someday soon provide comfort to someone in need.
The group and the quilts are part Hollister Presbyterian Church's mission project, Winzenried explains.
"We wanted to do something that supported our community," Winzenried says. "There are some ladies in our group who are experienced quilters and there are some who are just learning, so it also provides a time of great fellowship for us."
The group began the quilting project in February and delivered their first quilts to Cox Medical Center Branson recently.
"We are grateful to receive these handmade quilts from Hollister Presbyterian Church and look forward to passing these along to our young patients," says Tracey Williams, MSN, FNP, director of women's services, OB and pediatrics. "These quilts will provide a source of comfort to our patients while in the hospital as well as long after they are home."