Posted by Randy Berger on June 17, 2020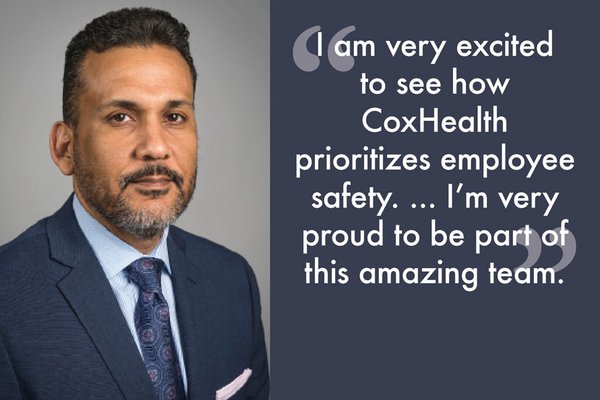 The field of public safety and security is more complex than ever.
In February 2020, Eric Clay stepped into a new position at CoxHealth, serving as the organization's first Chief Security Officer. 
The newly created position is an expansion of his previous role, System Director of Public Safety and Security.   
We asked Clay to give us some insight into what it means to keep us safe at work in the modern world. 
Q:
What does your new role include, and what do the changes mean for CoxHealth?
A: The newly created role brings the cybersecurity team under the Department of Public Safety. 
We believe converging the cybersecurity team and the Public Safety team into one will result in a number of positive outcomes, including: 
1)      A better alignment of security goals with those of the organization
2)      Better communication between the two operations
3)      Increasing efficiency and effectiveness of our security efforts
4)      Cost savings 
Convergence, while not yet common, is something a number of progressive organizations are considering. I think CoxHealth is an innovative organization and realized that having multiple security departments that don't work together, or only partner on occasion, is unacceptable in today's age where threats often defy traditional boundaries. 
Today, security is very complex — both physical and cyber — so combining all of our knowledge and directing our efforts towards the shared goal of protecting the organization is essential. 
I think the convergence of cybersecurity and physical security and the creation of the Chief Security Officer role really demonstrate the organization's elevated focus on security as a whole. 
Q:
What are the biggest things we have done this year to keep staff safe?
A: CoxHealth has done many things to better protect our employees, some more visible than others. 
You may have seen the Midmark personal panic alarms that we are trialing in some of our higher risk units, such as the South ED, 7 East and NTICU. I think these have shown a lot of promise and could potentially see use in a number of other areas. 
The CoxHealth SAFE app is a tool that allows us to share important information during emergencies or advise employees of potential issues. 
It allows two-way communication, so employees can share information about issues. It can serve as a panic button, it provides a mobile version of the information contained in our emergency flipcharts, and it offers a lot of other great safety features. I encourage all employees to sign up for an account. 
We have added information about potentially assaultive patients into the electronic medical record, ensuring that our caregivers have access to it. We are placing a discrete sign on those same patients' doors to ensure non-clinical staff are also aware of the issue. This allows them an opportunity to speak with nursing staff about how to proceed. 
The hospital's leadership has had meetings with local law enforcement and the prosecutor's office to discuss how we can work collaboratively to better protect our employees. The Department of Public Safety reviews our logs to look for trends — such as instances of violence — and tries to schedule officers accordingly. These are just some of the many initiatives the organization has undertaken.  
Q: How are we handling the issues of workplace violence and de-escalation training?
A: Gina Ellerbee oversees the de-escalation training efforts and we support those efforts with some additional instruction. Overall, I think the training is going very well and provides our employees with a number of tools to help protect themselves and others from the continuing problem of workplace violence. 
I believe we as an organization are doing the things necessary to keep our staff as safe as we possibly can. We have clear policies and reporting procedures in place, we track all reports of workplace violence, including verbal assaults, we encourage prosecution when appropriate, public safety officers accompany victims of workplace violence to court, and we use the collected data to look for trends and for ways to reduce incidents. 
To ensure our security officers are among the most highly trained in the state, we have developed an in-house, five-week training program that they must complete before starting in the hospitals. It covers everything they will need to be successful as public safety officers, including verbal de-escalation, crisis intervention, physical skills, and a firearms proficiency test that is 22% higher than required of law enforcement officers. 
I would remind employees that while workplace violence is a known risk in the health care field, it's not a part of the job. I encourage employees to report all incidents of workplace violence. This gives us a better understanding of the true scope of the problem and helps us develop ways to mitigate it.  
Q:
What can people expect to see us do differently in the coming months?
A: I think we will continue to see more of what we have seen over the last several months. Workplace violence will continue to be an issue and cybercriminals will continue to target the health care sector. 
The department will continue its efforts to mitigate these threats as we as an organization work toward returning to normal operations. Whether or not we see another a sharp increase in COVID-19 cases will certainly have a significant impact on what we see in the future.  
Q:
What does it mean to you to serve in this role and lead our Public Safety and Security team?
A: I am very excited to see how CoxHealth prioritizes employee safety and the continued investment in technologies to help protect our employees.   
It's been interesting to see the department's role grow over the last six years. We have taken on new responsibilities, and really tried to redefine the role our security officers play. Today, our officers play a greater role than in years in past, and they wear many hats. 
They are considered a part of the care team, which provides them with an opportunity to build a rapport with patients and visitors and to do so as members of the care team, rather than solely as security officers. 
Part of their training includes crisis intervention training. This provides them with the skills to recognize various behavioral health disorders or other issues, and to de-escalate persons in those situations. 
Our officers also engage in purposeful rounding, which is similar to community-oriented policing. They round on the hospital units, speak with staff and learn about issues. This also lets them take a more proactive approach to situations, rather than simply responding to calls. 
Our training center provides training not just to CoxHealth employees, but to health care professionals, law enforcement officers and college security officers from around the state. 
We conduct all of the background investigations for the system, which resulted in a cost savings of hundreds of thousands of dollars per year. 
We provide self-defense classes to our employees and kidnap prevention classes to the children of employees. 
There are so many ways the Department of Public Safety and Security does a lot more than just security. Our officers do a lot of things to keep our employees safe, and they perform their duties at a very high level. 
I'm very proud to be a part of this amazing team.