Posted by Kaitlyn McConnell on Aug. 17, 2018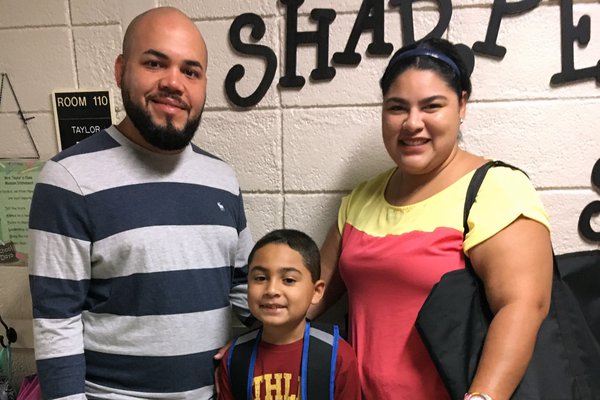 Over the next few months, we'll tell the stories of several nurses who have relocated to Springfield from Puerto Rico to work at CoxHealth. Keep reading to share in their journeys, and learn what it's like to move to southwest Missouri.

Nurse Silkia Cardona spends most weekdays serving patients on Cox South's 700 unit. One Wednesday, however, was an exception: The recent Puerto Rican transplant took the day off so she and her husband, Edwin, could do something special.
They took their 8-year-old son to his first day of school in Springfield.
"Managers ensured I was available that that day," Silkia says. "I really wanted to be able to be there for him."
In the days before school began, Silkia reassured Noah that all would be fine. He was nervous, she says, and who wouldn't be? After all, it wasn't only the first day at a new school. It was also the first day at school in a new country, where fellow classmates and teachers use a language he doesn't comfortably speak – yet.   
"He understands, but he is very shy to talk," says his mother, who also says the district has promised that Noah will have dedicated staff to help him learn English. 
The start of Noah's education is one of many firsts for the family, who relocated to Springfield from Puerto Rico just weeks ago so Silkia could work as a nurse.
"I was looking for ways to be better as a family," says Silkia of the decision to move. 
Coming to the United States was always a goal of Silkia's, but the actual move was one initiated by her mother. 
"My mom was the one who actually heard on the radio that CoxHealth was recruiting in Puerto Rico," says Silkia. "'She said, 'I think you might want to check this out.'"
So she did. An experienced nurse with a bachelor's of science in Nursing, Silkia was offered a job. A few months later, she found herself on a plane bound for Springfield.
Her family is currently living in an apartment complex close to Cox South, which is also convenient for her husband's commute to work. A longtime employee of The Home Depot in Puerto Rico, he was able to continue his employment at the Springfield location. 
Even just a few weeks in, Silkia is already noticing positive things about her new home. 
"People here have been very nice," she says, and lists other benefits. The cleanliness, and the good roads. The calm, quiet areas. The ratio of patients per nurse, which is much lower than is typical in Puerto Rico.
She will see the latter fact even more clearly after taking the NCLEX exam in just a few weeks. The exam, required in the United States to practice as a nurse, will allow her to switch from serving as a certified nursing assistant to a full-fledged nurse.
In addition to her medical occupation, she's also working as a recruiter – for the area, and for CoxHealth. Even though it's only been a few weeks since Silkia's family came to Springfield, her move has resulted in several other relocations to the area.
"When we moved to Springfield, my brother decided to come here," says Silkia, who notes that while her brother isn't a nurse, he has applied for a job at CoxHealth along with two of his friends who moved to Missouri with him. 
There's another family member who might move this way: Silkia's mother, who is a teacher in Puerto Rico, and was introduced to Springfield when she helped the family relocate.
"She loved it here," says Silkia. "She thought maybe she could move here."