Posted by Kaitlyn McConnell on Aug. 14, 2018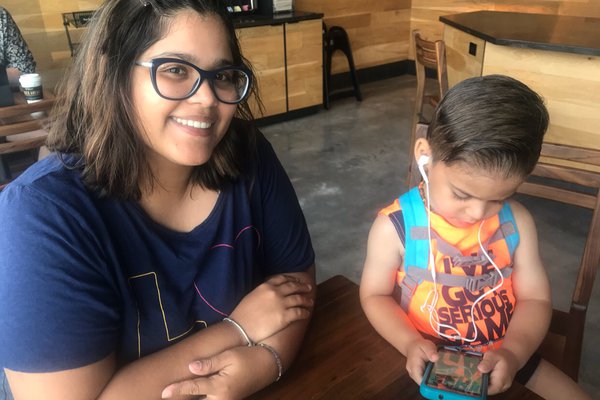 Over the next few months, we'll be sharing the stories of several nurses who have relocated to Springfield from Puerto Rico to work at CoxHealth. Keep reading to share in their journeys, and learn what it's like to move to southwest Missouri.

Some days are simply filled with minutes and hours, while others consist of life-altering moments that people never forget.

For Perla Maldonado, one of those days came just weeks ago, when she took her 3-year-old son by the hand and flew far from her mother, her homeland and the life she'd always known.
It was all for a call and a chance: For nursing, to which she felt called, and the ability to provide a better life for her little boy, Lucas.
"It's unfortunate, because I love my island, and would love to give it my all, but it's not possible," says Perla.
Her comments tie to an overabundance of nurses on the island. That fact forces new college graduates to work for free in the hopes that such experience would give individuals a better shot at a paid position.
So that's what Perla did. After graduating from college, the young nurse gave months of service, all for free, at a hospital near San Juan. While it was rewarding to serve patients in times of need, it also forced her to live with family to make ends meet.
Those factors led her to a CoxHealth recruiting fair in San Juan. She'd never been to Missouri, but that didn't keep her from coming by, applying, and receiving an offer – and yet, being scared of the magnitude of her choice. 
Ultimately, her faith helped her through the fear.
"I'm a God-believer, and felt that if a door opens, I'll go through," she says. "That belief really calmed me down."
The next few months were busy: Weeks spent convincing family that this was the right choice, and coordinating all of the details that come with an international move. Being 3, Lucas didn't understand much about the move until shortly before they left. But he did understand one thing: That they'd get to fly. 
"Basically, every day, he asked me about the airplane," she says with a smile.
Then came the day; the moment when excitement and sadness and anticipation led them to the airport. There, family hugged Lucas and Perla, and saw a monumental moment in the mother and son's lives.
The duo left Puerto Rico's mountains and seacoast beauty, and landed in the Ozarks – also known as their new life.  
It's only been around a month since Perla's arrival, so normal life in the center of Springfield really isn't "normal" yet. Instead, it's new and different, with changes to be navigated. There are the practical ones, like where to buy groceries, how the banking system works, and enrolling Lucas in a learning center.
But the questions go deeper than that. After all, without a car so far and a young child to transport, how does the bus system work? How does one build relationships in a new place? How does Springfield become home?
So far, Perla says things are going well. She took the first week off after coming to Springfield, during which she enrolled Lucas in Cox Learning Center South, and helped him adjust.
"I wanted for him to adapt," she says. "He's going to live a lot of new things. At the end, all of this is for his future."
Then, it was off to work. She has a bachelor of science in Nursing, but Perla is working as a certified nurse assistant until she takes the NCLEX, an exam that's required before practicing as a nurse. That should happen in the next few weeks, after which she will be placed as a nurse on a unit.
Even just a few weeks in, Perla says that working with CoxHealth has been nothing like she imagined.
"I saw Cox South was big on Google Maps, and I found myself questioning if it was real," she says. "It's been much better than I thought it would be."
And the changes have allowed her to dream of the future.
"Eventually, I'd like to get my master's as a nurse practitioner, so I have that set up as a goal," she says. "The first year, though, I think is adjusting."