Posted by Randy Berger on June 11, 2018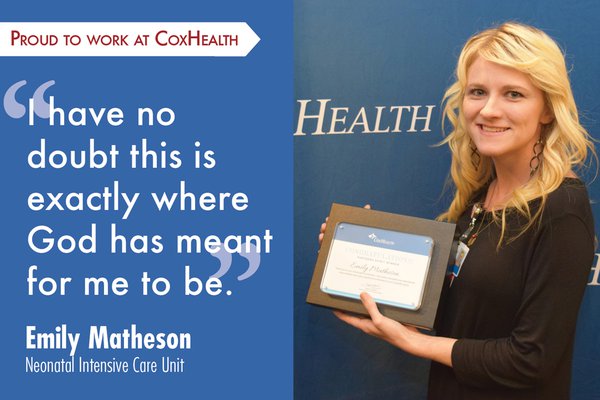 Nurse Emily Matheson was recently honored as one of our 2018 Prestigious PARTNERS. She joined us for a quick Q&A on what it means to be a part of the CoxHealth family: 
What is special about CoxHealth?
I have worked at CoxHealth from the start of my nursing career seven years ago and I have always felt that CoxHealth really values their employees. I have always felt very supported as an RN by the organization. 
What makes you proud to work at CoxHealth?
It makes me proud to know we give exceptional care here, and I want to be associated with a place that is known for the great care it provides to its patients. 
What is the most satisfying part of your job?
When we send a baby home from the NICU and I know that I got to be a part of their "story." Every NICU patient has their own special story that will be told to them someday. It is a joy for me to get to be a part of that. I do all I can to give the very best care to my patients and their families -- it is not only my job, but it is what they deserve. 
What is your impression of the teamwork here at CoxHealth?
The NICU has the most amazing teamwork -- and why wouldn't we? Who doesn't want to pitch in and help take care of a miracle baby?! We are a "well-oiled machine." That is what I tell everyone I talk to outside of the hospital. When my own baby was born prematurely at 35 weeks, I was able to experience firsthand how well the NICU and L&D teams come together to give the best care to their patients. I love the people I work with. 
Can you share an example of a time when you knew this was the work you were meant to do?
Honestly, there is no single story from work that has made me know that I am in the right place. There are several, and I have no doubt this is exactly where God has meant for me to be.
Every night on my way into work, I pray for him to use me and place me where he needs me to be and I have never once doubted that the Lord above has blessed me with this passion to be a NICU nurse. I know that God has used me in so many special ways to get to be the one to provide care for these little miracle babies and I feel incredibly lucky to work where I do.