Posted by Randy Berger on June 1, 2018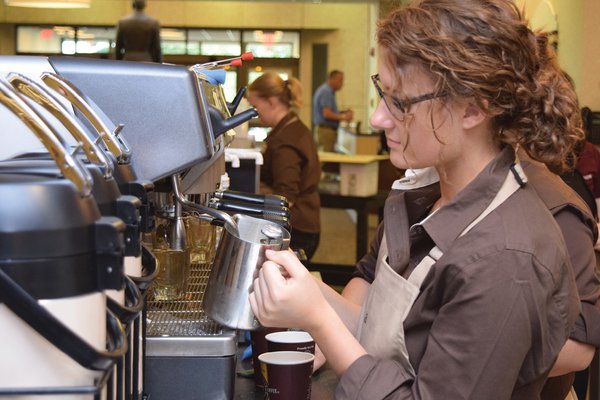 Employees and visitors at Cox South now have a new choice to make in the north entrance lobby: do you want to start the day with an espresso or a fruit smoothie? 
Barista Lisa Hynes recommends one of the frappes. 
"You can really taste the espresso in it," Hynes says. "If you want a smoothie, I like the four berry smoothie, or the Peach Paradise. Or the strawberry-banana." 
Hynes is one of five newly trained baristas from Food and Nutrition Services who spent time perfecting their skills before the opening of Primrose Perk on June 4. 
The coffee and smoothie bar serves products from St. Louis-based Breve Coffee as well as local baked goods from Gardner's Orchard and Bakery. 
"Our whole goal is to deliver high quality," says Jesse Baedke, manager of Food and Nutrition Services. "These are high quality coffee beans and the smoothies are 100 percent fruit. We want anyone who is going to spend their hard earned dollars with us to get a quality product every time." 
That commitment is seen in the weeklong education staff has undertaken, training alongside Breve Coffee owner Kevin Wiesehan. 
"We're not taking this lightly," Wiesehan says. "We are spending a week here, and we are going to make it right." 
Team members were trained on how to properly steam milk and how to pull perfect shots of espresso. 
"Truly making espresso drinks is a craft and it is a skillset you have to learn," Baedke says. "It is our focus to represent the organization well and serve patients, visitors and our fellow employees with excellence." 
In addition to coffee and smoothies, Primrose Perk offers freshly baked, preservative-free pastries and healthy "oat bites" in a variety of flavors. 
Primrose Perk is open 6 a.m.-8 p.m. Monday-Friday and 7 a.m.-7 p.m. on weekends.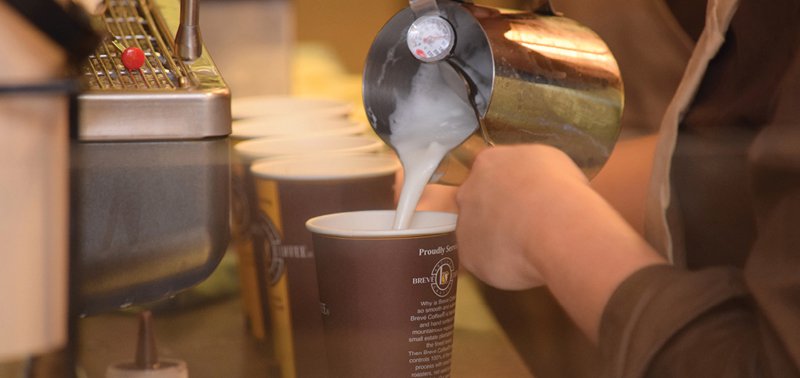 Employees have already asked about the possibility of a second location in the West Tower, but Baedke notes that when Cox South had two coffee shops in the past, the North Lobby location did 75 percent of the business. 
"Best case scenario, the quality here could drive opening another location if it makes business sense," Baedke says. "Our goal right now is to get one going, master the craft, and then, if we are able, take it to other locations." 
Interest has been high during and Baedke says Primrose Perk has seen a high volume of customers. 
Wiesehan, who has operated the small-batch specialty coffee roaster since 1995, says his goal is to provide a product that is worth the wait. 
"Everyone is excited and this is an awesome opportunity," he says. So what is his recommendation for first-time customers? 
"The caramel frappe has been our number-one drink. We've sold a lot of those in the last 20 years."