Posted by Kaitlyn McConnell on Dec. 26, 2019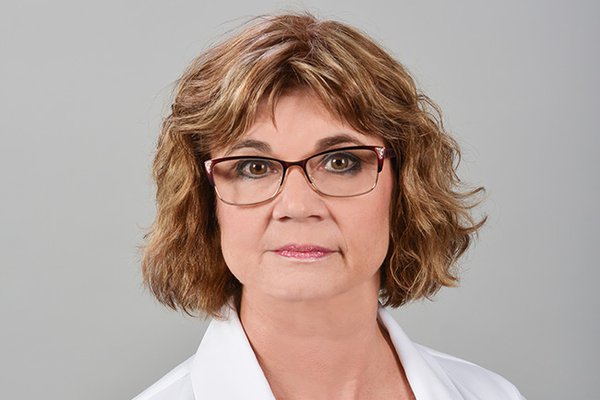 When Dr. Kathleen Graves came to south Springfield to practice medicine in 1985, the landscape looked much different – and it wasn't just because the area near Cox South was mostly fields and farmland.
Back then, she was the city's only female OB/GYN.
Nearly 35 years have passed since she began serving patients; delivering their babies, and helping couples through the emotionally daunting reality of infertility. Much has changed over that time, and soon, so will something else: Because in January, Dr. Graves is retiring.
"Overall, I've been happy," she says from her office in Physicians for Women, a clinic that she founded in 1985 and joined CoxHealth in 1993. "I'll miss the people. I know a lot here."
Retiring from her own practice isn't something Graves expected in the past, since medical school wasn't even on her radar as an undergraduate student. That track began when her Organic Chemistry teacher simply suggested she take the Medical College Admission Test, more commonly known as MCAT.
So she did.
"I aced the MCAT and the University of Kentucky offered me a scholarship," she says. "I thought, 'Well, why not?'"
After graduation – in a class that was only 20 percent women – the new direction led her to becoming an OB/GYN.
"First of all, it's working with women, and it's a little bit of everything," says Graves on why she chose her specialty. "You can do surgery, you can do deliveries, you can do high-risk, you can do primary care, GYN. All kinds of things. So I liked the diversity. And usually … it's a pretty happy field."
After graduation, she began in a solo practice in Kentucky. But when faced with overwhelming demand for services – including one month when she had 30 deliveries – a friend and fellow physician suggested she consider coming to Springfield.
"At the time, it was a much smaller place," says Graves of Springfield. "Compared to Lexington, it was a very small town."
That reality didn't keep her away. After relocating to Springfield in July 1985, Graves practiced independently and served patients at both then-St. John's as well as Cox. And word of her arrival quickly got out.
"She arrived too late to include her name in the physicians listing of the Yellow Pages but had a full schedule of patients the day she opened her doors," noted a Springfield News-Leader article from 1990.
Graves reaffirms those words today: "I wasn't in the phone book, but I was busy from Day 1," she recalls. "I was so busy I had to do everything."
The addition of female OB/GYNs was slow. Less than five years after Graves' start in Springfield, there were still only three in the city, noted a News-Leader article. But the low numbers resulted in more curiosity than discrimination from male colleagues, Graves says.
"I've never truly had trouble with doctors being women," she says. Instead, she notes, a few unexpected situations came from nurses based on traditional gender roles.
"Nurses don't always know you're a doctor," she says. Graves recounts the first time she was mistaken for a nurse when she walked into an operating room to start a procedure and an IV pole began to tip.
"(The nurse) yelled, 'You! Go catch it!'" recalls Graves. She grabbed the pole, which was followed by a surprise: "The anesthesiologist said, 'You do know that's Dr. Graves, right?'"
While gender assumptions have changed with time, other things have evolved as well.
Technology and medical advances are examples; in her work with reproductive medicine, Graves trained with the first team in the United States to execute In vitro fertilization (IVF), which is the process of fertilizing a woman's egg with sperm in a petri dish, and then transferring the egg into the uterus. The procedure, and other treatments for infertility, have come leaps and bounds over the past three decades.
"Infertility may be caused by ovulatory, tubal, uterine, cervical or hormonal problems," said Graves in a News-Leader article shortly after her arrival in Springfield. "Sometimes it is interfered with by emotional stress. The thing is, it's very difficult to evaluate, so I spend a lot of time talking to (patients)."
Graves still spends a lot of time talking to patients, she notes, but also says testing has drastically improved since her start. That said: Greater access to technology and information isn't always a good thing.
"It's a different generation," she says of patients, who frequently use the internet to research conditions and symptoms. "Google is their worst enemy. I have patients dictating their care (based on what they've read). There's too much info."
Graves initially intended to serve patients longer than she is going to do. Ultimately, a lung condition has helped make the decision to step away.
"My new motto is 'grace in the face of adversity.' I can't do anything about it," says Graves of her condition, and acknowledges that her identity is now changing. But, like her undergraduate self who never planned to be a physician, she also doesn't know what might be next ahead.
"Maybe I have something else to do."
Resources
"Great demand creates busy schedules for women OB-GYNs," Kathleen O'Dell, Springfield News-Leader, Jan. 28, 1990
"Female infertility: 'It's almost like telling them they're dying,'" Laurie Glenn, Springfield Daily News, Sept. 13, 1985
"Wanted: Women OB-GYN doctors," Kathleen O'Dell, Springfield News-Leader, Jan. 28, 1990