Posted by Kaitlyn McConnell on Sept. 20, 2017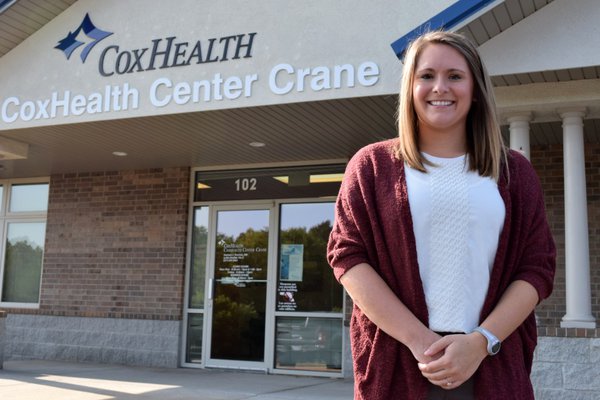 Lydia Reinhold has always known that she wanted to practice medicine – and she's always known that she wanted to serve in a small town.
Now, the physician assistant made that dream come true by starting at CoxHealth Center Crane on Sept. 19.
"I really love the relationships you get to form in rural areas," she says. "You often serve multiple generations, and I think that history and bond are huge benefits to both the medical provider and the patients."
Reinhold grew up in Washington, Mo., a town of around 14,000 and about an hour from St. Louis. That rural community is where her dreams of becoming a medical professional began.
She mentions career days as a child, when "every year I wore the same costume," she says of a medical outfit complete with scrubs, a white coat, stethoscope, and an imitation prescription pad. That desire continued to grow – especially with taking anatomy and physiology classes – and after becoming part of a Health Occupations course, which allowed her to volunteer in several positions throughout the medical field as a high school student.
"I fell in love with the medical field," she says. "I knew it was exactly what I wanted to do, and how I wanted to help people."
Reinhold went on to graduate from Lindenwood University with a bachelor's degree in Biology. Later, she attended St. Louis University, where she obtained a master's degree in Medical Science-Physician Assistant. During physician assistant school, her desire to help people through medicine was only strengthened by managing a free health care clinic for the under- and non-insured in St. Louis. "You could see it changed lives," she says.
Now, she's come to Crane to continue her journey. She and her husband, Nick, were married in early September and are excited about becoming part of the local community. "I'm looking forward to getting to know this area, building relationships and helping others," says Reinhold.
To make an appointment with Reinhold, call CoxHealth Center Crane (102 Cortney Lane, Crane) at 417-723-8537.