Posted by Kaitlyn McConnell on Oct. 12, 2017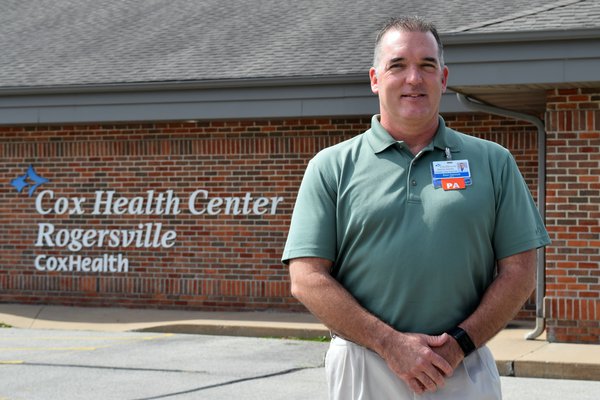 The road between Sean Gannutz's start and becoming a physician assistant at CoxHealth Center Rogersville has been long – literally.
In his younger years, Gannutz was an over-the-road truck driver and spent days and nights, months and years, traveling roads across the United States. Those trips ultimately led him to Springfield, and a career in health care.
"I just like helping people," says Gannutz from his office in Rogersville. "In family practice, it's all about the personal relationship and developing those ties. I'm really glad I get to have the opportunity to get to know this community and its families."
His journey to health care started around 2000, when he transferred to a trucking company based near Springfield.
While with the company, he became involved in an emergency response group. That led him to becoming a paramedic – and later, to becoming a physician assistant.
The latest move shows that one's never too old to go back to school, since Gannutz was 49 when he graduated as a physician assistant. It also illustrates his desire to get to know patients and develop relationships with them.
After all, emergency responders serve patients in critical times of need, but there's little opportunity for a personal relationship with them as their recovery progresses. "I really wanted to get more involved with them and their care," says Gannutz. "You get to know the people a little better in family practice."
Upon graduating from physician assistant school at Missouri State University, Gannutz began working in Ava, Mansfield and Houston, Mo., where he delved into his passion for community health.
He made the move to CoxHealth Center Rogersville in August, where he serves patients of all ages.
In his spare time, Gannutz enjoys exercising – including jogging during his lunch break – and spending time with his three children ages 5, 7 and 9.