Posted by Kaitlyn McConnell on Oct. 3, 2018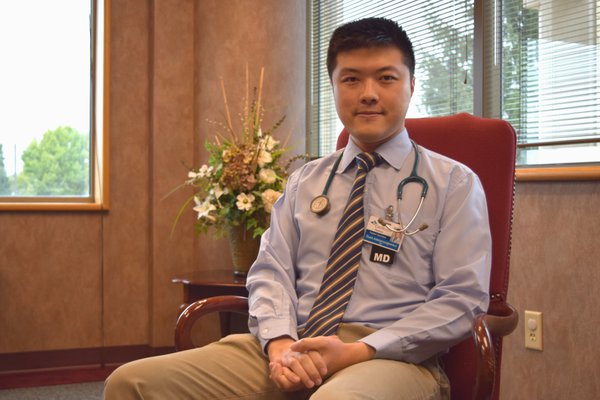 Dusit Adstamongkonkul, CoxHealth's new pediatric neurologist, decided to become a doctor when he was only a child. The decision, however, was not made because of a love of science or the human body. Instead, he wanted to help a very special person.

That person was his best friend.
Dr. Adstam, as he is known by his patients, spent years growing up with this friend in Thailand. Unfortunately, his friend began experiencing seizures -- but did not have access to the care he needed.
"He was bullied, and he missed school," says Dr. Adstam. "I really wanted to help him."
After consulting with his uncle, who was a physician, Dr. Adstam says his uncle thought the symptoms probably represented a neurological condition. That information set Dr. Adstam's life path in motion.

"I needed to be a doctor, and treat that type of disability in kids," says Dr. Adstam. "Especially with kids in rural areas, where there is not as much access."
So that's what he did. 
Dr. Adstam graduated from medical school in Thailand's capital city of Bangkok, achieving first-class honors. He later received specialty training in epilepsy, going on to become the chief neurology resident physician at Children's Hospital of Georgia, as well as an epilepsy/neonatal neurology fellow. He even graduated with a master's degree in Business Administration in 2017.
While he didn't have the chance to treat his friend, Dr. Adstam wants to help other children get the care they need – and stay close to home. Instead of driving hours away, children can be treated for their neurological conditions in Springfield at CoxHealth.
"It's much easier for people to be treated in the area, especially for close follow-up," says Dr. Adstam. 
There are many parts about the role that please Dr. Adstam, but the biggest blessing is simply being able to help children lead full lives.
"Children show you the way they see the world," he says. "We want to push them to be better. Who knows, maybe a kid you treat will change the world. I want to be part of that."
To make an appointment with Dr. Adstam, please call CoxHealth Pediatric Specialties at 417-269-1010. CoxHealth also offers specialty pediatric treatment in more than 20 areas, and recently expanded to include endocrinology and gastroenterology.