Posted by Kaitlyn McConnell on July 16, 2019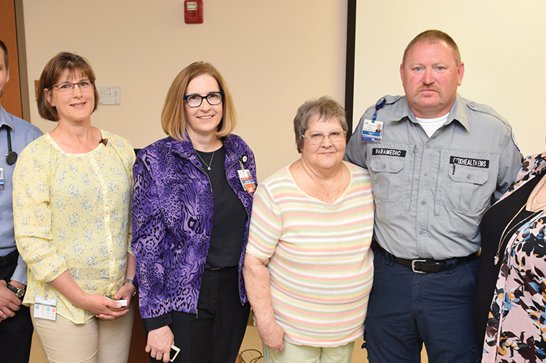 In health care, our expertise saves lives. When we are in the right place at the right time, we can be the "good luck" a patient needs.
That's what happened a few weeks ago when patient Tina King arrived for an appointment at CoxHealth's Diabetes Center.
She wasn't feeling well and she almost canceled the visit to go home for a nap. She's alive today because she kept the appointment.
At lunch that day, she had a heavy feeling in her chest.
That's the first thing she told nurse Karen Barber when she arrived at the office.
Karen noticed that Tina's color was unusual.    
"She took a look at me and said, 'I think you're in trouble,'" Tina recalls. 
Karen suspected Tina was having heart issues. She alerted the team. 
"Everything happened so fast. In a minute, they came to get me. Someone brought nitroglycerine," Tina says. "Everybody who walked by me said, 'You look horrible.' I thought, Lord, I'm never coming out without makeup again." 
An EMS crew with paramedic Lance Allcock and EMT Melissa Stieff arrived to transport Tina to the Cox South ED. 
"It was a short distance, but I got so much comfort from this gentleman," Tina says. "I only have one good vein and he started an IV to make it easy for when I got to the ER. He told me everything that was going to happen and he said, 'You are right where you need to be.'" 
Tests soon determined Tina had a 90 percent blockage in her heart, which was treated with a stent.  
On June 12, she returned to Adult Medicine and Endocrinology Specialists to personally thank the team. 
"I am the luckiest unlucky person," she told the clinic during their staff meeting. "They fixed my heart, I didn't know I had a problem. My diabetic people got me there and saved my life. This whole department is responsible for me being here.  
"I don't know how to say thank you. I admire each and every one of you. Thank God for what you do. I'll never go to another hospital. Thank you from the bottom of my heart – my improved heart! My luck is that I had you all."