Posted by Randy Berger on April 5, 2019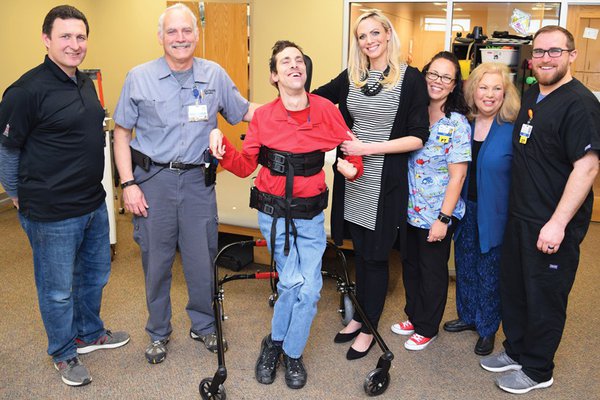 Engineering's Daniel Deck loves a good project. If a project can change someone's life, that's even better. 
When he sees something that can be fixed, his mind springs into action. That's what happened a few months ago when he spotted a piece of equipment in Rehab Services. 
A Mulholland walker – a large frame on wheels that supports patients for gait training – sat in the corner of John Throckmorton's office.  
To put it mildly, it had seen better days. It had scratches, rust and a thick piece of uncovered foam for a headrest. 
John told him it belonged to a client and the department was going to try to repair it.  
"It looked like a fun project, not that I'm hurting for projects," Daniel says, with a laugh. 
Fast forward to last Wednesday: Daniel stood next to a completely rebuilt walker in Outpatient Rehab.   
Like a host showing off a new car at an auto show, he took rehab staff on a tour of the walker's new features. It has five pivot wheels with brakes and rubber tires. The frame is adjustable, so it can easily fit through doors. 
 The chunk of foam on the back has been replaced with a custom upholstered headrest, emblazoned with bright red initials: "JH." 
Daniel had never met the man who used the walker. But he was about to. 
John Hensley has cerebral palsy. He has used a walker – and a wheelchair – since he was six years old. 
On Wednesday, John arrived with his mom, Pam, and his sister, Lizzy, and he laid eyes on Daniel's project. 
To say he was taken aback would be an understatement. His eyes were wide with wonder, and a smile crossed his face as he and Lizzy examined the walker. 
John speaks with the use of a touch tablet he operates with his right foot.
He typed for a few seconds, then a computerized voice announced: "I really love it."  
Lizzy and Occupational Therapist Matt Brown helped John out of his wheelchair and into the walker. At first, John struggled to straighten his legs, leaning heavily on the walker's seat and the straps around his torso. Within a few minutes, the tone in his legs began to return and his toes touched the ground. Moments later, he was able to move each foot, and the walker began to roll. 
It was the first time John had stood up in five months. 
The ability to walk is life saving for John. If he doesn't get up and move, he is susceptible to pneumonia. 
"This keeps him out of the hospital completely. He was at death's door in 2001. God spared his life," Pam says. "We learned the absolute importance of helping him move. It works his lungs and his whole body and he stays well." 
Daniel demonstrated the new brakes and showed off the custom upholstery on the headrest and seat. He pointed out that this was a group effort – as he worked on the project, more and more friends volunteered to help.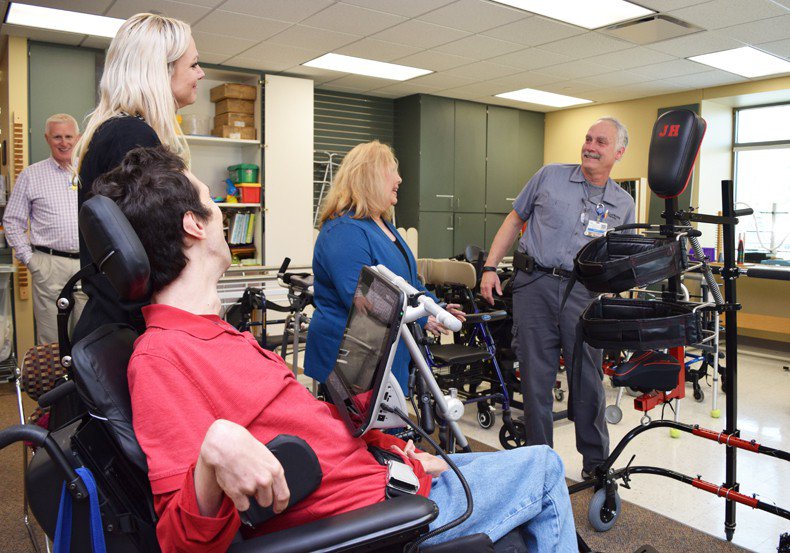 He had reached out to Tim Rash of LGK & Son Drapery and Upholstery about covering the seat and headrest. Tim took on the project, donating his time and expertise. A neighbor who works at a machine shop made replacement parts. Another friend of a friend who is a metal fabricator took on the task of powdercoating the frame to give it a long-lasting finish.  
"I asked everyone for their receipts, but I couldn't get anyone to give me a bill," Daniel says. "Everyone just said, 'no charge.'" 
John Throckmorton says Daniel's passion for the project was obvious from the beginning. 
"Daniel did the lion's share of the work and just ran with this project," John says. "He had all the ideas and all the plans himself. He had never met John, but every time we spoke about him, there wasn't a single time that his eyes didn't well up with tears. This guy has a big heart and he took this and ran with it." 
The Hensley family thanked Daniel and the entire rehab crew for their efforts. 
"These are people with heart and caring," Pam says.  
As Daniel made the final adjustments to the walker, he talked with the Hensleys about their family. Lizzy pointed out that her dad had worked over the years to maintain the walker and keep it going as long as he could. Mr. Hensley passed away three years ago. John made a motion and Lizzy leaned down to him, listening closely to what her brother was trying to say. 
"He says you remind him of our dad," she says. 
Daniel says he simply saw something that needed to be done.  
"I knew I could do it, so I should do it," he says. "I enjoyed it, I really did." 
As the Hensleys were preparing to head home, John tapped out a final message on his pad: "It's a miracle."