Posted by Randy Berger on June 17, 2020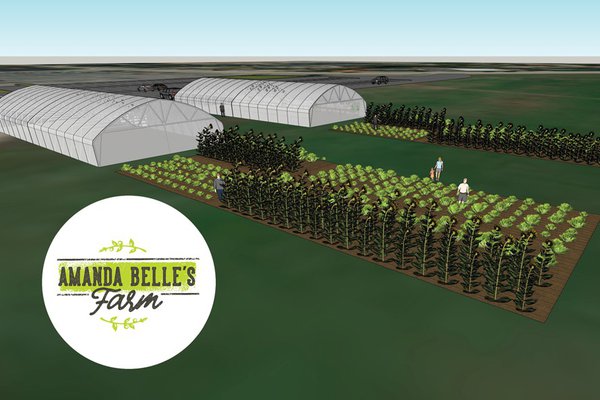 Jason Bauer is passionate about food. For him, the new Amanda Belle's Farm is an expression of CoxHealth's mission.

"This project, in my mind, is at the foundation of health care, the starting point of a healthy life," he says. "We will be helping our hospital, our patients and our community at the same time."
The farm, created in partnership with Springfield Community Gardens (SCG), will be located across Primrose Street from Cox South. It will grow a variety of seasonal produce that will benefit patients with dietary needs, as well as be available to employees to purchase through a Community Supported Agriculture (CSA) program.
Bauer, CoxHealth's system director of Food Services, has been working on the idea for years. The partnership with Springfield Community Gardens is an ideal opportunity to bring his dream to life.
"Plans for the farm originated prior to the COVID-19 pandemic's arrival in the Ozarks, but now more than ever, we are very excited for this partnership and what it means for our community," Jason Bauer. "Springfield Community Gardens are local experts who have as much invested as we do. Our goals align exactly."
The farm will occupy a five-acre plot west of the Ferrell-Duncan Clinic parking lot.
The first crops will be grown inside three "hoop houses" or "high tunnels," designed to extend the growing life of food.
Those 30' x 90' tunnels will be built on tracks so they can be easily moved to adjust for sunlight and environmental controls. They are also far more flexible – and affordable – than permanent greenhouses. 
Soon, the farm will expand to five tunnels.
Bauer says his first goal when the farm is up and running is to launch a CSA program for CoxHealth employees.
"We are serious about our employees' health," he says. "How awesome will it be to grow some of our own food for our own people! You can't get any more purely sourced than that."
The details are still being worked out, but Bauer envisions a future where employees can become CSA members and receive bags of vegetables for a fixed subscription fee.
Produce from the farm – starting with tomatoes, cucumbers and lettuce – will also be available in the cafeteria's salads. Soon, locally grown vegetables will become a regular part of cafeteria offerings.
Down the road, Bauer sees possibilities for expansion and partnerships with local farmers to meet the demand of the CSA program.
"If this goes over, there will be such a high demand," he says. "We are all about supporting the local economy and local farmers."
Bauer hopes the farm will be a cornerstone in CoxHealth's community efforts to promote healthy eating and locally grown food.
"We could easily be the biggest hospital farm in America. It is my passion to lead the charge against chronic disease and promote a healthy lifestyle. CoxHealth has a wonderful ability to reach so many lives and Amanda Belle's Farm can help with that cause."