Posted by Kaitlyn McConnell on Jan. 8, 2018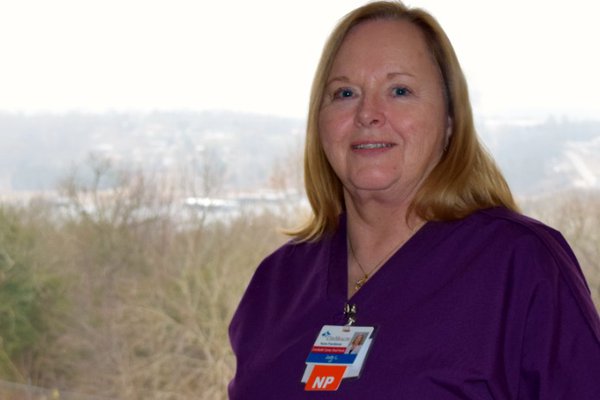 Ever since she was a child, Judith Lewallen knew that she wanted to become a nurse.
However, It wasn't seeing the health care providers in movies or books that prompted her interest: It was an accident suffered by her sister that showed her their kind, compassionate work.
"My little sister suffered a severe head injury from a fall and was hospitalized in the ICU for what seemed like a long time," says Lewallen. "I had to wait outside the unit and the nurses would bring me ice cream. That is when I decided that I wanted to be a nurse."
After graduating from high school, Lewallen became just that (and says she has given ice cream to patients at times, too). Since then, she has devoted most of her life to working in health care, and continued her education to become a board-certified nurse practitioner. That designation means she does many of the same things as a doctor – such as prescribing medication, examining patients, diagnosing illnesses, and providing treatment.
Much of her 40-year career has been spent in the Ozarks, including time in Marionville, Pineville and Monett. However, there was a period when she wasn't working in southwest Missouri. Several years ago, she decided to cross an item off her bucket list after a family tragedy: She moved to Alaska, and lived and worked in a fishing village.
"I learned that you shouldn't put off anything," she says.
However, the Alaskan beauty and tranquility didn't keep Lewallen and her husband from missing the Ozarks. The couple moved back, and Lewallen began teaching nursing classes at Crowder College in Cassville.
But for Lewallen, working directly with patients was what she liked more than anything else – and led her to take the job at CoxHealth Center Shell Knob.  
"I just love getting to know the patients and their families," she says. "The relationships you develop through health care are an extremely rewarding part of the job."
To make an appointment with Lewallen, call the center at (417) 269-2470.