Posted by Kaitlyn McConnell on Nov. 17, 2017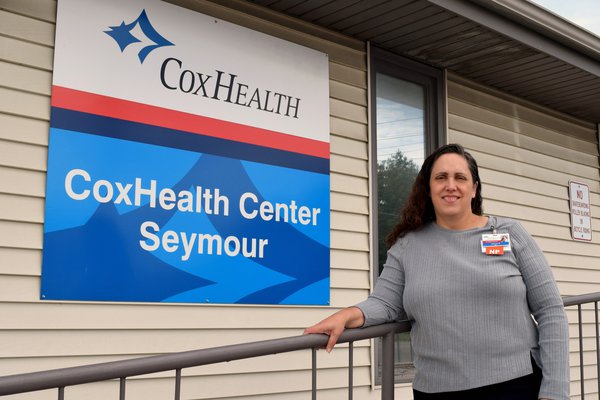 Few keep health care as close to home as Jeanne Rodman does.
A nurse practitioner at CoxHealth Center Seymour, Rodman is from the Webster County town and ultimately returned there to help fill the community's health care needs.
Although her position started just weeks ago with CoxHealth, Rodman has years of experience in the profession – and a lifetime of wanting to make a difference for patients. Most recently she served in Mansfield, before deciding to come to Seymour in September 2017.
"I always wanted to be a nurse," says Rodman from her office in Seymour. "My mom has told me that's what I said I wanted to do, even as a child."
That plan was slightly modified: Instead of a nurse, she's a nurse practitioner which means she does many of the same things as a doctor – such as prescribing medication, examining patients, diagnosing illnesses, and providing treatment.
Rodman started on that journey after graduating from high school. She attended Union College in Lincoln, Neb., and graduate school at Loma Linda University in Loma Linda, Calif., before returning to the Ozarks. For her, a great part of practicing in a small town is building relationships with patients.
"Treating generations of patients is a neat aspect of the job," she says. "Living in a small town offers a lot of benefits, such as those close-knit connections. I love being able to find and develop bonds with people right here in this community."
And "right here" is especially important, since it helps keep her patients close to home. 
"A lot don't want to travel far away for care, so I'm glad I get to help them stay near Seymour," she says.
When she's not working, Rodman enjoys spending time with her husband, Curtis, who is a massage therapist in Marshfield, and their children ages 15, 12 and 5.
To schedule an appointment with Rodman, call 417-269-2100