Posted by Janell Patton on Jan. 27, 2021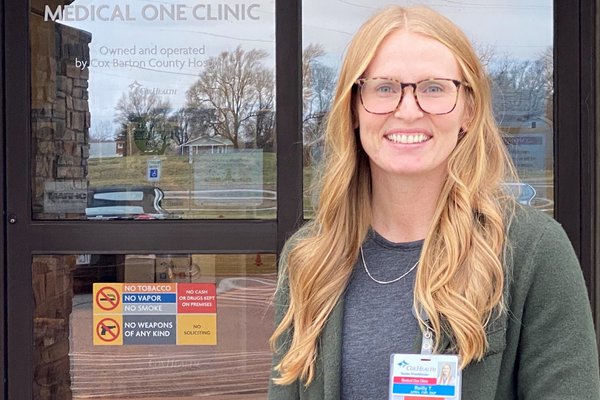 Cox Barton County Hospital is pleased to welcome Reilly Tackett, NP, to the health care team at the Medical One Clinic.
While this is her first employment at the clinic, it's not her first experience there.
"During my DNP program through Pittsburg State, I had an opportunity to complete my clinical time at Cox Barton County in the Medical One Clinic with a longtime nurse practitioner," she said. "Through that experience, I was able to form relationships with many of the patients at the clinic. I knew Cox Barton County was an organization I would be more than happy to work at with a patient population I truly enjoyed serving."  
After working as a nurse in the ICU setting, Tackett recognized the major positive impact preventative healthcare can have, allowing patients to avoid extended inpatient experiences. She said her goal with any patient is to contribute to the improvement of their overall health status. 
She received her doctor of nursing degree (DNP) from Pittsburg State University in 2019. She is board-certified through the American Academy of Nurse Practitioners.
Tackett joins primary care providers Dr. Joseph Wilson, Dr. Joshua Williams, Stacey Middleton, FNP, Leisa Blanchard, FNP, Julie Turner, FNP, and Hannah Born, FNP, in seeing patients in the Medical One Clinic. 
All providers are accepting new patients.
Click here for more information about services offered or call 417-681-5266 to make an appointment.