Posted by Kaitlyn McConnell on May 3, 2017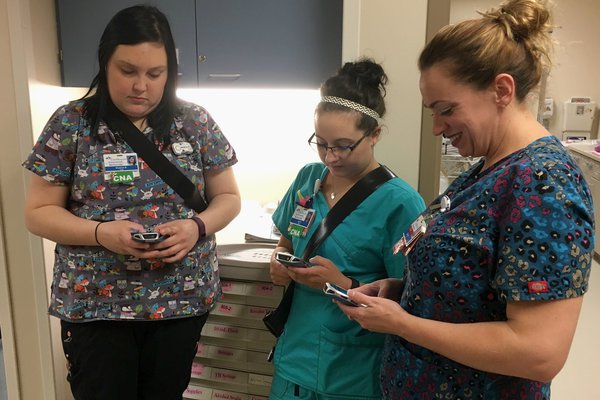 The nursing staff at Cox South has a new tool to reach patients' bedsides even faster.
Called CareAware Connect, the program – executed through smartphones carried by members of nursing staff – speeds up critical communication by connecting the right provider with the right information at the right time.
The program allows staff members to communicate in real time with patients and fellow staff members by integrating with the nurse call system. It also enables staff to download apps to use as reference tools, such as for researching side effects of medications.
"We are always working to find new and improved ways to care for our patients and meet their needs," says Chastidy Parke, administrative director of nursing at CoxHealth. "CareAware is an opportunity to do that. We're really excited about how this will make hospital stays better for everyone involved."
CareAware utilizes smart alerts to decrease response time when patients need assistance. For example, when a patient flips on the help light outside their door, an alert automatically goes to the staff's phone. "This allows our staff to respond as soon as they see the alert on their phone, and it reduces noise by eliminating the call tones typically heard when a patient requires assistance," says Parke. "In addition to their other benefits, this provides a more restful, healing environment for our patients."
Parke says she also believes having a single tool for the staff to provide safe and secure communication and medication delivery makes it a relevant tool in giving patients at Cox South the best experience possible.
"Leveraging technology to deliver care is a way to equip nurses with tools that allow them to be accessible while being mobile, efficient and focused while being safe," she says.  
All nurses and nurse assistants at Cox South are receiving new CareAware Connect phones. Providers at Cox Branson are also using the program.