Posted by Brandei Clifton on April 18, 2017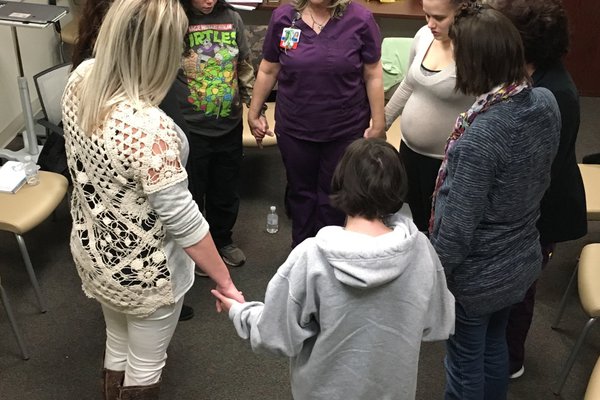 One can hear the group of soon-to-be moms, seated in a circle and giggling like girlfriends, before even walking through the door.
The group comprises Centering Pregnancy, Cox Medical Center Branson's pilot group program for prenatal care. The national program came to Branson in June 2016 through funding from the March of Dimes and Skaggs Foundation.
"To see the bonds these women make with each other and to be part of better preparing them for this life transition is life-changing," said Tracey Williams, director of OB Women's Services at Cox Branson. "I so love seeing the group evolve as they spend more time together."
The concept of Centering Pregnancy is a model of care that looks a lot different from traditional prenatal visits, which are often brief and one-on-one with a woman's healthcare provider.  In the new program, expectant moms skip the waiting room and have appointments the same day and time each month in support-group style. Sessions start with Dr. Holly Wherry sparking discussions corresponding to issues the women are dealing with at that point in their pregnancy, whether it's deciding to circumcise their sons or what immunizations the baby will need. Then, one by one, the women meet with Dr. Wherry behind a privacy screen for physical checkups while the rest of the group has candid conversations about their pending motherhood. The open forum allows moms to support each other by sharing their pregnancy worries – and excitement.
"Our lives are very social these days, so for our patients to be able to share what they are going through and receive feedback from peers – it's great!" said Williams.
The moms say they enjoy the program because they aren't afraid to open up about what they're going through. "I love that I can say what's on my mind out loud and know the other moms won't judge me," said Emily Franklin, a mom in the program. "It's kind of like having a nice little family where everyone experiences the same problems at the same time and you're not embarrassed about it."
Helping guide the sessions is Melanie Lavoi, an RN and lactation specialist with the Women's Center. She challenges the moms to open up about issues such as breastfeeding versus formula feeding, how to handle family members who insist on seeing the baby right away or what to pack in the hospital bag.  "The support group setting is a medium through which the women become familiar with themselves as well as one another," said Lavoi. "We all start off as individuals with a single thing in common – being with child – and end up greater than a whole. We're more like a community."
And while centering offers women the same high quality of care as traditional appointments, the atmosphere seems more calming than clinical. In fact, Lavoi leads the women in lights-off meditation prior to discussion time.
The moms say the relaxed feel of their meetings makes them more comfortable talking about topics that can be a bit uncomfortable.
"It's good to be able to have other opinions on what's going on," said mom Gretchen Brown.  "Sometimes, with pregnancy brain, you're forgetful. At Centering Pregnancy, there's always someone who will ask the same question you were thinking of. It's nice to be open and have the whole group to support you."
Another mom agrees. "This is my first baby, so I didn't really know what to expect during pregnancy," said Jasmine Stech. "The nurses are right there for me with every little question. Having that trust in them makes me really comfortable."
After the program's pilot group of women gave birth, Williams says the mothers didn't want their joint meetings to end. That's when Centering Parenting was launched. Now, the moms reunite for parenting classes with their babies to keep their group connected.
"They have built those bonds with each other. They realize their kids will likely be in the same schools, so they will see each other throughout their childhood," said Williams. "It's so hard to describe how rewarding it is to witness this process from start to finish. It's absolutely incredible."
For more information on Centering Pregnancy or Centering Parenting, call the Women's Center at Cox Branson at (417) 348-8313.