Posted by Janell Patton on April 22, 2021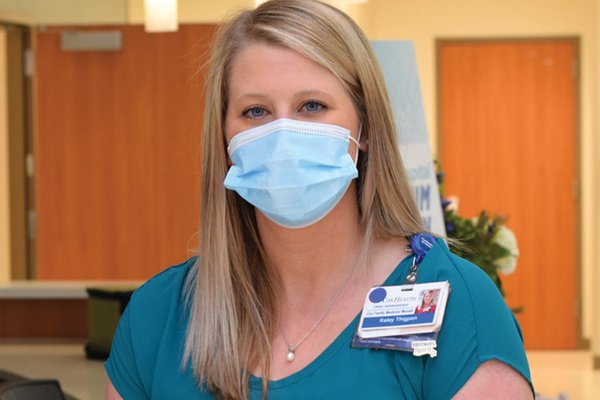 For Kaley Thigpen, rural health care is personal. She grew up in Stockton, Mo., where she remembers the 30-minute drive to the closest health care.
"I have seen the struggles people have, getting access to transportation. I appreciate Cox understanding the barriers people have to health care, and really trying to bridge that gap," she says.
She and her husband moved to Monett several years ago to raise their family. At the time, Monett was halfway between their jobs in Joplin and Springfield. When Thigpen joined Cox Monett's clinic leadership team in 2017, Monett became home.
"My family lives here. That's the main focus when you do something like this: How does this affect my family and my town?" she says. "Now, we're not going to have to drive to Springfield for some of the services we used to. That is really nice."
The new Cox Monett centralizes CoxHealth's clinics all under one roof, for easy access.
The new "super clinic" includes: Family and Occupational Medicine; Cox Family Medicine; Family Practice and Obstetrics.
In addition to the three clinics, the facility also features a separate surgery clinic. In all, 14 providers will serve patients in the new clinic space.
It's a big change from the previous arrangement, which featured three different clinics spread out across Monett.
"This offers so many specialties in one place," Thigpen says. "If you need radiology, instead of driving across town or walking outside in bad weather, you can walk down the hall. If we need to admit a patient to the hospital, we don't need an ambulance."
For staff and patients, the centralization means more efficiency. Processes like check in and new patient paperwork are standardized throughout.
"It's easier for patients, staff and providers all around," Thigpen says.
Thigpen hopes that convenience, combined with the excitement of a new facility, will encourage more patients to seek care in Monett.
"We will definitely see growth," she says. "Health care is important. I have kids and I want that access for my kids. I'm so grateful for Cox Monett having these resources here.
"The future is bright."